TriMet, in partnership with PBOT, is working to speed up buses on Southeast Hawthorne Boulevard and Madison Street as part of a major Rose Lane project
Southeast Hawthorne Boulevard offers a slice of classic Portland – mainstay restaurants, up and coming food carts and eclectic shops. There is something special about wandering down the sidewalk and popping in here and there to take it all in. It's not as much fun when you're watching this happen from a bus that's stuck in traffic. When you get on a bus, you have somewhere to go, and you need to get there fast and on time. TriMet thanks our partners at PBOT for making new improvements – including red bus only lanes, to speed up our Line 2, 10 and 14 riders traveling on Southeast Hawthorne and Madison streets between Downtown Portland and the Hawthorne business district.
Speeding up transit and improving safety
PBOT painted the new rose lanes on Hawthorne and Madison streets, between Southeast 12th Avenue and Southeast Grand Avenue. The project, developed through the Central City in Motion plan, brings a new business access and transit (BAT) lane to Hawthorne Boulevard and upgrades the existing bus-only lane on Madison Street from an AM peak lane to a full time bus lane. It will result in faster bus trips for riders on TriMet's line 2, 10 and 14 buses, improved cyclist and pedestrian safety and better traffic flow on some of the busiest roads in inner Southeast Portland.
Faster trips between Gresham and Downtown Portland
While the project is close to Downtown, riders throughout the corridor will benefit from faster, more reliable service.
Line 2-Division serves riders from Gresham to Downtown Portland, with stops on Division Street in Gresham and East Portland, as well as outer and inner Southeast Portland. Prior to the COVID-19 pandemic, Line 2 provided more than 9,000 trips every day.
Line 10-Harold offers weekday service between Lents Town Center Transit Center in Southeast Portland to Downtown Portland, along Southeast Harold and Steel streets before moving over to Madison. Nearly 2,400 rides were taken on Line 10 daily prior to COVID-19.
Line 14-Hawthorne also connects riders between the Lents Town Center Transit Center, Southeast Portland and Downtown via Hawthorne Boulevard and Madison Street. Prior to the pandemic, Line 14 provided more than 6,000 trips every day.
Working together for a better tomorrow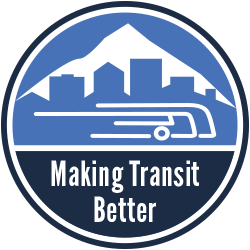 As the Portland metro area emerges from the COVID-19 pandemic, the region's population is expected to grow and the economy is projected to expand. However, our roadway space will remain relatively unchanged. If we don't provide better travel options for new residents and commuters, we'll have an additional 110,000 cars on Portland-area streets by 2035, a 54% increase. TriMet is working with PBOT, Multnomah County and other jurisdictions throughout the region to innovate ways to speed up transit and make it a more viable option to access work, school, shopping and appointments. PBOT and TriMet will continue to invest in Rose Lane and Central City in Motion projects to help manage this growth. TriMet thanks our local, regional and state partners for helping us make transit better.