Riders will enjoy a smoother ride on rebuilt rail as TriMet successfully ends a series of spring projects requiring some delays and disruptions
TriMet's nine-day project to rebuild rail on the MAX system in Northeast Portland is coming to a successful close. MAX Blue, Green and Red line trains will return to normal operations on Monday, May 24, at the start of service.
The work completes a series of projects started earlier this spring to perform maintenance on the system. This latest work, begun on May 15, essentially rebuilt a stretch of our rail near I-84, under the Northeast 33rd Avenue overpass. It will boost the overall reliability of the MAX system and improve the riding experience for our customers. We appreciate their patience during the last nine days, as it allowed crews to operate heavy machinery in our right of way and weld the new pieces of rail into place.
MAX lines re-opening for service
TriMet staff work to complete as many improvements to the MAX system as we can during these major track projects, while minimizing the inconvenience to riders. Around 40 contractors and 20 TriMet staff worked around the clock to rebuild the trackway to make it a smooth and dependable ride. This work completes a series of related projects across the MAX Blue Line, including the replacement of rail crossings at both the northern and southern ends of the Gateway Transit Center, as well as rail maintenance work performed in April between E 122nd Ave and Civic Drive.
The light rail system running along 1-84 is of particular importance because it carries three MAX lines, with trains able to go full speed around the curved section we just replaced. It's also among our oldest sections of track, so by replacing it, we're able to add to the system's longevity. While ridership remains down roughly 60% from where it was during pre-pandemic levels, there have been more riders returning as restaurants and sporting events reopen. Maintenance projects are an effective way of keeping the light rail system in top working order as we plan for a future when we can welcome more riders back on board.
Project at a glance: May 15-23
Crews replaced around 2,600 feet of rail, some of which included parts of the original MAX Blue Line that began service in 1986.
For improved durability, around 500 wooden crossties were replaced by versions made of concrete.
The rail crossings where TriMet buses drive over tracks at the northern end of the Gateway Transit Center were replaced, which will create a smoother ride for bus passengers.
We used the shutdown as an opportunity to clean up litter along the tracks near the stations that were closed.
Stations between the Gateway Transit Center and NE 7th Ave were deep cleaned.
Crews also replaced two switch machines at the Gateway Transit Center.
Making Transit Better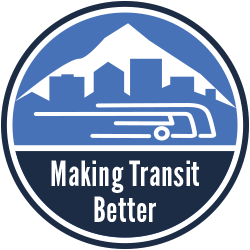 As more people become fully vaccinated and the pandemic slows, riders will return to a system that's seen a number of improvements. These help keep trains on time and make the riding experience more enjoyable. Maintaining a system that is safe, reliable, fast and welcoming is at the heart of TriMet's MAX improvement projects. While these projects may happen along a relatively short section, they have a ripple effect across the system, improving on-time performance and decreasing disruptions and delays.
Learn about other ways TriMet is making transit better.