Trains coming through the Gateway Transit Center will be disrupted April 17-18 as crews replace a rail crossing and perform other upgrades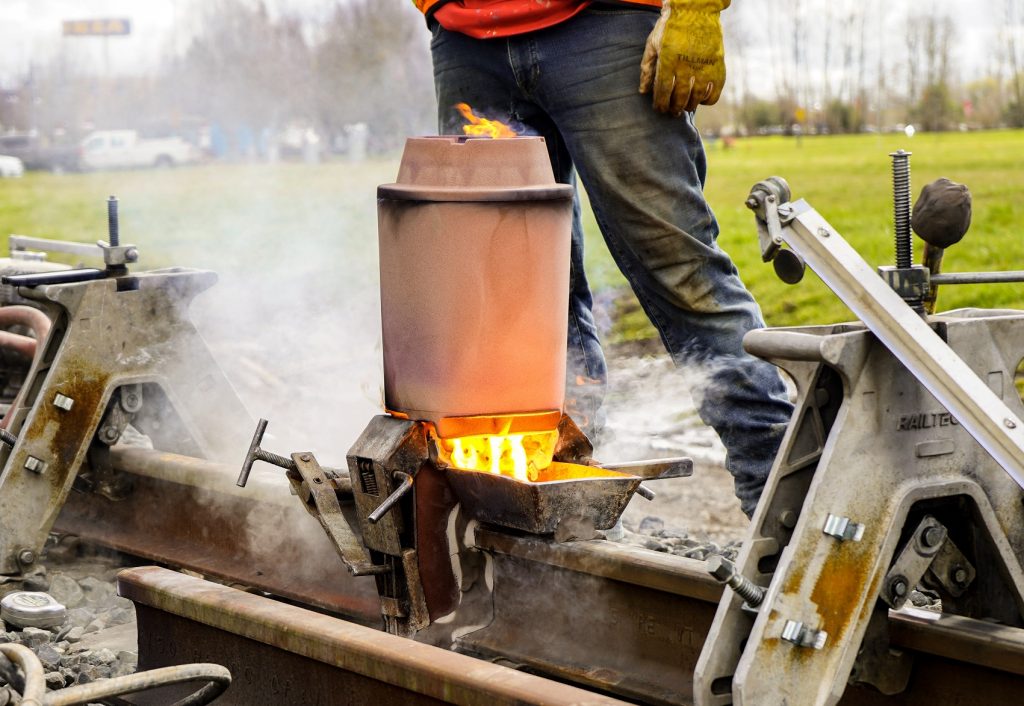 Imagine 40,000 pounds of steel, plastics and rubber rolling over the same railroad tracks hundreds of times a day, tens of thousands of times a year and more than 1.5 million times since it was built. For the rail crossing at the south end of the Gateway Transit Center, that's reality and the reason why TriMet will be replacing it with a more durable version as part of the ongoing MAX Blue Line Improvements project. After serving TriMet well for more than 30 years, it's time for the crossing to get an upgrade.
The rail crossing improvements will require a two-day disruption on Saturday, April 17, and Sunday, April 18. Riders who plan on taking MAX Blue, Green or Red line trains on Saturday or Sunday should plan some extra time. Shuttle buses will be running during the disruption to move riders around the work at the Gateway Transit Center. MAX service into the transit center will be limited, disrupting the Green and Red lines west of Gateway.
Disruption and shuttle buses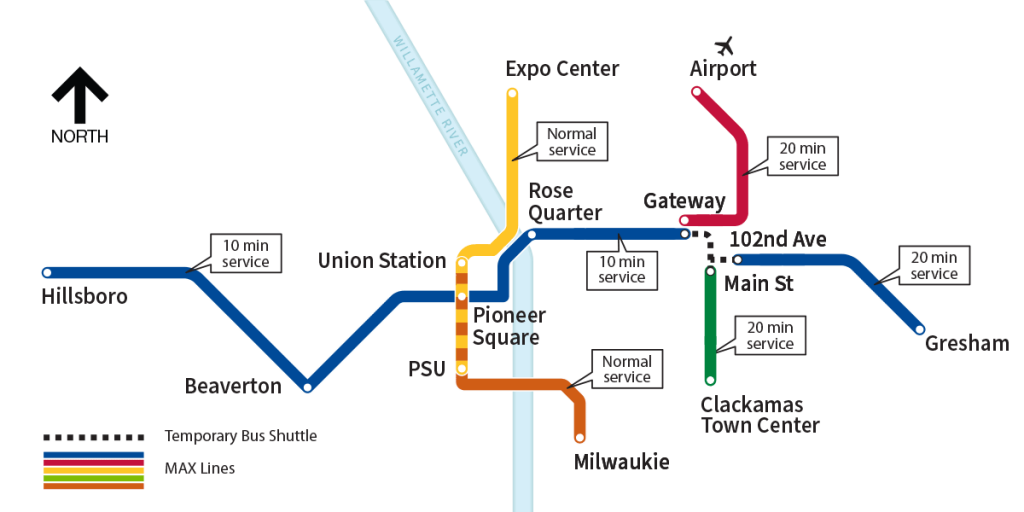 MAX Blue Line east of Gateway Transit Center: Blue Line trains will run between E 102nd Ave and Cleveland Ave stations, arriving every 20 minutes.
MAX Blue Line west of Gateway Transit Center: The only trains operating between Hillsboro and Gateway Transit Center will be the Blue Line. Riders will need to use MAX Blue Line trains between Rose Quarter and Gateway, as well as west of the Willamette River, where trains will be arriving every 10 minutes.
MAX Red Line trains: Trains will only run between Portland International Airport and Gateway, arriving every 20 minutes.
MAX Green Line trains: Trains will only run between Clackamas Town Center and SE Main St Station, arriving every 20 minutes.
MAX Orange and Yellow lines: Trains will not be affected.
During the disruption, TriMet staff will be on hand to help riders make their connections and answer questions. They will have masks available for people who need them. Signs will be posted to help direct riders to where the shuttle buses are located. We appreciate our riders for their patience and understanding as we work to make improvements that will help keep the MAX Blue Line a durable part of our system for years to come.
Riding tips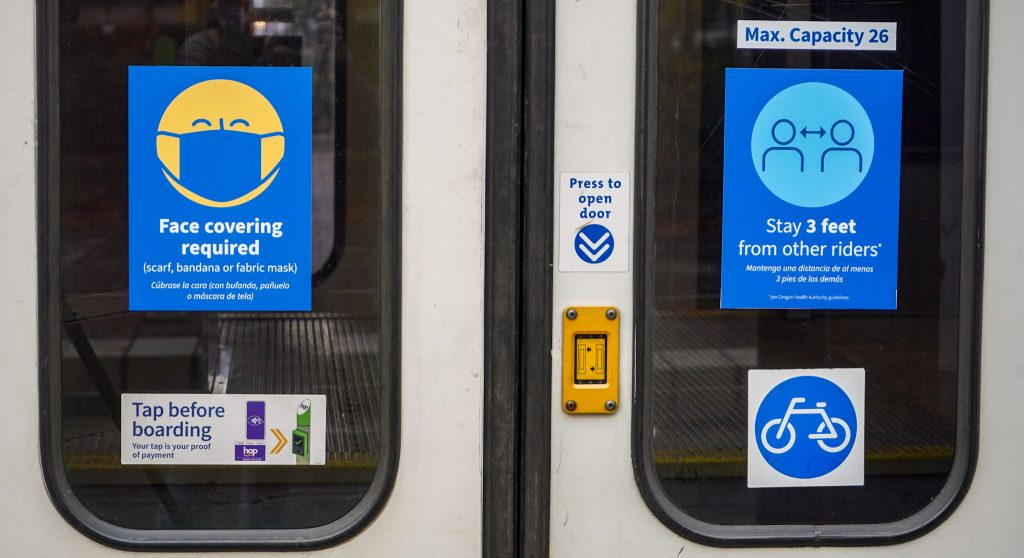 MAX Blue, Green and Red line riders should plan an extra 15 minutes for their trips.
Be patient, as shuttle buses will be arriving about every 5 minutes.
Remember, TriMet is capping the number of riders on buses and trains, and we continue to require masks on board, as well as at our busy stations, stops and transit centers.
Don't worry about tapping your Hop card again as you enter the shuttle bus.
Plan your trip in advance of the disruption by going to trimet.org/tripplanner.
Have questions? Contact our Customer Support team by calling or texting 503-238-7433 (RIDE).
More durability and a smoother ride
Crews will replace the existing crossing with a more durable version made of concrete. The crossing currently in place, installed more than three decades ago and placed on top of wooden ties that are part of the trackway. Crews will take out the crossing and the ties underneath in order to place a 16-inch-thick, cast-in-place concrete crossing. With the concrete in place, the crossing will be sturdier and create a smoother ride for bus passengers.
We will also use this time to replace two switch machines just south of the Gateway Transit Center. One of the switch machines is among our most heavily used and is operated nearly 160 times per day. Replacing the switch machines will increase their reliability and improve our ability to maintain them.
The work will take place around the clock to ensure it's completed on time, with trains resuming normal operation at the start of service on Monday, April 19.
Upcoming work
Under the umbrella of the MAX Blue Line Improvements project, TriMet is performing a series maintenance work to keep the light rail system's oldest line in good working order. This work will impact riders on the following dates:
Today, crews began making rail improvements between Hatfield Government Center in Hillsboro and the Goose Hollow/SW Jefferson St Station, which is also part of the MAX Blue Line Improvements project. This maintenance work will create up to 20 minute delays on the west side through April 25. To see alerts for those stations go to trimet.org/alerts. To check arrival times, go to trimet.org/tracker.
East side partial day disruptions, May 3-7: Trains will be disrupted on MAX Blue Line between E 122nd Ave and Civic Drive stations between the hours of 7:30 a.m. and 8 p.m. Shuttle buses will provide service between those stations during those times. Riders should plan an extra 30 minutes for trips in this area.
Northeast Portland disruptions, May 15-23: Trains will be disrupted on the MAX Blue, Green and Red lines. Shuttle buses will serve stations between NE 7th Ave and Gateway Transit Center.  There will be no MAX Green and Red Line service west of Gateway, and trains will arrive less often in sections. Riders should plan an extra 30 minutes for trips.
Making Transit Better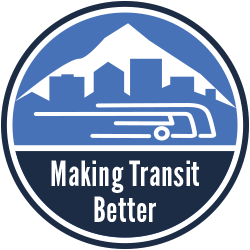 TriMet's MAX improvement projects have helped make transit more reliable over the years, allowing us to perform upgrades to parts of the system that are 34 years old. These upgrades revitalize the system, reduce the wear and tear on our trains and bring the latest technology to older sections. To learn about past projects and the other ways TriMet is Making Transit Better, and to learn more about the MAX Blue Line Improvements project, visit TriMet.org/improvements.