With social distancing difficult for people who are blind or visually impaired, TriMet and Guide Dogs for the Blind urge riders to be patient and understand how they can assist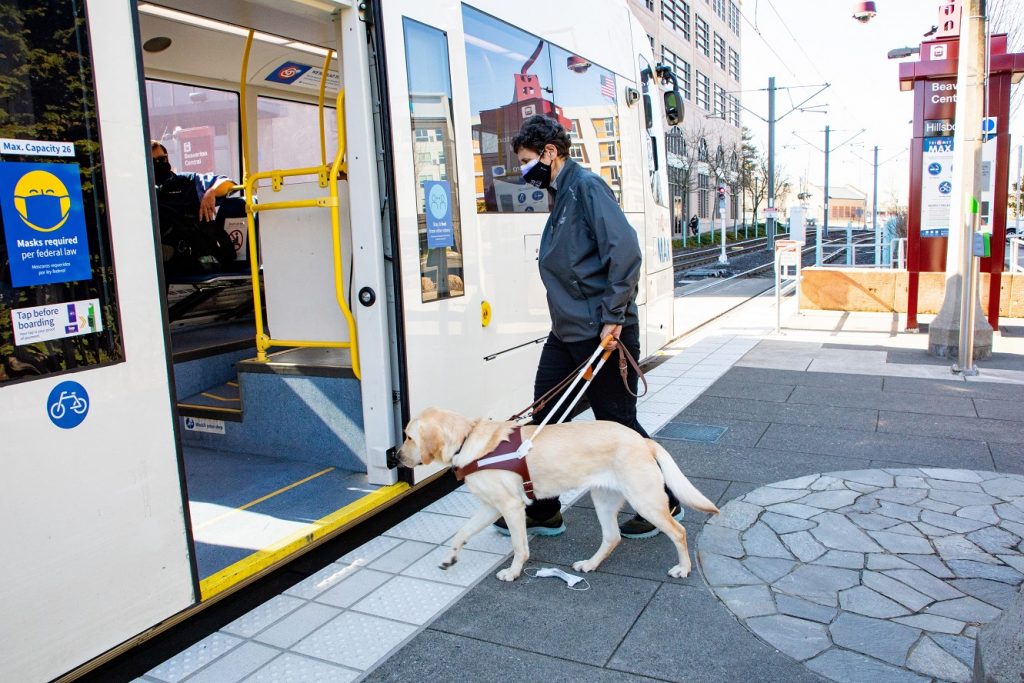 COVID-19 guidelines can pose extra challenges for people who are blind or visually impaired, conditions that affect around 2% of the state's population. TriMet is dedicated to ensuring people with visual impairments have broader access to the region. During COVID-19, people with these disabilities have continued to rely on buses and trains to get them to work, reach appointments or go to the store.
TriMet and the nonprofit Guide Dogs for the Blind want to bring awareness to the challenges people who are visually impaired face as they navigate public places, especially buses and trains, in a socially distanced way. Guide Dogs for the Blind is calling for compassion during COVID-19, especially for those who are blind or visually impaired who are navigating the pandemic. As more outdoor events re-open and people begin riding more, TriMet asks everyone to be aware and respectful of those who cannot see all the visual cues and may find it difficult socially distancing from others.
Understanding the challenges
Guide Dogs for the Blind specializes in connecting people who are blind or visually impaired with trained guide dogs free of charge. Before COVID-19, the training included bringing guide dogs onto buses and trains to acquaint them with the system.
The challenges that COVID-19 presents are most commonly around social distancing, says Chari Chauvin, a 25-year TriMet rider who has received two guide dogs through the nonprofit. Guide dogs are trained to navigate public areas to keep their handlers safe, but they do not understand the concept of social distancing.
"The biggest thing is for people to realize it's not intentional if we're not maintaining social distance and to feel free to move away or speak up," Chari says.
Chari and Guide Dogs for the Blind urge riders to be understanding, and they recommend riders do the following to help keep themselves and those who are blind or visually impaired safe:
Ask, "How can I assist you?"
People shouldn't be apprehensive to lend help to someone with a guide dog, Chari says. Among the top challenges during COVID-19 is finding a free seat that's away from other people. Other riders can help, if asked, by providing directions like, "There's an empty seat a couple of feet to your right."
Be understanding and create space
People who are blind or visually impaired may not know how close they are to others. For Chari, who has no peripheral vision, she can direct her guide dog to avoid objects directly in front of her, but not to her left or right.
Make seats available in the priority seating area
While priority seating can be used by all riders, they're set aside for seniors and people with disabilities, including those relying on mobility devices or service animals. Making these seats available to people with service animals helps them find a place to sit that's appropriately distanced from others.
Don't distract the service animal
As much as we all love dogs, it's important to remember that guide dogs have the important job of keeping their handlers safe. Many handlers love talking about their guide dogs, Chari says, and are open to questions about them. However, attempting to pet the dog or calling out to it pulls the dog's attention away from its job.
Accessibility features available for low-vision riders
While no permit is required to bring service animals on board, guide dogs must meet the U.S. Department of Transportation's regulatory definition: a guide or signal dog, or other type of animal, trained to perform tasks for people with disabilities. The animal's handler is responsible for its supervision, making sure it's on a leash and out of the way of other passengers.
Other accessibility features for low-vision riders include:
MAX and WES stations have Braille/raised-letter signs that indicate which lines serve the station and where they go.
Textured tiles are featured along the edge of boarding platforms at all MAX, WES and Portland Streetcar locations. These tiles act as a warning if you're too close to the edge and can be felt with a cane or your feet.
All ticket machines have instructions in audio, raised letter and Braille.
MAX, WES and buses announce their line name and destination over a speaker as they pull up to stops. On the bus, you can also ask the operator to announce when you are nearing a specific stop.
We appreciate how understanding our riders have been during COVID-19 and want to encourage a continuing dedication to riding with respect. If you have any questions about bringing your service animal on TriMet, please call us at 503-962-2455 or email accessible@trimet.org.