On-site clinics made possible by the Oregon Health Authority are helping TriMet operators and other staff protect themselves from COVID-19
TriMet employees are among those in Oregon and Washington who have been rolling up their sleeves to get vaccinated against COVID-19 in the past several weeks, but now we're able to offer shots to our employees directly at our operating facilities. Many of our employees, especially our operators, maintenance workers and other frontline employees work shifts that make it hard to get vaccine appointments elsewhere. Being able to administer the shots on site, TriMet is bringing the shots to them.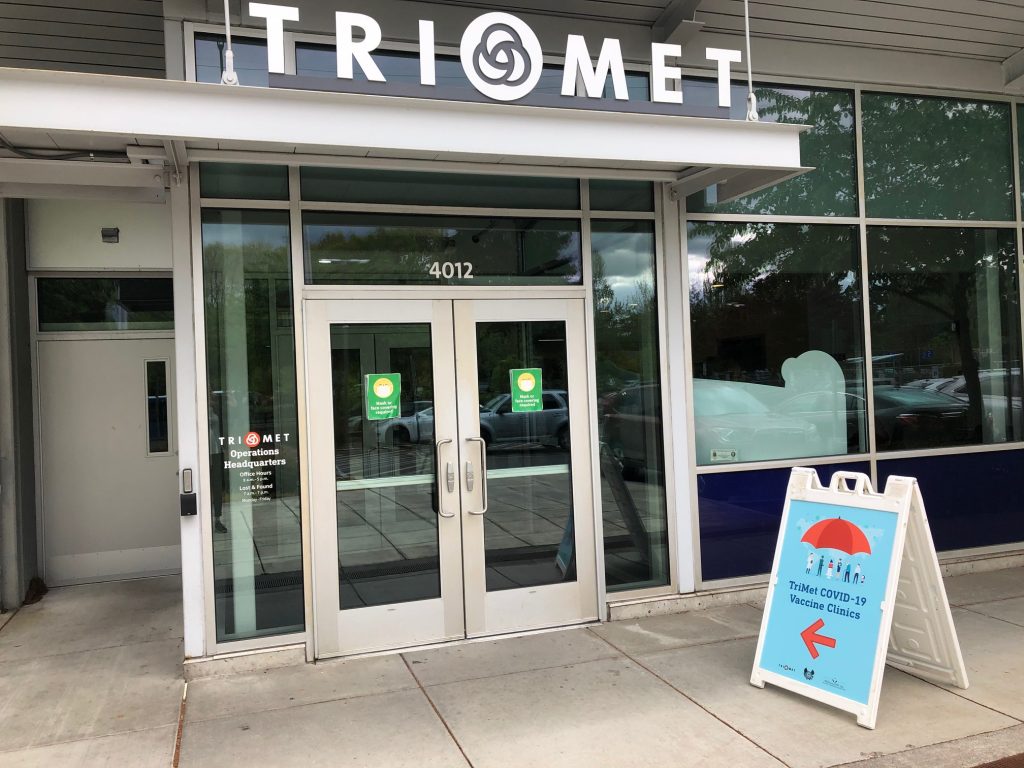 "We are thrilled to be able to offer a safe, convenient option for our employees to receive their COVID-19 vaccine," said TriMet Interim General Manager, Sam Desue, Jr. "Our operators, frontline staff and other employees have worked selflessly throughout the past year to keep our transit service rolling and our community moving. They are heroes, and this is one way we can show our appreciation for their commitment and dedication."
Our first on-site vaccination clinic was held today, April 26, at TriMet Operations Headquarters in Southeast Portland. We will hold clinics at other facilities throughout the week. The clinics are open to employees along with qualified family members and contract workers who help TriMet provide safety, work on rail projects and provide other services.
"It was painless. It was absolutely painless," said bus operator Steven Martinson, who received the first vaccine administered at TriMet. "I've been in self-isolation for the last year other than coming to work, so to have the clinic here is very helpful."
TriMet worked closely with the Oregon Health Authority to get permission to vaccinate on site and with the regional health authority to get the vaccines. Our first allotment includes 1,000 doses of the Moderna vaccine. While we believe the decision of whether to get the shot is a personal one, we encourage our employees to consider it for their own safety and the health and safety of their loved ones.
"This is amazing. I don't have to go anywhere. I don't have to look for it," said Fadi Hamad, who works at TriMet as a Road Supervisor. "I went on the internet, and I couldn't find any place to get the shot. They were all full. This was fantastic. This was wonderful."
Operating during the pandemic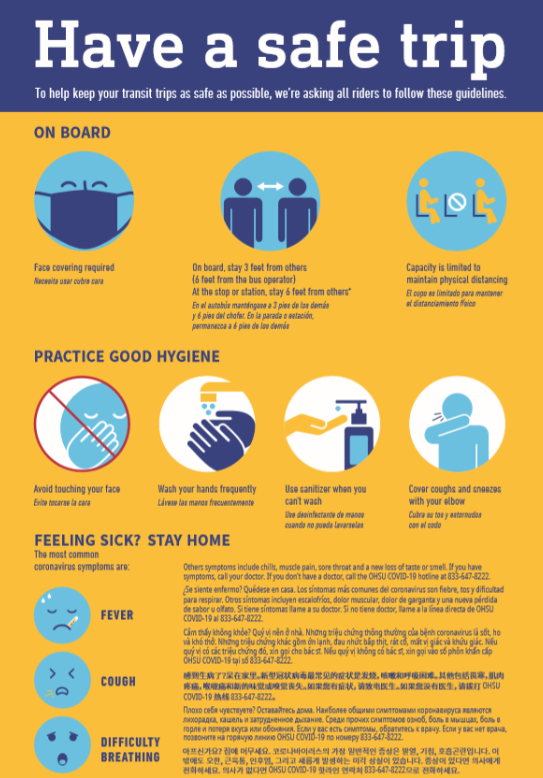 We want to thank our employees for their commitment to providing safe, reliable transportation to essential workers and those who relied on TriMet throughout the pandemic to reach necessary services. While vaccination helps provide a layer of protection against COVID-19, our employees and riders must continue to wear masks, practice good hand hygiene, maintain a safe distance and stay home if they are not feeling well.
TriMet also continues to provide masks and hand sanitizer on board buses and most trains as well as limit capacity on board so riders can spread out for safety. To date, we have distributed some 5 million masks. We also clean and sanitize vehicles and high-touch surfaces regularly.
Where we are now
Even with the vaccine rollout across Oregon, cases of COVID-19 in Multnomah, Washington and Clackamas counties are on the rise. We care about the health and safety of all of our riders and employees. We ask that riders use our service only for necessary trips, to help prevent crowding and leave space for essential workers and those who rely on transit. Learn what it's like to ride during the pandemic and find more about our COVID-19 health and safety procedures at trimet.org/health.