Testing begins on long-range battery-electric bus as TriMet explores additional, promising non-diesel technologies
If you recently drove Interstate 5 between Livermore, California and Portland – you may have seen it. Our brand new electric bus, fully covered in TriMet's bold orange and blue color scheme, being transported on a flatbed to its new home. It's the first of five new electric buses coming to our fleet. The buses will begin our test of long-range electric bus technology. These buses can travel 150 miles or more on a single charge. But, battery-electric buses may not be the only solution to TriMet's transition to a 100% zero emissions bus fleet. This year, we're kicking the tires on even more options.
Taking it for a spin: Fuel cell electric
Earlier this month, the manufacturer of our first short-range, battery-electric buses, New Flyer, brought a fuel cell-electric bus to Portland for us to take a look. Fuel cell technology is promising, especially because it extends the range of the bus to as many as 350 miles. Just like our battery-electric buses, there are absolutely no carbon emissions. Hydrogen-fueled buses have only two bi-products: water and heat.
Seeing double: Double deck electric
You might think you're seeing double if you spot a double-deck electric bus around town. It certainly would be hard to miss. An all-electric double decker bus is on a tour of cities across the west, and it's making a stop in Portland next week. Double-deckers offer nearly twice the capacity on board, while taking up the same amount of space on the street as a regular bus, and the bus has zero-emissions. The Portland metro area presents some challenges when it comes to double-deckers, like tree branches hanging over streets and the overhead wires for MAX and Portland Streetcar, so we don't currently have plans to add them to our fleet.
Our transition to non-diesel: Not one size-fits all
With TriMet's 84 bus lines serving riders across a 533-square mile area and serving three counties, our transition to a non-diesel bus fleet may include a diverse mix of technologies that serve conditions specific to certain routes. Some buses may need to be able to travel farther. Some may need to have extra propulsion to climb into higher elevations. Some may make quick trips, on a quick charge, like our original New Flyer battery-electric buses.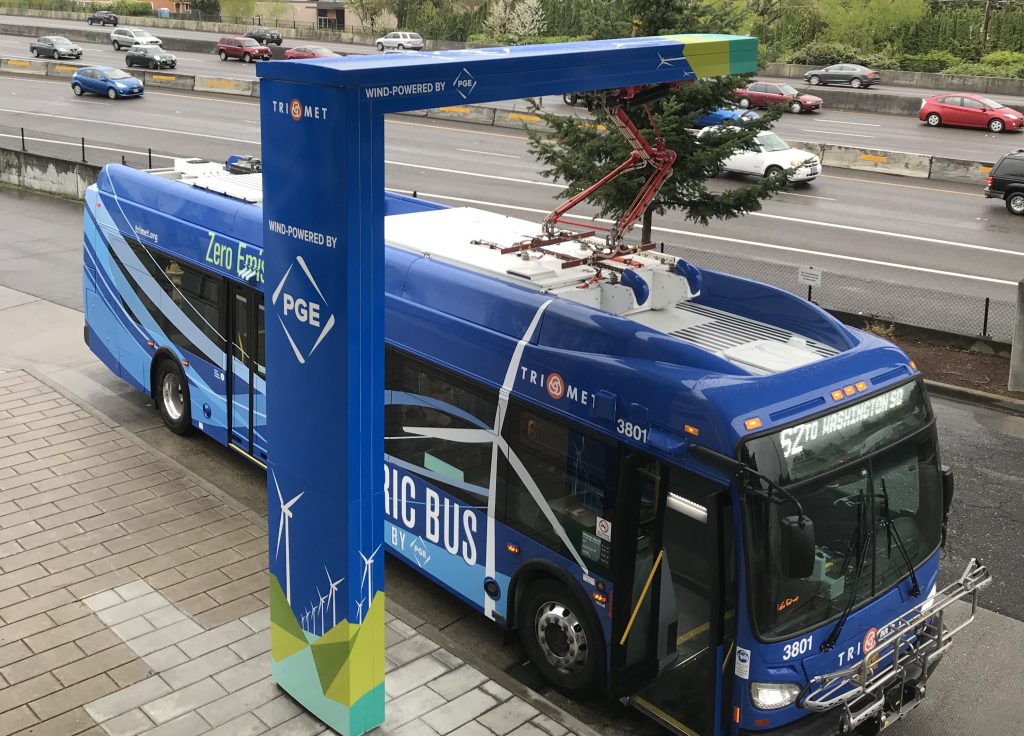 Find a comprehensive update of our current electrification program here.
Transition to non-diesel by 2040
There's no doubt that the COVID-19 pandemic presents financial challenges to TriMet's plans to convert our 700+ buses to a non-diesel fuel source in less than 20 years. Battery-electric buses still cost about a million dollars each, about twice the cost of a diesel bus. However, we are leveraging federal funds and those generated by the Keep Oregon Moving Act. To date, all of our electric buses have been purchased with the help of grants from Federal Transit Administrations Low or No Emission Vehicle Program. Additional costs associated with the conversion include charging infrastructure and having adequate space to accommodate it. TriMet will continue pursuing federal and local funding, as strategic partnerships to achieve this goal.
A more equitable road ahead
We recognize that low-income communities and communities of color in the Portland metro region are disproportionately affected by carbon emissions. As we roll out our clean energy plan, we are intentionally focusing green technologies in areas that have been impacted by diesel and other pollutants. Our Powell Operations Facility, located at Southeast 99th Avenue and Southeast Powell Boulevard, currently under renovation, is being re-engineered to store and power electric buses. The buses that are housed at the Powell facility predominately serve communities of East Portland and Multnomah County.