Whether it's with a few kind words or a note posted to social media, March 18 is a day to pause and acknowledge the hard work of transit drivers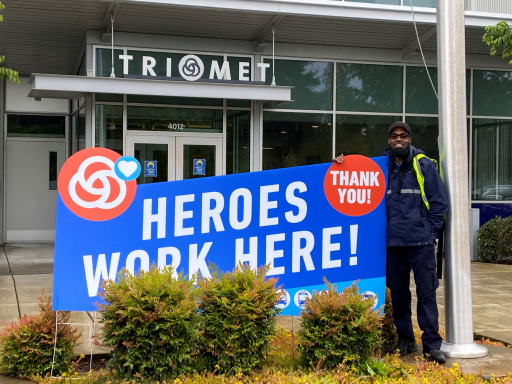 The past 12 months have been a period of unparalleled challenges, with the pandemic having creeped into so many aspects of people's daily lives. But despite all of the changes, TriMet's operators have remained a steadying force, helping those who have needed to ride and serving the community through extraordinary times. Transit Driver Appreciation Day, Thursday, March 18, is a time to take a moment and publicly acknowledge the dedication of those who keep transit moving.
In addition to COVID-19, the past 12 months also saw devastating wild fires so severe they blotted out the sun and a winter ice storm of historic proportions. While it wasn't always easy, our operators rose to meet these new challenges, often going above and beyond. LIFT operators delivered groceries and items from food pantries during the early days of COVID-19, while others helped with wildfire evacuations during the summer.
Through the course of their daily routines, drivers come to know their riders and what matters to them, so a few kind words or recognition for what drivers do is a gesture they take to heart. As bus operator Leo Morelos said:
You know who's going to work, who's getting off work, and who's just going for a ride. Just saying hello and thank you and how's your day going can change a person's day. It does with me.

Leo Morelos
Thanking from a distance
Even before COVID-19, it was common for bus riders to bid their farewells with a boisterous "thank you!" while exiting from the rear doors. This Transit Driver Appreciation Day, we ask that riders continue the practice of exiting through the back. Public health guidance stresses that riders should keep spreading out to give themselves and operators space. It's another way of showing operators that you care—and it comes in addition to the more traditional forms of recognition.
Saying "thank you" as you exit through the back.
Giving a wave or a thumbs up to MAX operators as they pull in and out of stations.
Reaching out and letting us know. Riders can call or text 503-238-RIDE or tweet @trimet to direct their accolades to a driver.
Making a social media post. On Twitter, you can use #TDAD to add your kudos to the national conversation.
Transit Driver Appreciation Day
TriMet's 1,472 operators make a difference in the lives of tens of thousands of people every day. With them at the helm, you don't have to worry about taking the wheel, finding parking or gassing up. Even with ridership down due to COVID-19 and the number of passengers on board limited, our operators help people make more than 180,000 trips per day. No matter whether it's a holiday, the weekend, late at night or well before the sun has even risen, there are operators committed to doing their best to bring you to where you need to go safely.
Begun as "Bus Driver Appreciation Day" in 2009 by riders in Seattle, TriMet started recognizing the day in 2013. A name change happened in 2014 to acknowledge train operators, and finally a formal City of Portland proclamation was signed by Mayor Ted Wheeler in 2018. From its humble roots, the day has come to be recognized across the country, as well as internationally. It is TriMet's honor to support Transit Driver Appreciation Day, and we are proud of all of our operators and what they do to improve the lives of countless people every day.