Team TriMet to help educate riders about the importance of wearing masks properly, on transit and in the community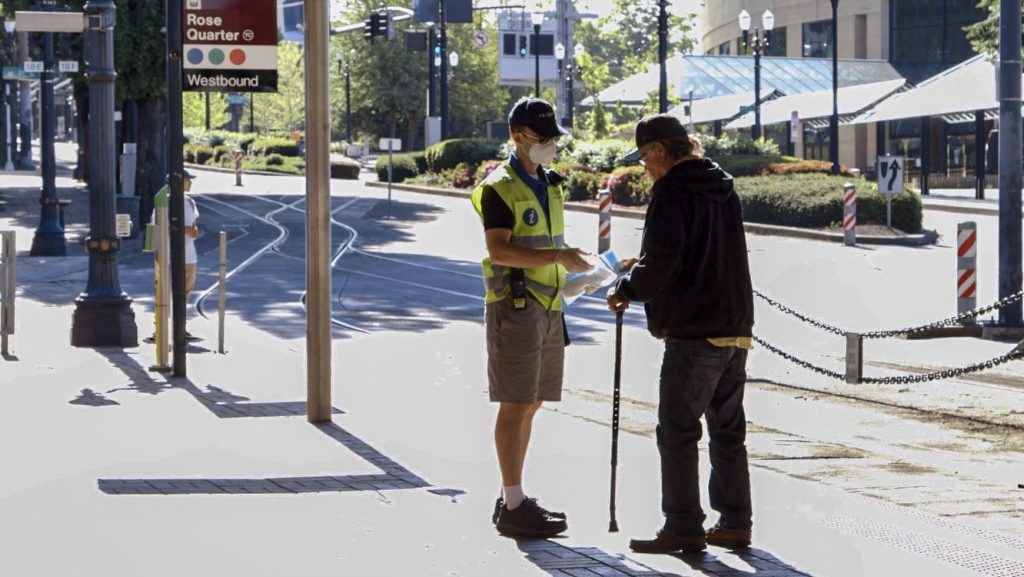 TriMet is aiming to keep masks within reach of everyone this winter. From Sunday, Jan. 17, through Saturday, Feb. 6, TriMet staff will be out at transit centers and at select bus stops giving away disposable masks to those who don't have them and educating transit riders on wearing them correctly – over both the mouth and nose. We'll also remind riders about our requirement to wear a mask at all times while on board and where to find them, along with hand sanitizer, on buses and trains when they don't have their own.
Cases of COVID-19 continue to rise, even as we enter a new and promising phase of the pandemic, with the rollout of vaccines now happening throughout the Portland area. We care about the health and safety of all of our riders and employees, and we want to keep helping those without access to face masks protect themselves and others. Requiring and providing masks is one of many ways we're working to diminish the spread of COVID-19. They also include:
Limiting the number of riders on buses and trains, with seats marked off to allow people to spread out.
Hiring more than 100 cleaning staff to help with our elevated cleaning efforts.
Adding high-efficiency cleaning equipment, such as electrostatic sprayers and fogging machines.
Installing hand sanitizer dispensers on all buses and most trains for our riders' comfort and convenience.
Millions of masks distributed
Our Team TriMet expects to distribute tens of thousands of masks over the next three weeks. This is a continuation of a months-long push to inform and educate riders, supply masks to riders and others in the community and help try to keep everyone safe and healthy.
In May, TriMet became one of the first transit agencies in the United States to provide free masks on all of our vehicles. Since then, we've given away more than 3.7 million—1.5 million more masks than the population of the Portland metro area. While most have gone to our riders, TriMet has also distributed face coverings and masks, including 95,000 KN95 masks donated by Clean Water Services, to community organizations. Tens of thousands of these masks will serve communities of color that have been disproportionately affected by COVID-19.
We've also had staff handing out masks at transit centers, including during our Steel Bridge MAX Improvements project last summer. And to help inform our riders and the greater community of the importance of following health guidelines and always wearing a mask, TriMet produced a series of public service announcements featuring local celebrities. Featured in the videos are people who make Portland a unique place, including the Unipiper, Timber Joey and Poison Waters. These videos highlight the importance of wearing a face-covering on and off transit—while having a little fun in the process. Buses and benches featuring Poison Waters and the Unipiper along with a pro-mask message can now be seen around Portland.
The next three weeks will expand on these previous efforts, with staff spread throughout the system to connect with even more people where they're riding.
Masks always required
Wearing a face covering or mask correctly sends a strong message that you care about the well-being of yourself and others. Anyone wearing a mask should make sure it covers both their nose and mouth. It's the only effective way of blocking airborne droplets capable of carrying COVID-19. We thank our riders for wearing masks and hope to encourage even more proper use of them in the days and weeks ahead.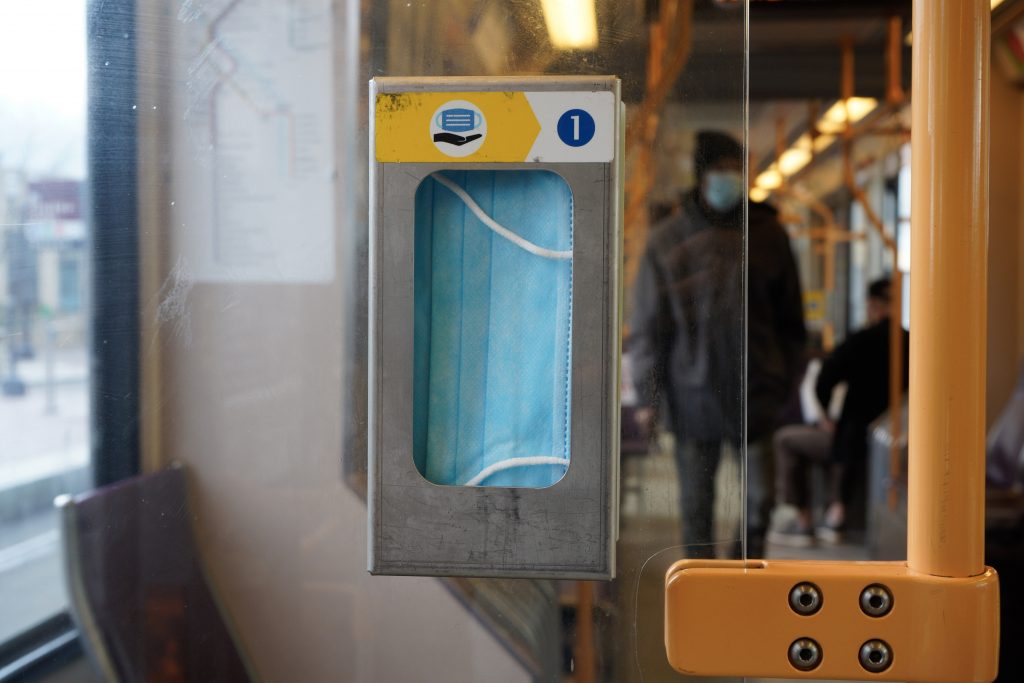 In addition to being available on buses, trains and from our on-street team, riders can also pick up masks at our Customer Support Center in Pioneer Square. It's open Monday through Friday from 8:30 a.m.-5:30 p.m. When visiting, please keep at least six feet from others.
These efforts, along with the enhanced cleaning and passenger limits, are proven ways of limiting COVID's spread. We'll continue doing all of this for as long as necessary, and we'll keep educating riders about the steps we're taking to help make their trips safe. Visit our COVID-19 resource page to find out more about what TriMet has been doing since the start of the pandemic.
Dispose of masks appropriately
Disposable face masks are intended for single-use but can be worn throughout the day. Because they are most effective when they aren't being repeatedly taken on and off, we encourage people to wear them at times in public as advised by the Oregon Health Authority. Whether you grab one from a Team TriMet staff member or from a dispenser on board a bus or train, please dispose of it in a trashcan or hold on to it and throw it away at home. Improperly discarded masks are particularly bad for birds and other critters that call the city home. Because the straps can get tangled in a bird's legs, it's best to snip or tear the ear loops before throwing your mask away.