Construction of the project reaches 40%, bringing the Division Street corridor closer to a better, faster and more reliable transit service, beginning in 2022
After nearly a year of construction, TriMet's Division Transit Project is coming into view. Despite the COVID-19 pandemic, crews with project contractor, Raimore Construction, made significant progress across the 15-mile stretch between Gresham and Downtown Portland. Their work helps pave the way for a new kind of transit service that will make bus trips faster and more reliable. While this new service is on track to begin in fall 2022, the Division Transit Project is already beginning to create a safer environment for all who travel on Division, whether they ride, walk, roll or drive.
Better, faster, more reliable transit
In January 2020, the Federal Transportation Agency (FTA) awarded TriMet an $87.4 million grant for the project. The federal funds cover approximately half of the approximately $175 million project, which will include:
Longer buses with room for more riders
Multiple-door boarding for shorter stops
Expanded bus stations with amenities including weather protection, seating, lighting and TransitTracker® real-time arrival displays
Transit signal priority to help bus riders get to their destinations faster
The improvements will speed up bus travel on what is currently TriMet's Line 2-Division route, by as much as 20%.
In the first year of construction, and despite working through the COVID-19 pandemic, crews completed approximately 40% of construction. Among the accomplishments:
Poured 28 of 83 station platforms
Installed first new transit priority signal to help speed up buses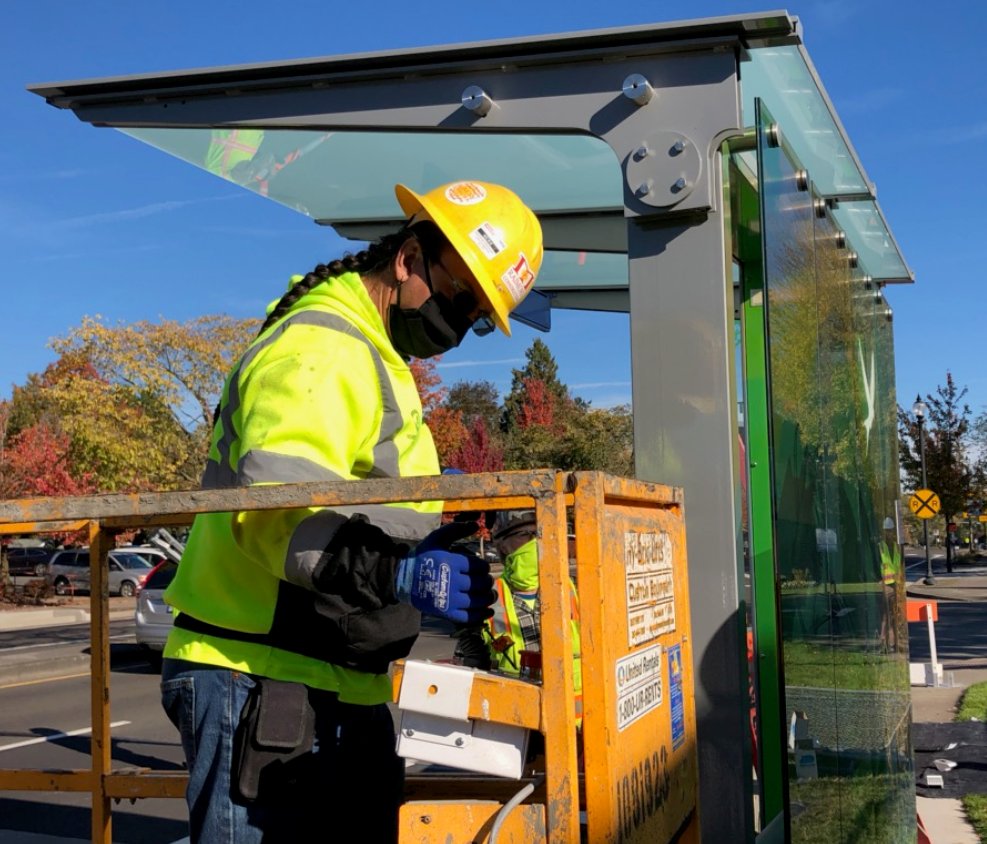 Increased safety and environmental improvements
The Division Transit Project won't just make transit better; it includes much-needed pedestrian and biking improvements for what is considered a high-crash corridor. The project will bring some 4.5 miles of protected bike lanes; nearly 81,000 square feet of new sidewalks; new and improved crosswalks with stop lights, median islands or flashing lights. These improvements, along with storm water treatments, will help make the corridor more sustainable, safer and accessible. Among the work already completed:
Five new pedestrian safety islands
Seven bioswales to filter storm water
Economic opportunities
The Division Transit Project is already putting people to work and will provide more economic opportunity as the region recovers from the impacts of the global pandemic. The project is expected to create more than 1,400 jobs, including 650 construction jobs and more than 780 indirect and induced jobs. It is also is projected to bring more than $137.7 million in economic value to the corridor, including employee compensation and business income.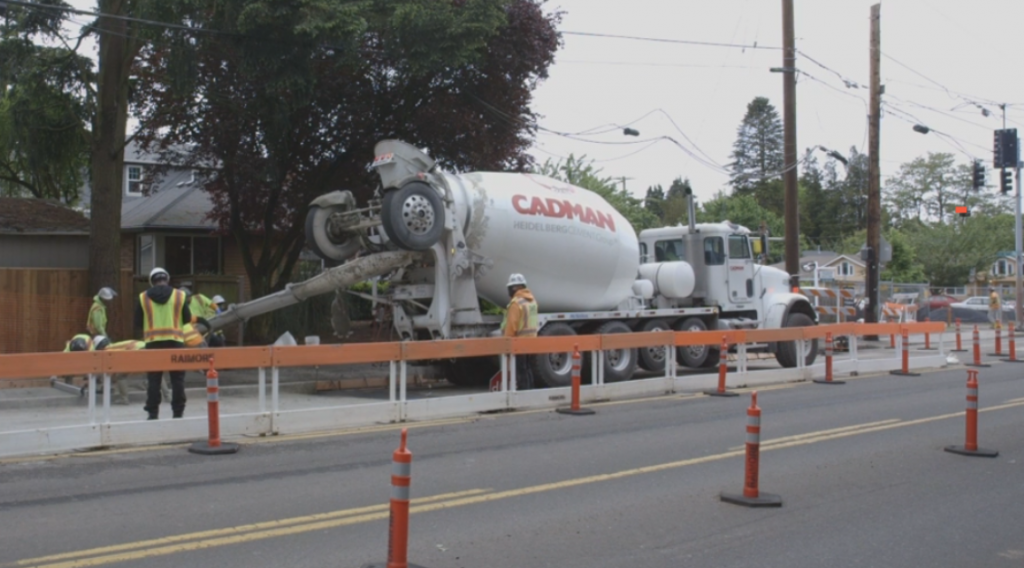 Project partner
Construction of the Division Transit Project resulted in the largest-ever contract award to a Disadvantaged Business Enterprise (DBE). Portland-based Raimore Construction is a long-time TriMet partner, with a decades-long history of working to help improve transit throughout the region. The contract puts Raimore on the path to graduate from Oregon's DBE program and blazes a trail for other small, minority-owned businesses.
Making Transit Better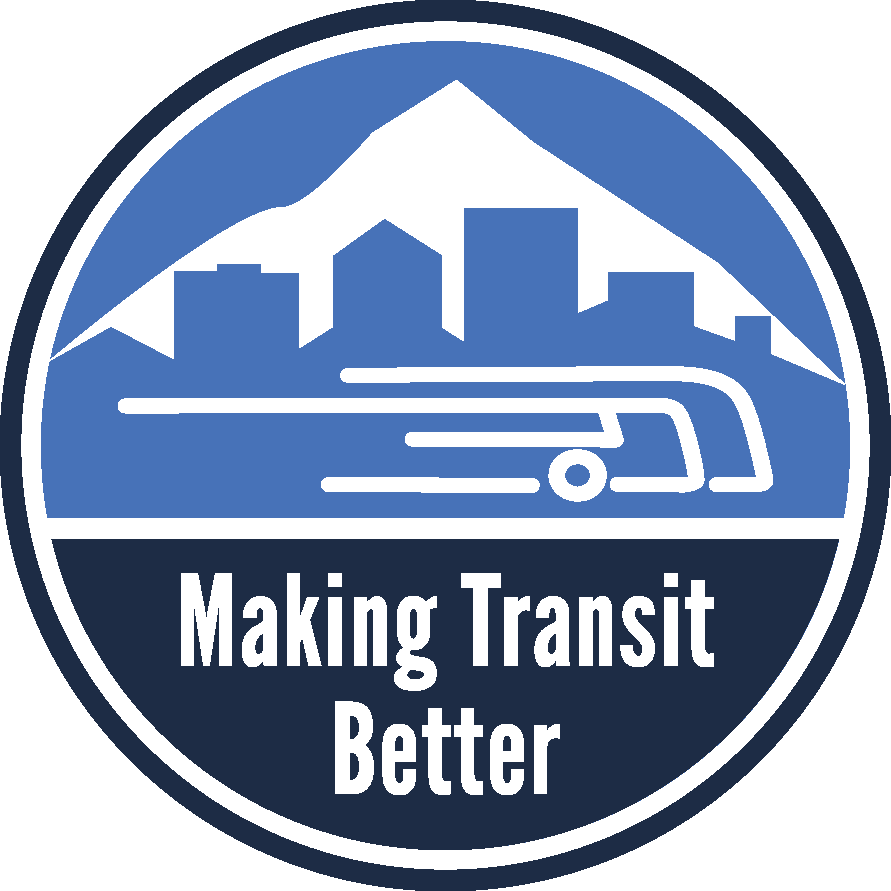 The Division Transit Project is part of our capital-investment program to make transit better and help the region's transportation system work for everyone. When trips on our buses and trains are safe, fast and reliable, transit becomes a more viable option for getting to work, school, services and other destinations. As transit use increases, congestion and air pollution decrease. So we're not only improving the ride, we're helping to drive the livability of our community and advance climate goals that benefit us all. Learn more about the Division Transit Project at trimet.org/division.