With an emphasis on safety, the virtual reality scenarios represent real-world situations that would be impossible to recreate on actual trains
Floating hands hover over the controls of a MAX Yellow Line train as a pedestrian crosses the tracks up ahead on Interstate Avenue. The train has stopped well in advance, waiting now as a voice in a headset offers helpful advice about getting back up to speed safely.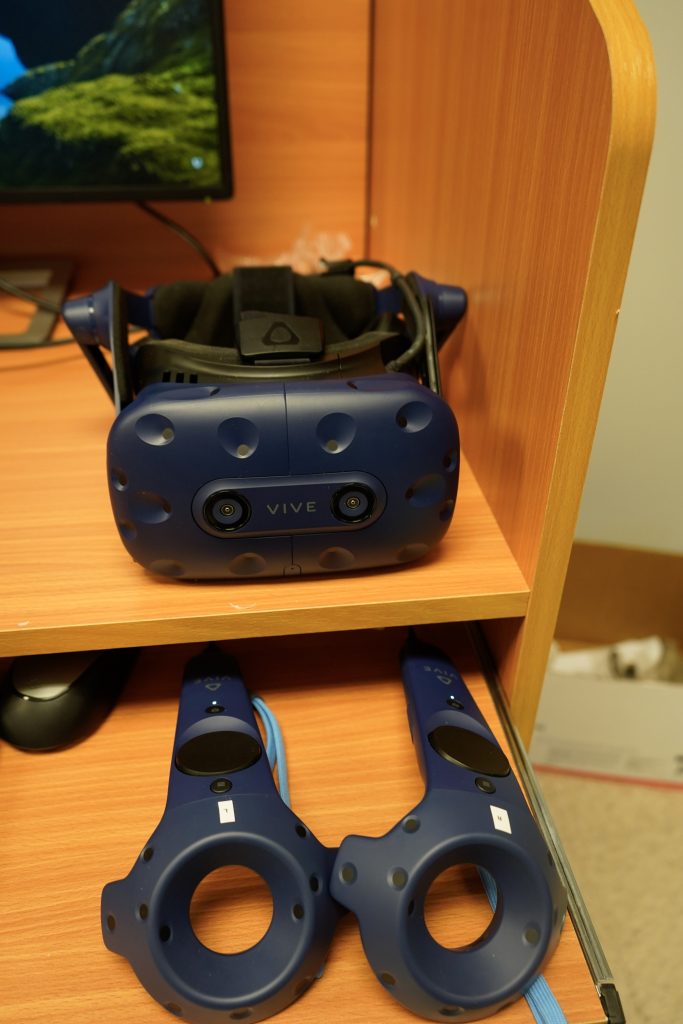 "Remember, in the virtual world the train will automatically accelerate to the correct speed," the voice says. "In the real world, you may need to adjust the acceleration. Watch out for hazards," the voice adds.
As if on cue, only a few seconds after the train starts moving again, a truck makes a sudden, sharp left turn onto the tracks. You never know what to expect in the virtual world—just like the real one.
To bring that into greater focus, TriMet is turning to virtual reality (VR) to help train our MAX operators of the future. Starting in November, TriMet began piloting VR training. The program is intended to supplement in-class instruction, as well as their training behind the controls of an actual train. By tapping into the countless real-life scenarios MAX operators face daily—inside a controlled, virtual space—instructors can better prepare operators to think fast, react with purpose and know how to troubleshoot problems, all without putting people or equipment in harm's way.
Solving real-world problems
Virtual reality has been used to train people in a wide range of fields. Airline pilots, doctors, construction workers and soldiers may receive some form of virtual reality training nowadays, and a common thread these careers share is the importance of safety. VR provides the benefit of putting a student into scenarios that would otherwise not be safe.
After nearly two years of development, TriMet's VR training program will become among the first in the U.S. to be used to train light rail operators. The program was created by Foundry 45, a developer of virtual reality training simulators based out of Atlanta, Ga. Within the virtual world, they built environments that replicate various MAX lines, with actual landmarks, buildings, facilities and stations creating an overall experience based on what operators see every day.
"We're able to recreate these experiences (for operators) prior to them going out and doing their job," Operations Training Manager Todd Mattson said. "We can take some things that are centered around safety, recreate them in a virtual environment, and let them have that experience. That makes them more confident, more aware."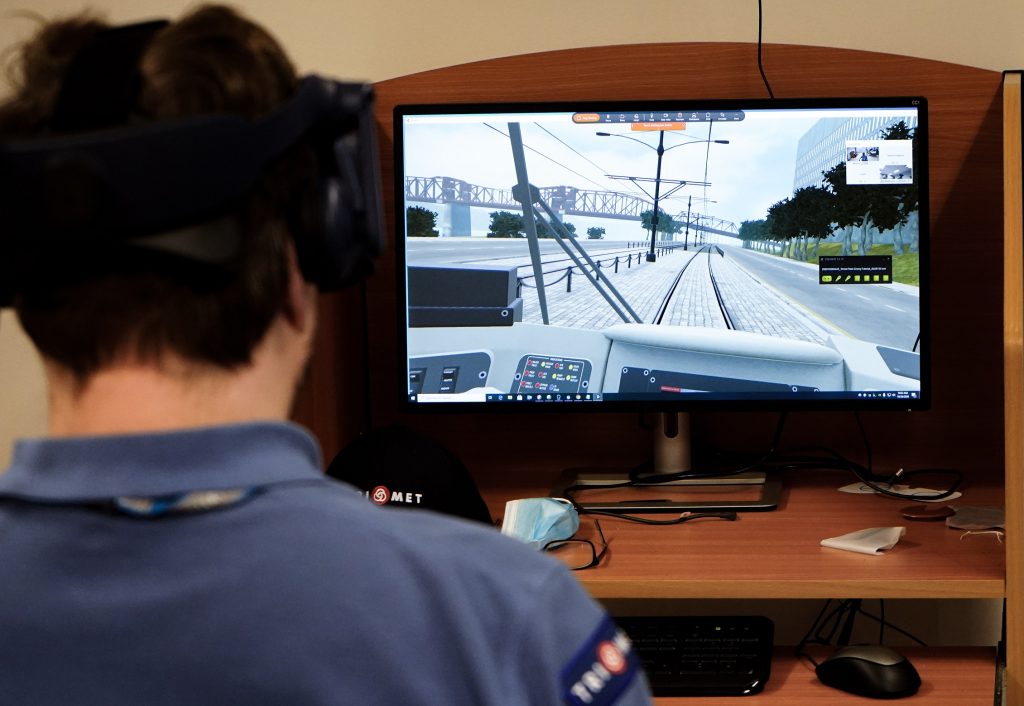 To put themselves into the virtual world, students don headsets with speakers. Two handheld controllers mimic hands, allowing students to press buttons, operate controls, open doors and even make repairs to broken equipment.
The training allows students to make mistakes and get coaching to correct errors. Students learn from different scenarios, starting with step-by-step guidance, followed by practice sessions from memory with no guidance, before eventually taking a test. Performance data from each student is then tracked and analyzed as part of the 11-week course.
Virtual scenarios lead to real safety
The virtual scenarios include troubleshooting mechanical issues, picking up riders from platforms, operating a train safely in the rail yard and watching for and reacting to hazards. The program emphasizes the safe operation of a train through dynamic environments where being prepared for the unexpected is a crucial part of the job.
This is not the first time TriMet has turned to simulators to train operators. In 2016, we began putting new bus operators behind the wheel of a life-sized bus simulator featuring a full-motion seat and large monitors in place of the windshield. That simulator allows would-be bus operators to drive in various types of conditions to get a feel of the physics of a bus. As a precaution against COVID-19, we've paused using the simulator due to physical distancing.
Following the first pilot phase of the MAX VR simulator, the same students will return to go through the scenarios again. Foundry 45 will then use the students' feedback to continue building out the scenarios before it officially becomes part of TriMet's rail training educational program at the start of 2021.