Shuttle buses will run between Gateway Transit Center and Portland International Airport, where TriMet's station will remain closed until Jan. 2, 2021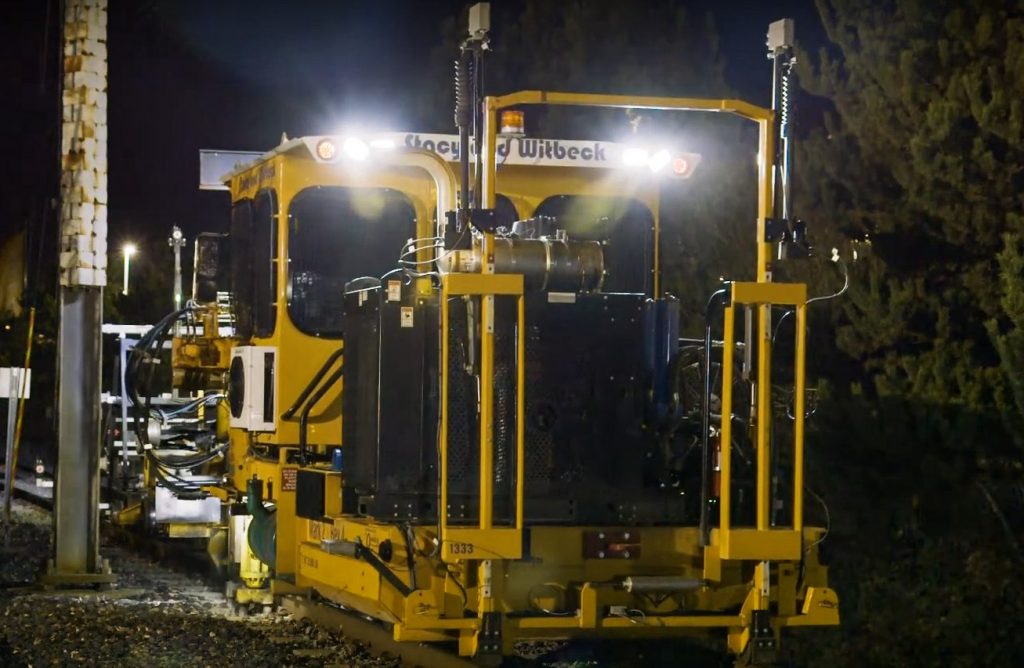 MAX Red Line will experience a two-day disruption this weekend, from Saturday, Nov. 7, through Sunday, Nov. 8, to allow crews to perform rail tamping on a 1,000-foot section of track between Cascades Station and Portland International Airport.
Due to the work, shuttle buses will serve riders between Gateway Transit Center and the Portland International Airport. This will allow crews to perform critical work that will improve track stability and create a smoother ride. Tamping is sometimes necessary due to regular train movement, which causes vibrations that subtly shift and move track components over time. Tamping requires heavy machinery to move over the tracks, packing and redistributing the ballast to improve durability while adjusting the rail to give riders a smoother ride.
Two-day disruption
Starting on Saturday, Nov. 7, and lasting through Sunday, Nov. 8, shuttle buses will serve stations between Gateway Transit Center and Portland International Airport. Tamping often can't be done during the brief overnight period when trains aren't running, as it's difficult to move equipment in and out of the areas where the work needs to take place. We encourage riders to plan extra time, as those traveling through the area will need to switch from MAX to a bus. We do appreciate our riders' patience and understanding as we work to improve the riding experience and keep the MAX system durable.
Personnel will be at the Gateway Transit Center to offload trains and help riders make their connections. Signs will also be posted to guide riders to the nearby shuttle buses. After the work is completed, MAX Red Line will resume the same service it's been providing since March when the Portland International Airport Station began a temporary closure due to nearby construction. Since then, buses have been taking riders between the airport and Mt Hood Ave Station, about a mile and a half away.
Airport disruption extended
When Red Line trains begin service the morning of Monday, Nov. 9, they will resume traveling between Gateway Transit Center, Parkrose/Sumner Transit Center, Cascades station and Mt Hood Ave Station. Shuttle buses between Portland International Airport and Mt. Hood Ave Station will continue to serve riders going to the airport.
The station has been closed since March 29 to accommodate the construction of the airport's new Concourse B. The Airport construction project has been delayed due in part to the pandemic, wildfires and smoke-choked air, and other construction delays. The timeline for reopening the airport's MAX station has been pushed back to Jan. 2, 2021.
Changes happen, so it's also important to stay informed and to plan ahead. Make sure to bring a mask and remember that due to physical distancing, we're limiting the number of people who can ride on a vehicle at the same time. TriMet's online tools are here to help, offering maps, directions, real-time arrival information and service alerts:
If you need help or have questions, our Rider Support team is available via text message at 503-238-7433 and on Twitter at @trimethelp. You can also call them daily between 7:30 a.m. and 5:30 p.m. at 503-238-7433 or online at support.trimet.org.