The cleaners program pulled from a broad cross section of applicants to put people back to work and protect the public during the pandemic
As TriMet buses sit parked at the Gresham Central Transit Center, a whirl of activity is happening inside. A two-person team hustles from one surface to another, their hands gliding over seats and poles as they use disinfectant wipes to protect against COVID-19.
These are some of TriMet's disinfecting team.
You might see them at transit centers, at the end of the line or at other locations where buses and trains layover or have longer stops. TriMet began hiring cleaners over the summer to disinfect touch points on vehicles, with a goal of doing so about every four hours during regular service.
More than 300 people with diverse and varied backgrounds initially applied for the 124 positions available. Now, persevering through protests, heavy smoke from wildfires and high winds these past few months, cleaners have kept buses and trains tidy and sanitized through the challenging series of circumstances that started with the pandemic.
We are proud to introduce three of our cleaners, who are working to protect the health and safety of our riders and operators.
Kathy Walton
On an average day, Kathy Walton and her teammate clean between 30 and 40 buses. She tracks the cleaning in a spreadsheet, taking note of the frequency of when buses arrive and how quickly she can get to them.
The former U.S. head of an Australian shipping company, Walton found herself out of work twice due to the pandemic. Living in California with her husband for the past couple of years, far from her family in Vancouver, Wash., she decided it was time to go back home. Her sons, TriMet employees, recommended the cleaner position when it was posted.
Like so many others, Kathy's life has been impacted by COVID-19 in ways that she couldn't have imagined a year ago. Her sister-in-law contracted the virus and was hospitalized for respiratory problems, spending days in the ICU. She's out of the hospital now but still recovering. Kathy calls her sister-in-law's recovery "a long road."
But despite the anxiety she feels sometimes, Kathy finds satisfaction doing a job that helps prevent others from going through the same situation as her sister-in-law. With winter on the way, this is a critical time to prevent the spread of COVID-19 and keep people moving.
"I want (people) to know we care," Walton says. "We want to do everything we can to make this situation as tenable as possible. We're here doing what we can to keep people safe. We're doing everything in our power to keep things cleaned, sanitized and available to them to be safely transported from one place to another."
Anthony Frison-Peters
Anthony Frison-Peters had been out of work for nearly six months when Oregon's first COVID-19 cases emerged. By then, the former manager of an e-commerce company was in the seemingly impossible position of finding a living-wage job amid a global pandemic. It was scary, Anthony says, because bills kept piling up and the pandemic created uncertainty in the future.
"It was kind of like, 'I've got to get out of this situation,'" he says. "I'm thankful TriMet did hire me because it's helping me get back to a place where I can have peace of mind."
He knows what it's like to be a stay-at-home dad, teaching his three daughters between sending off job applications. But now he can bring some relief to others, those who rely on public transportation to take them to jobs, appointments or the grocery store. COVID-19 is scary, he says, and we all need to take it seriously to protect ourselves and others.
"I think we are definitely making a difference and making a big impact when we are wiping the buses down every day," Anthony says. "You might even get on the bus and see that it has just been cleaned, that it's still a little bit wet… so it makes me feel good to know I'm doing my part to help others and help myself."
Paulo Lessing
In 2007, Paulo Lessing arrived to the United States from Brazil, where he'd worked in banking and information technology. He came for an English program but stayed because he fell in love with the country. As a new resident, and someone without a car, he took the bus most places and practiced his English by asking for directions.
He also fell in love with taking the bus— the friendly operators he met on board and the newly adopted city he was free to explore. For him, disinfecting buses and trains is a way of giving back to a community that was quick to make him feel at home.
"As we work, we notice we are doing something not just good for the operators, and also for the passengers, but for the whole community," Paulo says. "Everybody is working for a good thing, to protect everybody."
Riders and operators often show their appreciation, Paulo says. They will walk by and say, "Thank you for what you are doing for us." It fills him with happiness knowing that people recognize his efforts.
Continuing the cleaners program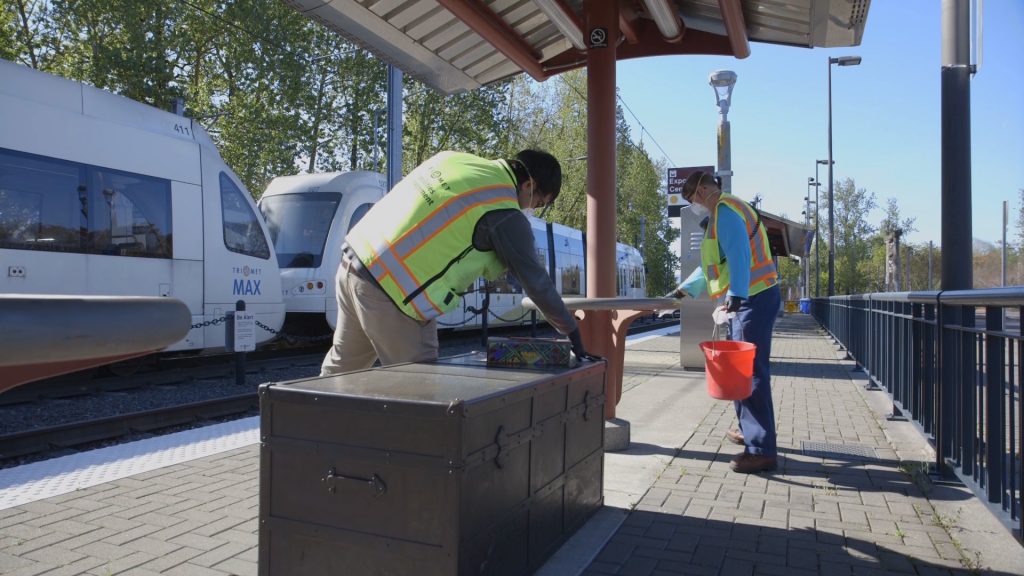 Many of the cleaners had found themselves out of work over the spring and summer when the job market tightened, a time when the country felt the collective jolt of mass layoffs. By April, just a month into the pandemic, more than 20 million Americans had lost their jobs, historically the largest month-to-month job loss since data has been collected, according to the Bureau of Labor Statistics. In Oregon alone, the unemployment rate jumped from 3.5% in March to 14.2% in April.
TriMet began hiring cleaners in June and had 124 in the position, along with six supervisors, by August. To maintain a consistent staffing level of 124 cleaners, TriMet has continued to hire and train new employees for these limited duration positions. Some cleaners who had been laid off from their previous jobs have since returned to their old positions, creating vacancies that TriMet is filling with a new crop of applicants. On Monday, Oct. 12, we welcomed eight new cleaners into the program. They will receive a starting wage of $18 an hour.
We continue to encourage that riders take steps for their health and the health of those around them. Remember, masks are required when riding, and make sure both your mouth and nose are covered. This is one simple way of protecting yourself and your loved ones, and demonstrating care and kindness for others. Make sure to wash your hands regularly and use hand sanitizer, which is now available on most buses and trains. And maintain physical distancing whenever possible, whether on board a bus or train or at a stop or station.
In a community known for the gratitude riders show their bus operators, it would only be fitting to extend a hearty thank you to the cleaners as well, to show appreciation for what they're doing to keep transit moving during an unprecedented time.