The new sprayers are more efficient than their traditional counterparts, saving hours of staff time per night when crews are cleaning trains
A different approach to traditional backpack sprayers is giving TriMet's enhanced cleaning efforts a positive charge. Known as electrostatic sprayers, these disinfecting tools look and operate like traditional sprayers, but there's a key difference: the cleaning solution receives a charge—a jolt of electricity—that helps it coat surfaces more thoroughly.
TriMet recently began using electrostatic sprayers during our nighttime cleanings of trains. More efficient than their traditional counterparts, they save hours of work each night. No wiping is required, allowing staff to move among trains faster and freeing them to address other tasks meant to diminish the spread of COVID-19. As a result, more is being done to clean and prepare trains for morning service as the pandemic continues.
How they work: opposites attract
Electrostatic sprayers aren't new technology, having been used in some industries for more than 60 years. Inside each unit, an electrode emits a charge to the disinfectant as it leaves the nozzle. Once positively charged, the droplets are attracted to negatively charged surfaces like seats, poles, walls and other objects people often touch. The droplets are also more evenly dispersed due to their positive charge.
Because no wiping is necessary, use of the electrostatic sprayers saves more than 12 hours of staff time each night combined for TriMet's two rail facilities. It also reduces the amount of cleaning solution we use. Over-application is reduced because the charged particles will seek out an exposed surface area instead of sticking to each other. TriMet uses a cleaning solution called Virustat, a common, nonacid disinfectant.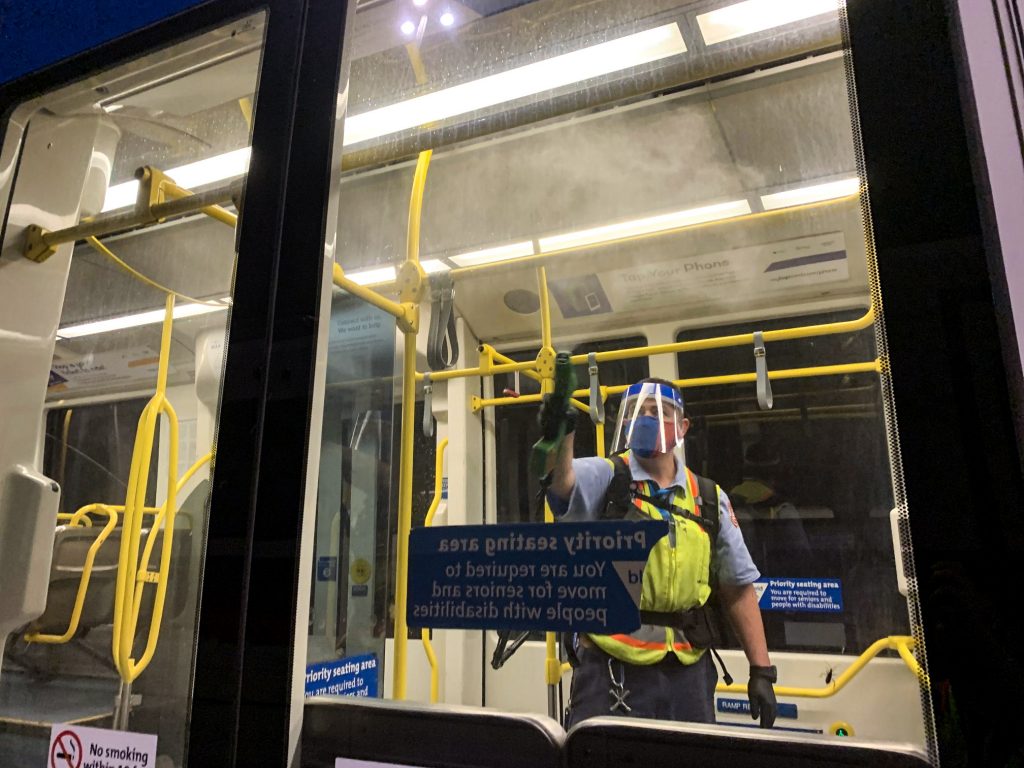 Service workers responsible for cleaning and preparing trains for morning service now have more time to perform other essential duties meant to keep riders and employees safe. This includes restocking mask dispensers, refilling hand sanitizer dispensers and ensuring that operators have enough masks to restock throughout the day should the dispensers run out.
COVID-19 precautions
Electrostatic sprayers join an evolving list of new tools and cleaning processes at TriMet intended to keep our riders and employees safe. Over the months, we've listened to and engaged with health experts to develop and implement these heightened standards around hygiene, cleanliness and physical distancing.
Hand sanitizer: TriMet has installed hand-sanitizer dispensers on all of our buses and most trains to help riders stay safe. Health experts recommend frequent and thorough handwashing to prevent the spread of COVID-19, and suggest using hand sanitizer when handwashing isn't an available option.
Disposable face coverings: All buses and trains now have permanent, stainless steel face-mask dispensers. Since May, we've distributed more than 3 million face masks, with the bulk going to riders.
Passenger limits: To encourage physical distancing, TriMet must limit the number of people who can be on board buses and trains at one time. We now allow between 19-24 people on most buses, 24-26 per MAX car and 25-37 on WES.
Fogging machines: At the end of service each day, TriMet disinfects buses with our fogging machines. We've purchased 36 of the devices, which use a hydrogen peroxide-based solution to disinfect surfaces inside the vehicle.
Additional cleaners: Over the summer, TriMet added 124 cleaner positions—as well as six supervisors—to help keep buses and trains clean and disinfected throughout the day. This has put people back to work at a critical time and helps us reach our goal of cleaning vehicles throughout the day.
Operator safety panels: To protect our operators, TriMet has installed operator safety panels or sneeze guards on board all buses. The panels have an adjustable window that provides an added layer of protection, acting as a shield between the operator and someone who is coughing or sneezing.
Since the start of the pandemic, TriMet has moved quickly to help our community stay healthy. Our efforts and principles that guide our response are summarized in our 8-point plan, which you can see by visiting trimet.org/health.