The new bridge in Southeast Portland is on track to open in November, creating another crossing over heavy rail tracks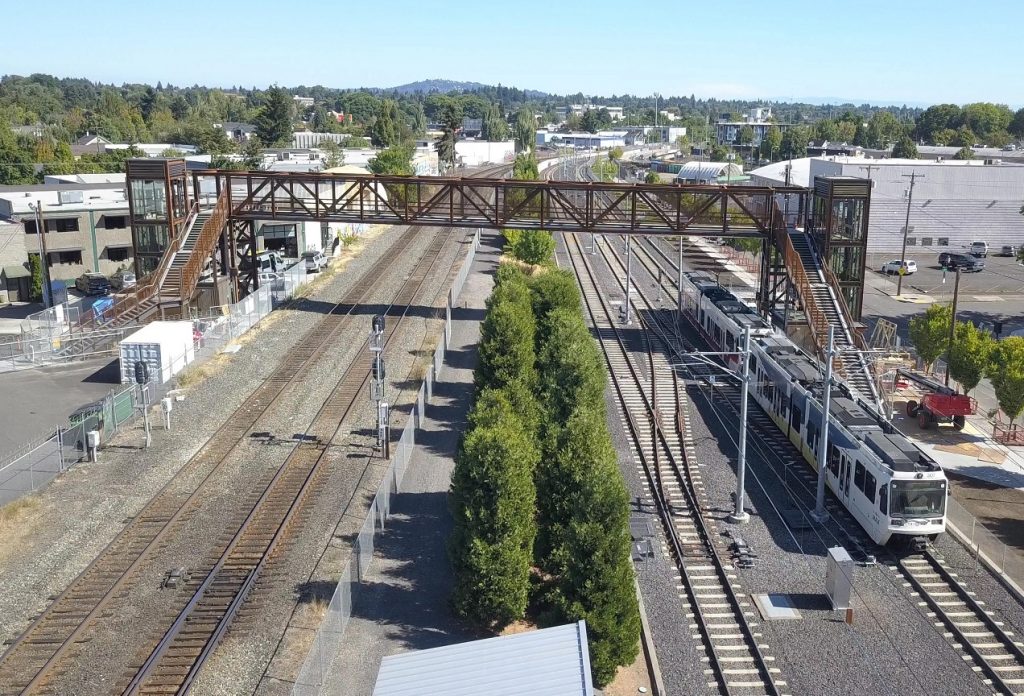 As bicyclists zip down Southeast Gideon Street, a few MAX passengers exit their train at the SE Clinton/SE 12th Ave Station. For those who regularly walk in the area, use the busy bike boulevard or take the MAX Orange Line, they've had a front-row seat to see TriMet's newest safety project take shape over the past year—a new pedestrian and bike bridge spanning the heavy rail and MAX tracks here.
Construction of the bridge is now nearly completed. The final touches will be in place in October, with the bridge expected to open to the public in mid-November. Once opened, the bridge will be the final piece of the Portland-Milwaukie Light Rail Transit Project and will create another north-south connection over MAX and Union Pacific Railroad tracks, where stopped heavy rail traffic can create a barrier that cannot be crossed safely.
The $15 million project was deferred during the development of the Portland-Milwaukie Light Rail Project in 2010. But with the strong support of the City of Portland, federal partners and community members, TriMet successfully secured approval from the Federal Transit Administration (FTA) to construct the bridge using some of the remaining funds from the MAX project.
Extending from Southeast Gideon Street at Southeast 13th Place to Southeast 14th Avenue, the bridge rises 30 feet above the tracks. About 650 feet to the west, both sets of tracks and several roads converge like rivers at a confluence, meeting at the Southeast Milwaukie Avenue intersection. Community advocates say the new crossing will create a valuable and safe connection point between the Hosford-Abernethy and Brooklyn neighborhoods.
John Karabaic, a Brooklyn resident who travels primarily by bike or TriMet, says he's observed people walking or biking through the rail crossings, even while gates, warning lights and bells have been activated. He's seen people climb between train cars to get to the other side, although many others, including himself, will take a longer route just to get around the blocked tracks.
"It will be very useful for me to be able to get out the neighborhood at any point in time," Karabaic said. "It will be nice to be able to get over a train blockage… on a nice, safe route."
Building a safer crossing
As the pandemic began this spring, TriMet adjusted operations and put in place safeguards to prevent the spread of COVID-19. These adjustments extended to our contractor's workers. They were advised to use personal protective gear, such as masks, and observe physical distancing. TriMet worked closely with the project contractor, Stacy and Witbeck, and the surrounding community to keep the project moving along safely throughout the spring and summer months.
Through it all, the project moved along during the summer as construction activity picked up, including the installation of elevator equipment and cyclist-friendly stairways featuring bike gutters at both ends of the bridge. Bike gutters are metal channels running alongside stairs, with a downward-dipping groove for a bike's tires, which let cyclists easily walk their bikes up and down.
Crews also repaved part of Southeast 14th Avenue and created a new plaza, featuring amenities for people with disabilities. Near the plaza, a newly landscaped stretch adds natural color of vibrant green and blooming flowers. Overall, the bridge will be fully compliant with the Americans with Disabilities Act, featuring elevators large enough to accommodate mobility devices and bikes with a trailer or child's tag-along attachment.
Creating connections for pedestrians and bicyclists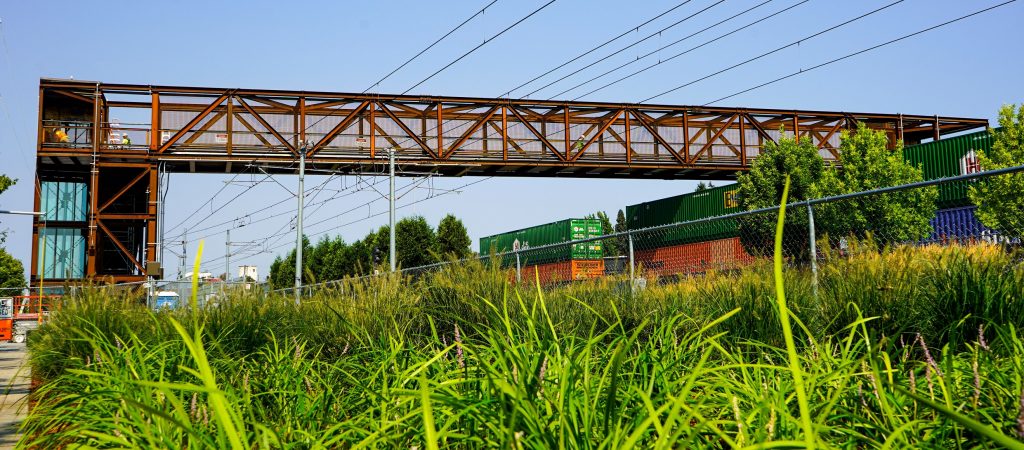 Our riders depend on safe and convenient access to transit. To achieve this, TriMet works with our local and federal partners to build new or improved sidewalks, safer crossings and bike paths as part of our light rail projects. Along the MAX Orange Line, you can easily experience the type of improvements a light rail line brings to neighborhoods.
We built 10.3 miles of new or improved sidewalks and added 446 bike parking spaces, including two secure Bike & Rides. Riders in need of a bike can also take one from one of the three Orange Line stations where BIKETOWN is available, including at the Clinton/SE 12th Ave station. At SE Park Ave, TriMet designed the station to activate the nearby public space by building off-street paths, including a portion of the Trolley Trail that connects Southeast Park Avenue to Southeast River Road. The path runs parallel to the Orange Line, buffered by a landscaped swath of vegetation.
Partnering with the federal government on new MAX lines means developing better ways for people to make connections and get around their communities.
Bridge completes city's vision
TriMet worked alongside the Portland Bureau of Transportation (PBOT) to develop the bridge. It will complete the city's vision for an active transportation corridor from the Hosford-Abernethy neighborhood to the Willamette River. Once the bridge opens, TriMet will hand it off to PBOT, which will then own, operate and maintain it. Information about the Gideon bike and pedestrian bridge, including a fact sheet, can be also found on our website here.