The Integrated Mobility Innovation program aims to improve access to public transportation and enhance the rider experience
Imagine a transit trip planner that lets anyone easily find and pay for a trip using any combination of the region's many evolving travel options. That's the vision behind TriMet's exploration of new partnerships in trip planning and payment under a cooperative agreement with the Federal Transit Administration's Integrated Mobility Innovation (IMI) demonstration program.
Beginning this fall and continuing for two years, the project will create and test solutions that connect people with the transportation options that best fit their needs. TriMet will use the Hop Fastpass® payments system and our next-generation trip planner as the backbone of this project. Additionally, the IMI project will develop a framework for analyzing data to understand how these changes might increase ridership and decrease congestion.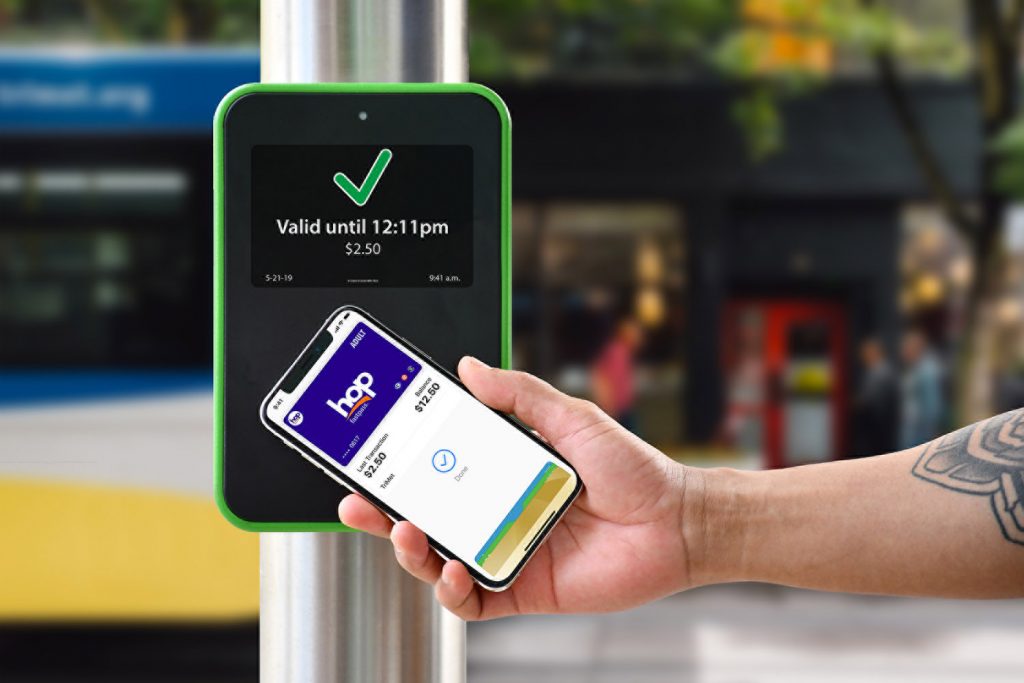 Federally supported innovation
In March 2020, the FTA awarded TriMet $1.8 million in IMI funding for the project as part of FTA's vision of Complete Trips for All: the creation of safe and efficient mobility options that serve the needs of all by examining how innovations in payment, mobility-on-demand service models and automation can work together to improve mobility.
TriMet's project addresses two areas: Mobility Payment Integration will look into expanding access and improving the functionality of contactless bank or payment cards, as well as virtual Hop cards. Mobility on Demand will help TriMet further build out our next generation trip planner and create a system to better understand the impacts of transit across the region. Together, these will help us explore opportunities to integrate more of the region's transportation options.
Some of the concepts included in this research are:
Working to define the technological, operational and financial outcomes of different integrated payment solutions.
Determining if virtual payments can be expanded to include more riders by:

Expanding the number of people who can use a virtual Hop card to ride. This would include personalized virtual cards for those who qualify for our low-income program or who receive transit benefits through their employer.

Examining how riders might reload funds on a virtual card using cash through our existing retail Hop network of more than 500 businesses.

Exploring how to lower barriers to mobility payments through enhanced access to contactless payment cards for riders who do not have bank accounts or qualify for traditional means of credit.

Improving the benefits of using a contactless bank card, which could include:

Allowing age-eligible, reduced-fare riders to still receive their Honored Citizen or Youth benefits even when paying with a contactless bank card.

Providing monthly fare capping in the same way as a Hop card. Right now, riders only get the benefit of a day cap if they use their bank cards.
In addition to the FTA, this project is being supported by a number of key project partners, including: Uber, Clevor Consulting Group, Fehr & Peers, IBI Group, INIT, moovel North America, Nelson\Nygaard, PLUS QA, Portland Bureau of Transportation, Ready Credit and Visa.
The future of trip planning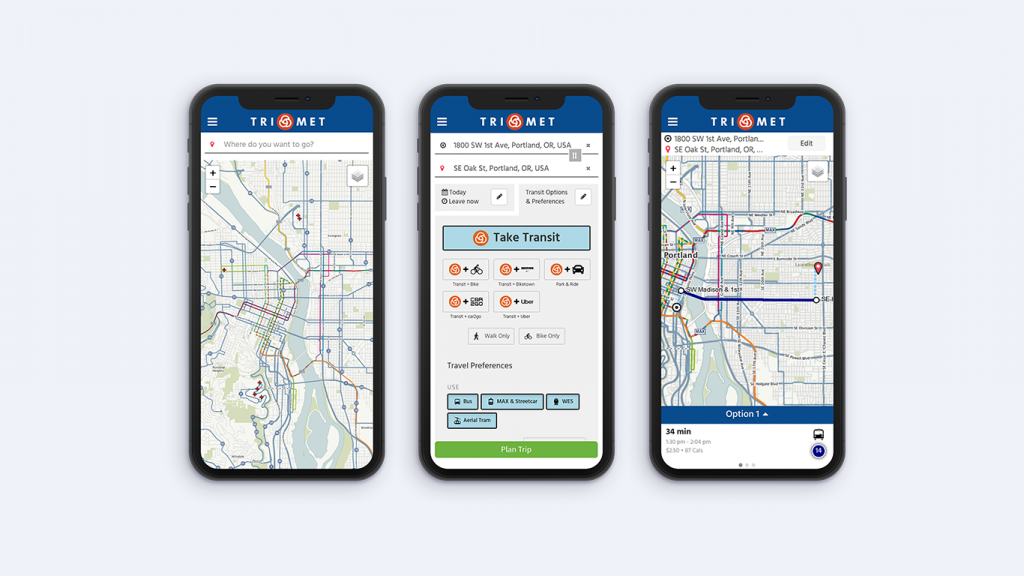 TriMet was the first transit agency in the US to develop an open-source, multimodal trip planner, which lets riders plan their trips using a combination of public transit and private options like e-scooters, car sharing, bike sharing, and ride-sharing. Work began on our next-generation trip planner in 2017 after the FTA awarded TriMet a $678,000 Mobility on Demand Sandbox project.
Through the Integrated Mobility Innovation project, TriMet will continue building out our online trip planner and exploring potential opportunities to add information about congestion and other data that will help people make informed travel choices and improve real-time arrival predictions.
For more information about the Integrated Mobility Innovation program, visit our website here.