After cash accepted beginning Oct. 1, Hop still expected to be preferred way to pay due to coin shortage, contactless payment process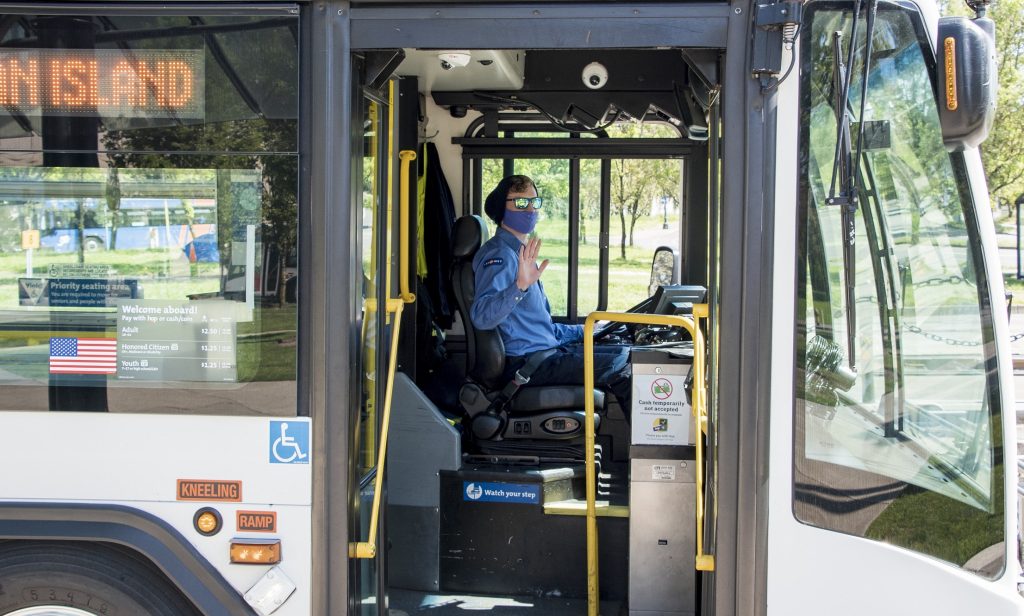 This post has been updated.
TriMet riders will once again be able to pay their fare on buses using cash beginning Thursday, Oct. 1, 2020. TriMet suspended cash fares on buses on March 26, 2020. This was done for the safety of our bus operators and riders, to limit the time they are close to each other while boarding the bus during the COVID-19 pandemic. Now that TriMet has a number of safety measures in place—a mask requirement, on-board limits and physical distancing, hand sanitizer dispensers and soon a safety panel next to the operator's seat on nearly all our buses—we will once again accept cash on buses starting October 1. However, we encourage riders to continue paying using the Hop Fastpass® for both safety and ease.
Why TriMet suspended cash fare payment on buses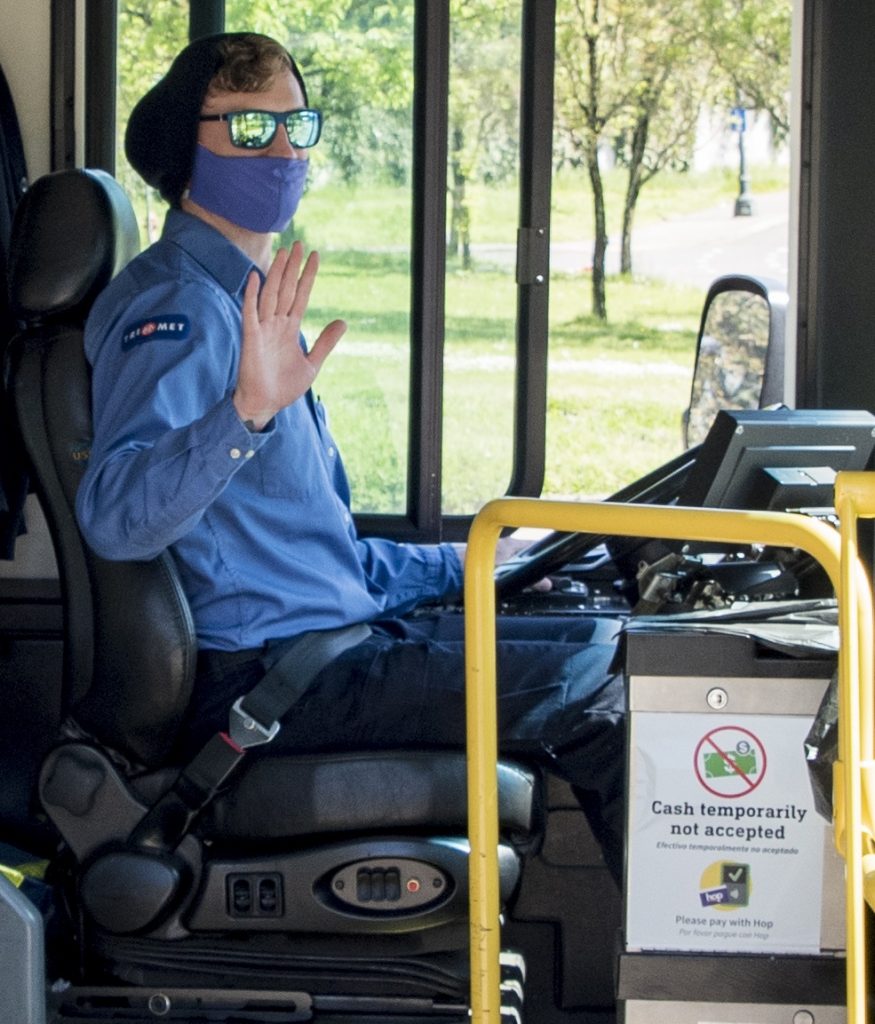 The cash farebox is within a foot or two of the bus operator. Riders paying their fare with cash often take longer to slip dollar bills and coins into the farebox. In the early days of the pandemic as COVID-19 began spreading in our community, TriMet took a number of steps to reduce the time riders spent close to bus operators and each other. One of those steps was covering up the farebox in late March and helping riders transition to Hop, our contactless electronic fare system, to pay for their ride.
The move to suspend cash payments came suddenly to help keep people safe, so TriMet gave out more than 3,000 free Hop cards to help riders adjust. Hop cards normally cost $3 a piece, and users load them with value using cash or a credit/debit card online, over the phone or at some 500 local retail outlets.
Why TriMet will accept cash on buses again starting October 1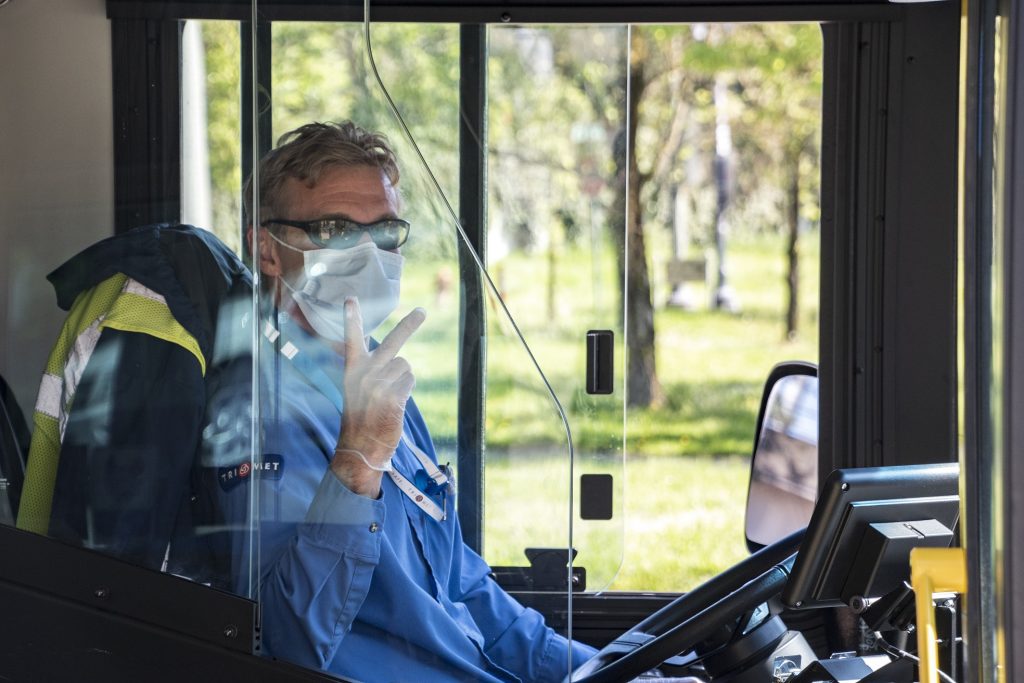 By the end of September, TriMet expects that all our standard 40-foot buses, the vast majority of our fleet, will have panels made of safety glass in place next to the operator's seat. The panels help block airborne droplets, which health experts believe is one of the ways COVID-19 spreads. Before March 2020, more than half of our buses already had the operator safety panels as a security measure. We had been planning to add the panels on the remaining buses over time, but in April, TriMet General Manager Doug Kelsey approved buying 372 panels and installing them immediately. We've added more than 200 of those to our standard buses and will install the rest over the next month. Panels will soon be installed on our shorter 30-foot buses that are used on a few routes where larger buses cannot run.
TriMet's LIFT paratransit service also reinstates cash payment on buses Oct. 1. LIFT follows the same COVID-19 safety measures as on our fixed-route buses and trains, including requiring masks and having them available on board, hand sanitizer on board and elevated cleaning protocols. Riders do not sit within 6 feet of the operator. Most LIFT vehicles have operator safety panels installed, and we are testing out a panel on some of the smaller vehicles.
Why riders are encouraged to continue paying with Hop after October 1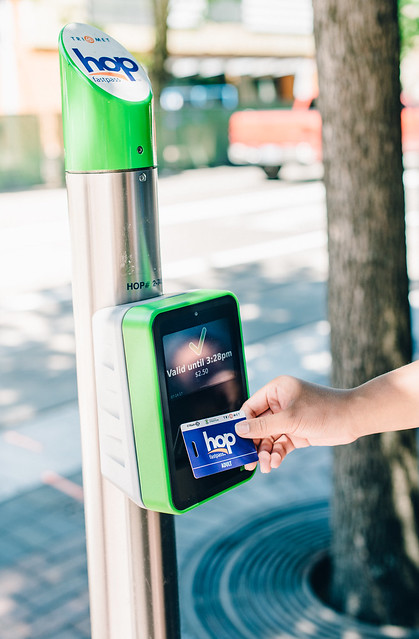 During the COVID-19 pandemic, many businesses have taken safety steps to reduce the amount of times a customer has to touch a surface or item that others touch as well. At TriMet, our Hop fare system is contactless, meaning riders have their own fare card that they can simply tap at the Hop reader as they enter the bus or on a rail platform before boarding a train. Hop also allows riders to tap their phone to pay, using either a virtual Hop card or a credit/debit card stored in their mobile wallet. Riders can also use an NFC-enabled credit or debit card to tap the Hop reader and pay their fare. Hop provides many other benefits, including earning daily and monthly passes as you ride and making it easy to transfer between TriMet, Portland Streetcar and C-TRAN services.
Hundreds of local retail outlets, as well as the TriMet Ticket Office in Pioneer Square, sell Hop cards. Customers who cannot access these locations due to the COVID-19 pandemic can contact TriMet for a free Hop card at trimet.org/health or by calling 503-238-RIDE (7433).
Riders should continue to use Hop to pay their fare, not only because it's contactless, but also due to the nationwide coin shortage, announced by the United States Mint in August. When paying with cash on buses, riders must use exact change as operators do not have money on board and they cannot open the farebox. Riders who normally pay $2.50 for a 2 ½ Hour Adult ticket, or $1.25 for a 2 ½ Hour Honored Citizen or Youth ticket, may have a hard time finding coins for exact change, and instead they may overpay with dollar bills. With a Hop plastic or virtual card, riders only pay their exact fare and never need the bother of finding exact change.
What other steps TriMet taken to keep operators and riders safe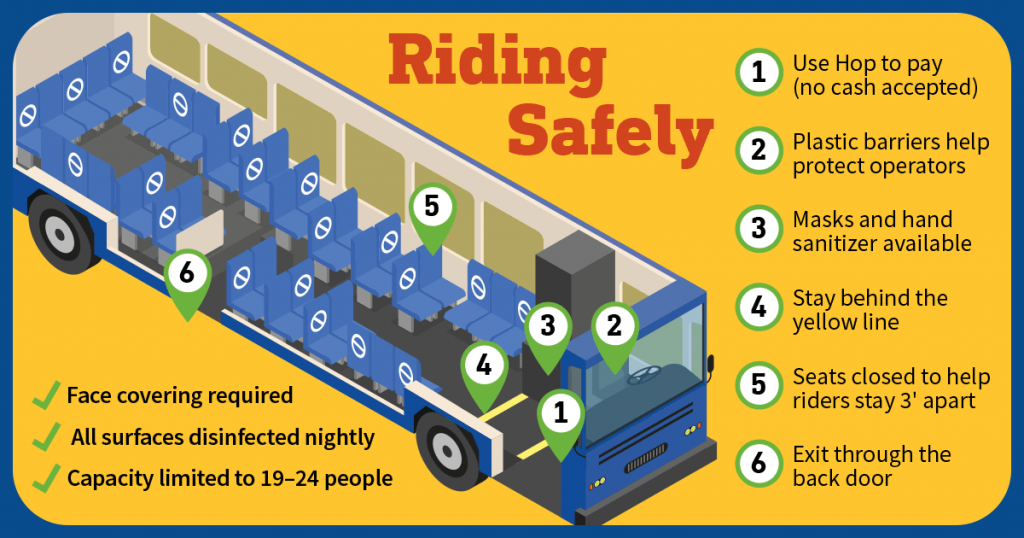 TriMet has taken a number of steps during the pandemic to keep our riders and employees safe. In addition to suspending cash payment on buses, we reduced interactions between bus operators and riders by:
Encouraging riders to exit through the back door of the bus whenever possible. (This follows the Oregon Health Authority guidance of one-way flow of customers on buses.)
Moving the yellow line that bus riders are to stay behind to the start of the priority seating area, which is six feet from operators.
Limiting the number of riders on board a bus (as well as on a train).
Having riders spread out from others including the bus operator. (Per the Oregon Health Authority, riders should space out from other riders by at least 3 feet and from operators by at least 6 feet. We have placed signs on seats to help riders spread out from others.)
TriMet has also put other important measures in place to help keep people healthy: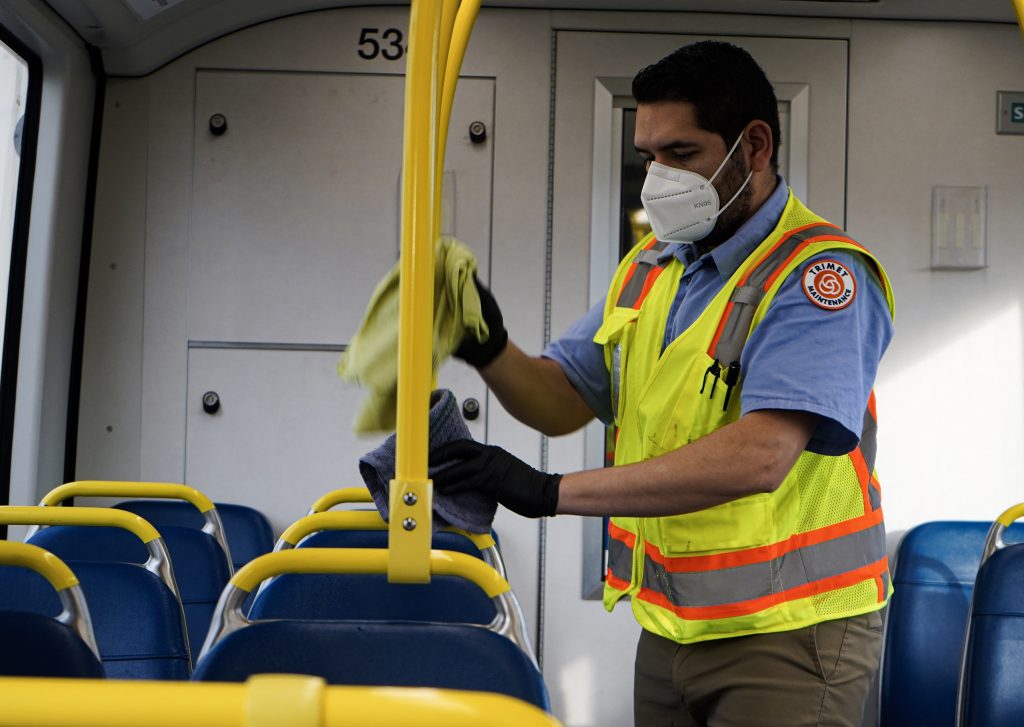 Requiring riders, operators and employees to use face coverings on board our buses and trains
Making disposal masks available on board all buses and trains
Installing hand sanitizer dispensers on board
Encouraging operators and riders to keep windows open on buses for better air circulation (Health experts also say the frequent opening and closing of bus and trains at stops and stations helps with ventilation, reducing the risk of getting COVID-19.)
Increasing cleaning efforts with thorough cleaning of buses and trains nightly, as well as disinfecting common touchpoints on board consistently throughout the service day with a goal of about every four hours; disinfecting common touchpoints at rail platforms and transit centers at least daily
Educating riders and employees about COVID-19 and the precautions to take to keep them and their riders safe.
TriMet cares about the health and safety of our riders and employees. During this unprecedented time, we continue to evaluate our service and our efforts to reduce the spread of COVID-19. Learn more at trimet.org/health.
Throughout the pandemic, our buses and trains have continued to roll, getting essential workers to jobs and connecting people with necessary, and at times life-saving, services. We are all in this together, and we encourage our riders and employees to stay safe and stay strong.