Solar-powered screens show arrival times, service alerts and detours to provide up-to-the-minute service details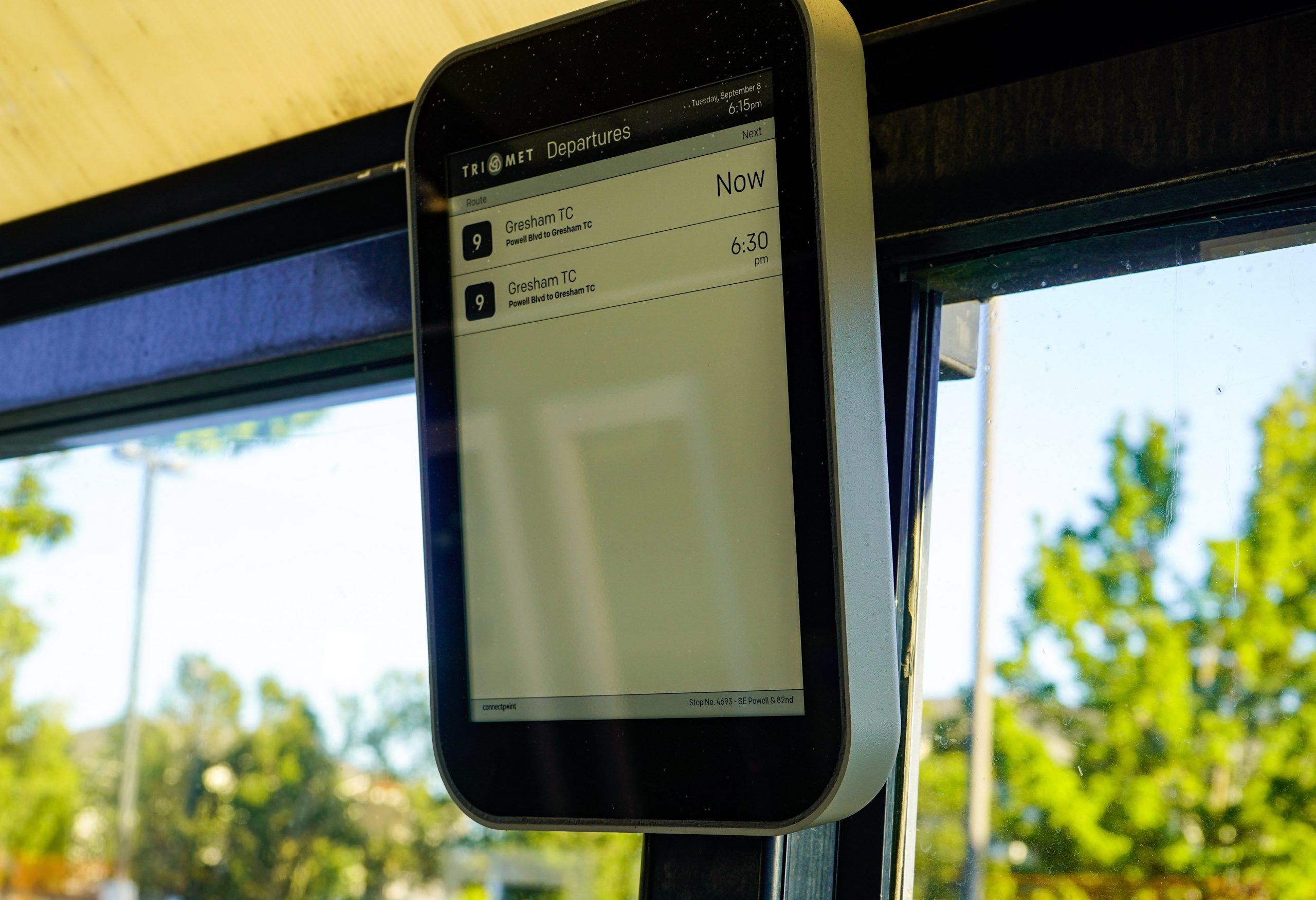 TriMet is bringing new digital information displays to bus stops and transit centers served by multiple bus lines and used by a large number of riders. It's our effort to put more information directly in front of our riders. Similar in size and technology to the e-reader or tablet you use at home, the screens are high-resolution black-and-white and show arrival times, information about stop closures, delays and detours.
The first of the 13-inch ePaper displays—so-called because they mimic the appearance of ink on paper with minimal glare—went up at the Beaverton Transit Center in spring as we tested the technology. We'll be installing 85 of the solar-powered digital displays throughout the TriMet system this year— with more still to come. We're prioritizing stops in low-income communities and locations where ridership is high.
Bringing more information to more riders
 "The digital information display project is meant to improve access to real-time transit information, help showcase TriMet's service and help our riders."

Tyler Snyder, TriMet Manager of Customer Information
Because the screens are powered by solar energy, they don't require a power source or fiber optic cable, allowing TriMet to install more of them at bus stops than we could with older technology that needed a hard-wired power source. The on-screen information is updated once per minute, giving riders real-time arrivals and service alerts.
The information displayed is managed by a single cloud-based content management system capable of running on multiple platforms. TriMet signed a five-year contract with Connectpoint, a company specializing in ePaper signage, to provide the digital displays and implement the content management system.
The primary funding for the project comes from House Bill 2017, the Keep Oregon Moving act, which emphasizes bus improvements. TriMet is also using a transit equity map to make sure the digital displays are evenly spread throughout the system. These displays will complement the service information already available on our website at trimet.org and through various third-party apps.
Solar-powered displays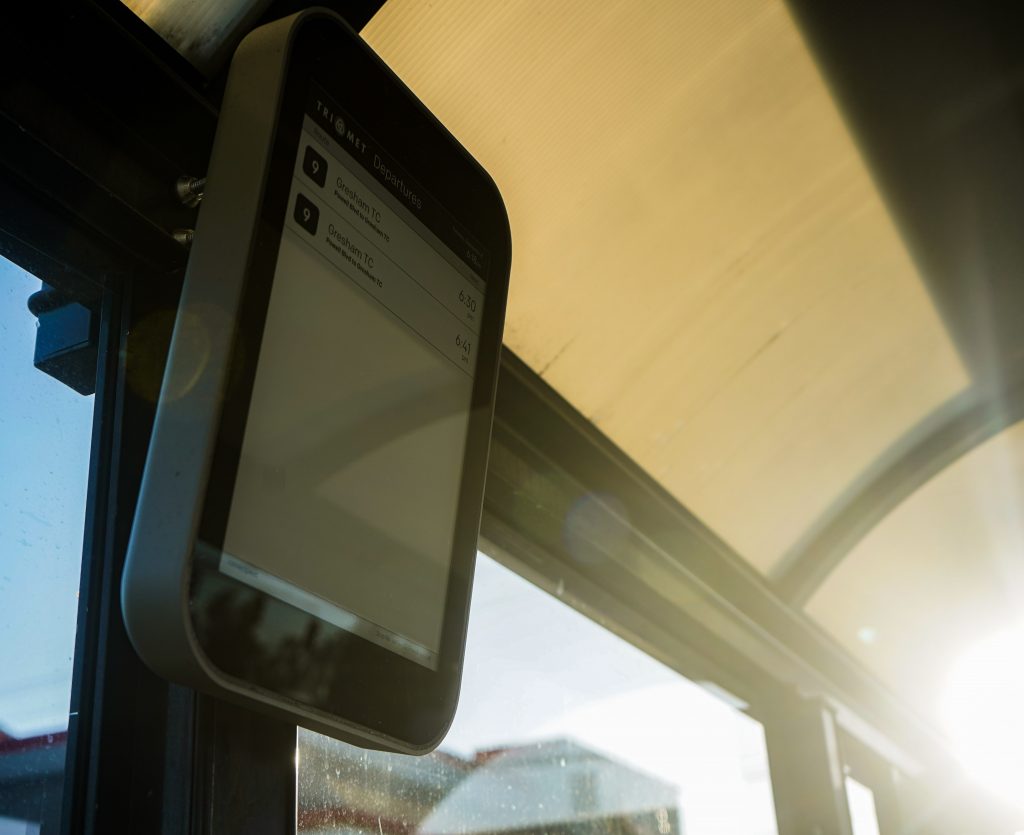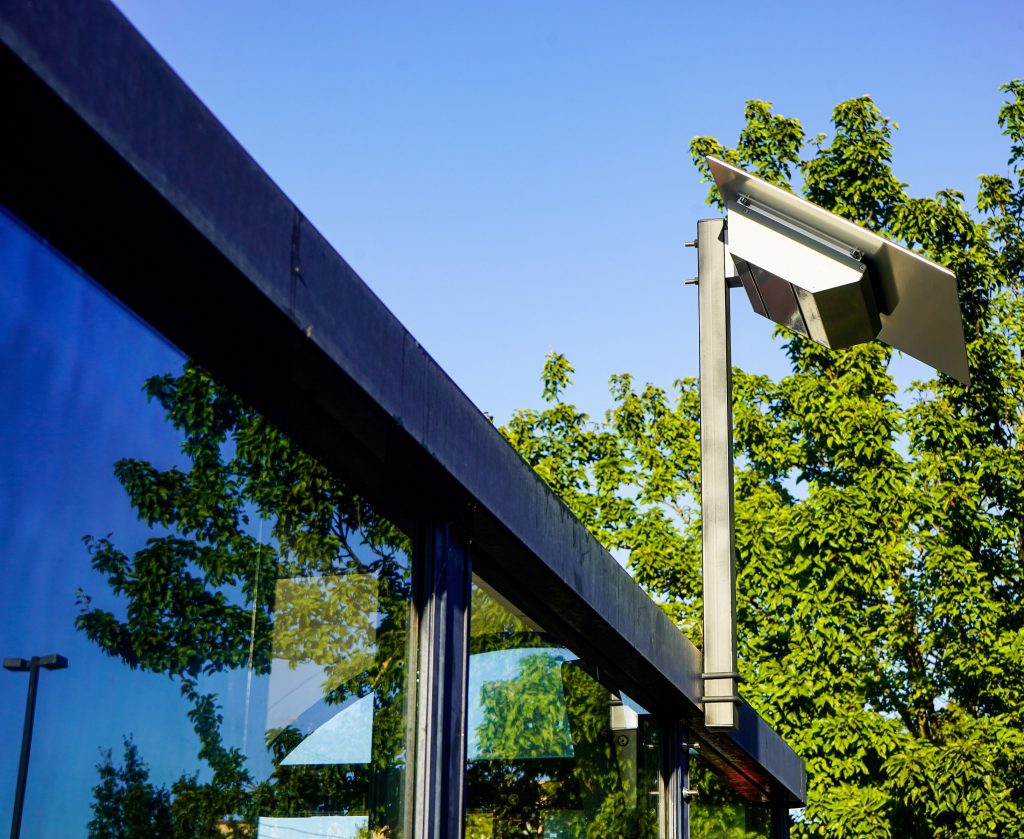 Connectpoint has been conducting a solar evaluation to help TriMet decide where to put the displays. The company has been looking at various stop locations to analyze factors such as the amount of sunlight the stops receive, the angle of the sun during different times of the year and whether there are nearby trees that would cast shadows on the solar panels. But even though Portland is known for grey skies and cloud cover during the winter months, small amounts of indirect sunlight are enough to power the devices. The digital displays can last for 14 to 17 days without power. But in the event they're not receiving enough sunlight, they also come equipped with back-up batteries that are rechargeable.
So far, TriMet has approved 45 locations where there's plenty of sunlight, with another 40 under review. Eventually, our goal is to place at least one screen at a bus stop on every bus line and at every transit center. This is another way TriMet is using technology to enhance our communications, bring the most relevant service updates directly to our riders and connect them to information that will keep them moving.