MAX and buses return to regular service over the bridge starting Sunday, Aug. 30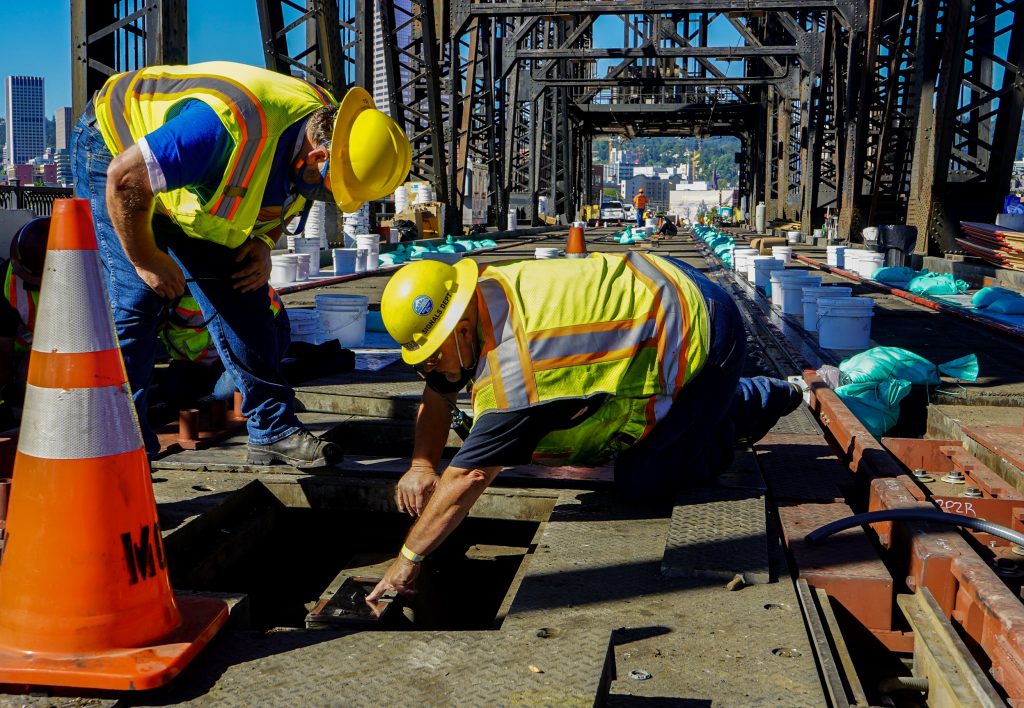 After 28 days of round-the-clock work, amounting to 672 hours of demolition, construction and testing, TriMet is wrapping up the Steel Bridge MAX Improvements project. The top deck of the Steel Bridge will reopen on Sunday, Aug. 30, at about 3 a.m. to MAX, bus and auto traffic. This will mark the end of TriMet's biggest light rail revitalization effort in 34 years and represents an important accomplishment in continuing to keep MAX service reliable.
Crews have spent the past four weeks rebuilding the light rail system across the Steel Bridge from the ground up, chiseling away at concrete, replacing thousands of feet of old rail and installing a new-and-improved signal system. With the new rail and signal equipment in place, we've strengthened a stretch of light rail, less than half-a-mile long, that's among the most important and dynamic in our 60-mile system.
Keeping the light rail system durable
Despite its age, the Steel Bridge is still a workhorse, typically carrying more than 600 MAX trains a day across its upper deck. And, as a critical connection and crossing point for trains on all MAX lines, its health and resiliency has a ripple effect throughout the entire light rail system.
Installing new and more durable rail, lift joints and locks, as well as replacing switches, switch machines and signal equipment, means fewer issues that could slow or disrupt MAX service. Improvements to the rail and track bed itself will also mean a smoother ride.
Some of the improvements were made for the safety of TriMet employees, including our maintenance-of-way team, who inspect rail and make repairs during normal service hours. The cabinets that house our signal equipment were turned to make it easier for our maintenance teams to access them.
Today, Saturday, Aug. 29, on the project's final day, we've been running a train through the area to test every single possible move a train could make. This allowed our team to double check all the new equipment to make sure it is working as intended.
Helping out while spreading out
With no vehicles able to go over the Steel Bridge during the project, shuttle buses moved riders across the Willamette River, using the Broadway and Burnside bridges.
Nearly 200 support staff, mainly TriMet volunteer Ride Guides, were at MAX stations and shuttle bus stops to assist riders throughout the 4-week disruption. Our staff dedicated more than 3,800 hours, answering questions, helping riders make connections and promoting physical distancing. They were deployed with face masks and hand sanitizer for those who needed them and informed riders of TriMet's precautions due to the COVID-19 pandemic. With the pandemic posing a new challenge to an improvement project such as this, concrete decals and signs were placed at transfer points reminding customers to spread out for safety.
Making Transit Better
Performing necessary improvements to MAX tracks, switches and equipment helps to improve service by making the system more resilient and minimizing delays and disruptions in the future. Over the past five years, on-time performance of MAX trains has improved from 75% in November 2015 to around 90% today.
Our MAX customers will continue to see more improvements in the coming years as we work to rejuvenate our light rail system to keep trains moving and on schedule. This fall, crews will be back at it, making improvements to the end of the MAX Blue Line in Gresham. This will fully complete the second phase of the Gresham MAX Improvements project, which we started last year.
We understand that disruptions interfere with the everyday rhythms of life and appreciate our riders' patience as we work to improve the transit system. Click here to find out more about how we're Making Transit Better.