Rider, community outreach and engagement efforts launch Aug. 17, 2020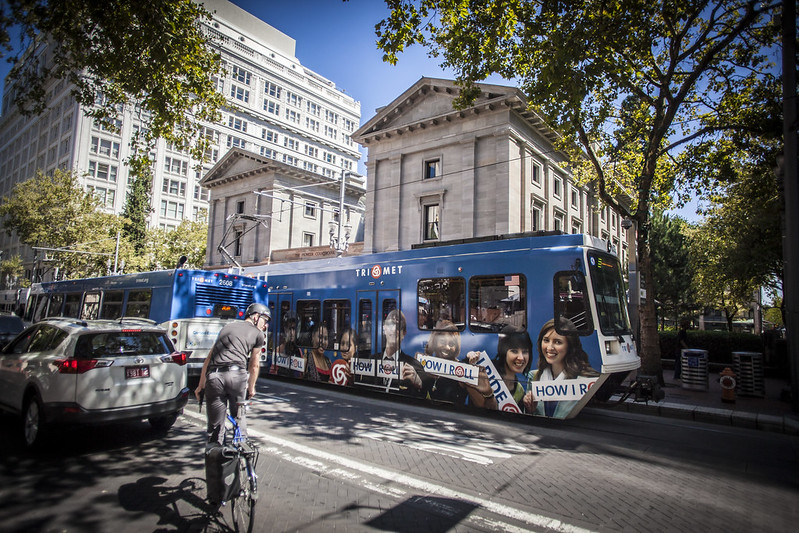 Recent events of racial injustice, including the killing of George Floyd and too many others, have led to the call for lasting change in policing. In response, TriMet is re-evaluating our approach to public safety and security as we make our transit system better—more safe, welcoming and equitable for all.
After reallocating $1.8 million in funding from traditional police services and other sources on July 1, 2020, TriMet will soon launch a broad community outreach and engagement effort to help inform change in our safety efforts. In partnership with the Coalition of Communities of Color and DHM Research, TriMet will seek feedback from riders, community groups, local leaders and the public, as well as our frontline workers and security officers. We'll engage our Transit Equity Advisory Committee, the TriMet Safety & Security Committee and our Committee on Accessible Transportation in discussions. The comments we receive, along with research and analysis on national best practices, will help guide us moving forward.
"We want to bring more voices into the conversation as we reimagine public safety and security on our transit system," said TriMet General Manager Doug Kelsey. "Transit, in and of itself, brings social equity to a community, providing access to opportunity, connecting people from all races, religions and economic levels to jobs and education. We also want to ensure the security on our transit system is fair and free of bias as we address the needs of all our riders and employees to feel safe."
Building a better transit system together
Beginning Aug. 17, 2020, TriMet and the Coalition of Communities of Color and DHM Research will kick off a variety of engagement opportunities. Among them:
Aug. 17: Online safety survey opens at trimet.org/publicsafety
Aug. 24: Virtual town halls and listening sessions hosted by Coalition of Communities of Color begin
Sept. 21: Invitation-only focus groups led by DHM wrap up
In coordination with our outreach efforts, TriMet will research national best practices in equity and transit security. We will also enlist a third-party analysis of security challenges facing the region as well as the types of issues that riders experience on board our buses and trains.
By the end of September, TriMet expects to convene a Transit Safety Advisory Committee of regional thought leaders on community and equity as well as national transit security experts. The committee will use the feedback gathered, the research results and the analysis findings to develop recommendations. Those recommendations will help advise TriMet's General Manager on opportunities for approaches to transit safety and security that incorporate equity.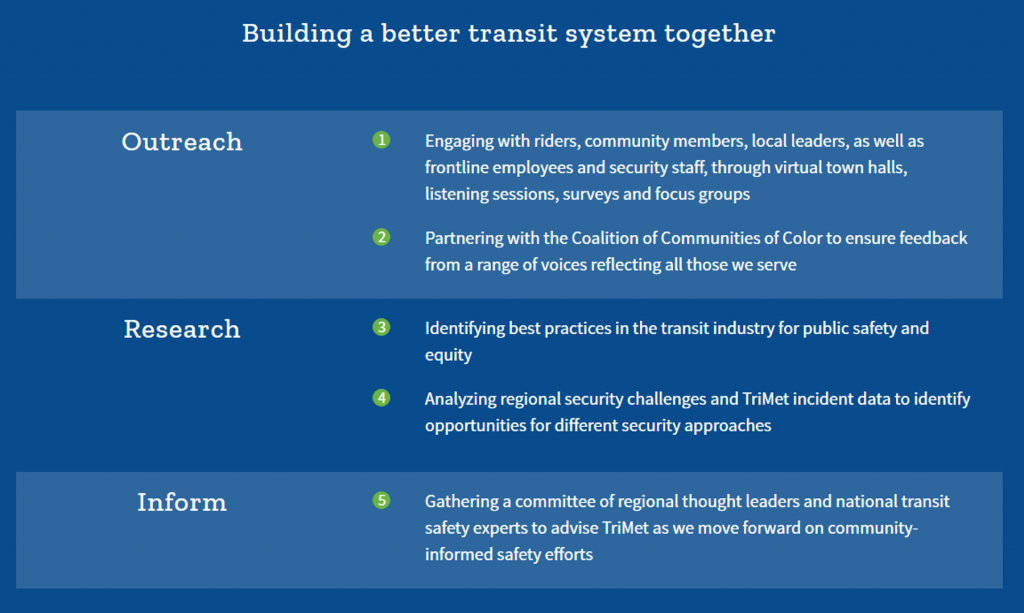 Get Involved
Share your opinions on safety, security presence, training, partnerships, non-police community-based security initiatives and more. Take our survey and learn more about participating in an upcoming focus group or listening session at trimet.org/publicsafety.
Foundation for the Future
As TriMet develops a new public safety and security approach, we will build on our foundation of diversity, equity and inclusion.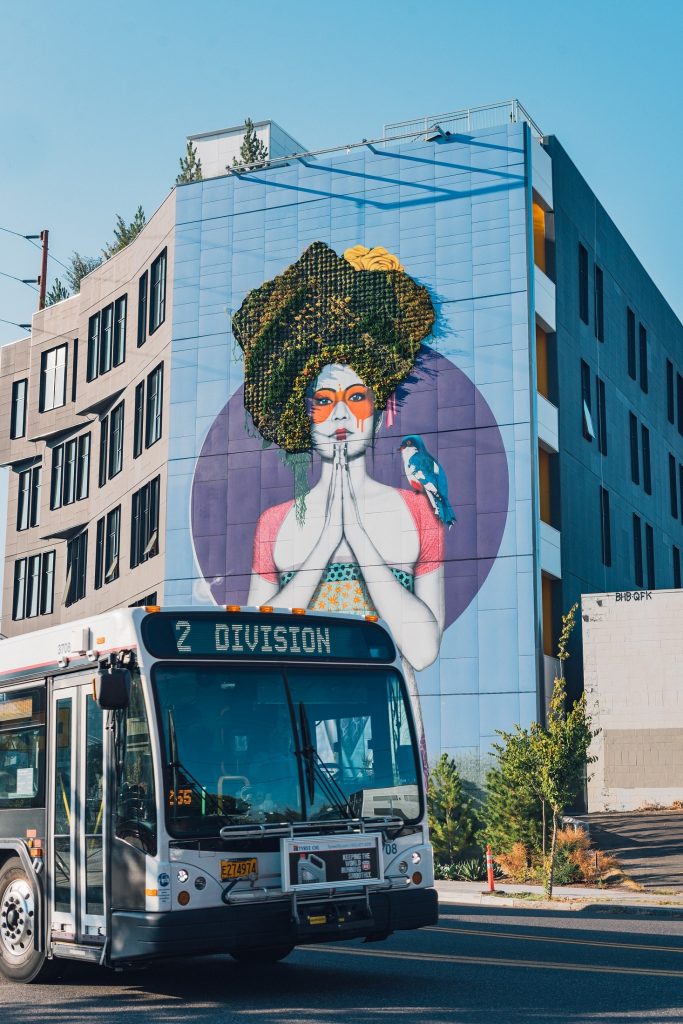 Independent analyses done in 2016 and in 2018 found no systemic racial bias in TriMet's fare citation process.
After initiating a change in Oregon law, TriMet now offers a way to resolve fare citations at lower cost and outside the courts .
Fare evasion penalties became less punitive in July 2018 with the option of reduced fines, community service or enrollment in TriMet's Honored Citizen reduced fare program.
TriMet's Honored Citizen reduced fare lets those on a low income, seniors and those with disabilities take unlimited rides for just $28 a month. More than 31,000 peoplehave registered for the program.
The TriMet Code changed in December 2018 to clarify that fare evasion only is not a crime but a violation, similar to a parking ticket. Nobody, whose only violation is fare evasion, can be arrested.
TriMet does not allow routine fare checks by police.
TriMet increased unarmed security personnel in 2017 in response to community concerns over militarized security presence. We have a mix of unarmed Transit Security Officers and Customer Safety Officers; TriMet Supervisors, Fare Inspectors and Customer Service Representatives providing a safety presence on the transit system along with Transit Police Officers. Learn more at trimet.org/personnel.
TriMet worked with regional district attorneys to reduce the use of Interfering with Public Transportation charges.
TriMet provides contract security staff and fare inspection staff with training for community safety practices, de-escalation and non-confrontational interactions.
For more on TriMet's equity actions, visit trimet.org/equity.