Blaze, Poison Waters, The Unipiper, Timber Joey and others encourage everyone to help stop the spread of COVID-19
With help from some local celebrities, TriMet has begun a new public service campaign to encourage people on transit – and in the entire Portland metro area – to wear face coverings and help stop the spread of COVID-19.
Among those lending their voice to TriMet's public-service announcements:
Blaze the Trail Cat, Blazers mascot
Timber Joey, Timbers mascot
Poison Waters, entertainer
Oregon Ballet Theatre
The Unipiper
Lisa Schroeder, Mother's Bistro & Bar owner
Evelin Hernandez, Portland Univision meteorologist
"We at TriMet continue to do our part in getting the word out to riders and the public about how wearing face coverings can help stem the spread of COVID-19," said TriMet General Manager Doug Kelsey. "I want to thank our riders for doing their part. Together, we can stay safe, stay strong."
Look for these public-service announcements on broadcast TV as well as TriMet's Facebook, Twitter, YouTube and Instagram pages. The campaign is expected to run through September.
Masks required on board and off

Oregon Health Authority's guidelines direct all Oregonians over the age of five to wear face coverings when in public and they cannot maintain 6 feet of distance from others. It recommends masks for children between ages two and five. Children under the age of two should not wear face coverings, and individuals may not use a covering if a medical condition or disability prevents it.
These guidelines are the same on transit as they are elsewhere in public. TriMet has been requiring riders, operators and other employees to use face coverings on board our buses and trains since mid-May, at the direction of the OHA.
We've got you covered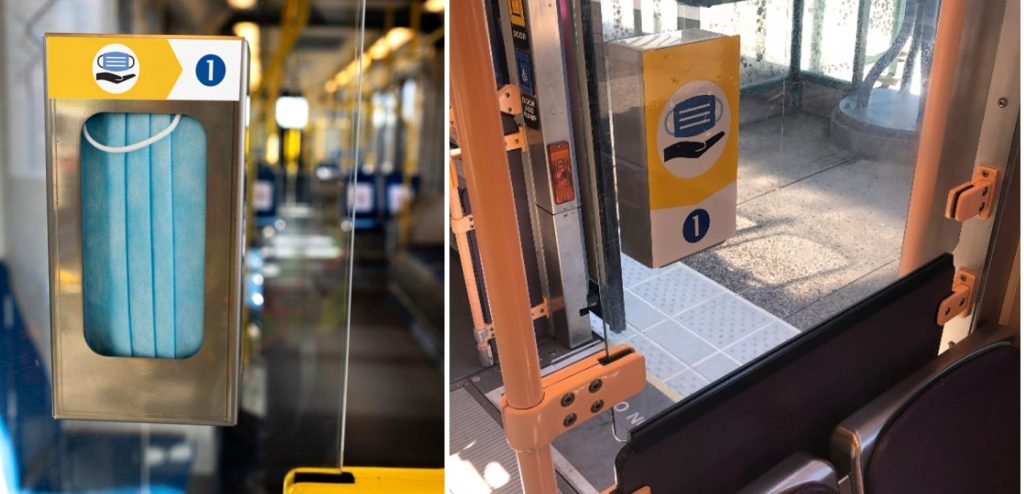 In case a rider forgets their mask or doesn't have access to one, TriMet has installed disposable-mask dispensers on board all our buses and trains. Hand-sanitizer dispensers also are available on all buses and some trains.
Despite providing face coverings on board, TriMet encourages riders to bring their own. They will likely encounter people at or on the way to their stop or station.

Give each other space
Face coverings go hand-in-hand with physical distancing in protecting yourself and others during the pandemic. TriMet has placed signs on seats on board our buses and trains to help people physically space themselves out from other riders by at least 3 feet, as directed by the OHA. We also urge riders to stay behind the yellow line near the priority seating area on our buses, which is 6 feet back from the operator, since operators are on the vehicle for longer lengths of time and interact with more people.
To allow for physical distancing on board, TriMet limits the number of people on board our buses and trains. If the vehicle is at capacity, riders will need to wait for a following bus or train.
More cleaning, disinfecting
We're frequently cleaning our buses and trains, too. TriMet added staff to disinfect the places people commonly touch on our vehicles and at busy rail stations and transit center throughout the service day, with a goal of cleaning every four hours. This is in addition to the more in-depth cleaning that occurs nightly.
Learn more about what TriMet's doing to help stop the spread of COVID-19 and keep riders safe at trimet.org/health.