New program introduces ultraviolet lamps, known to inactivate deadly germs
Circled around a gleaming metallic cylinder, long tubes burst to life with the press of a button. When glowing blue, these tubes are transmitting a wavelength of light with the power to destroy dangerous pathogens. TriMet is beginning to use these germ-killing ultraviolet lamps—also known as UVC lamps—as part of our cleaning and disinfecting efforts as we try to help stop the spread of COVID-19.
With the introduction of the lamps, TriMet becomes one of a few transit agencies in the country to begin incorporating them into our cleaning routine. We will use them to provide an extra level of sanitation on our vehicles, supplementing—but not replacing—our ongoing cleaning efforts.
UVC is one of three types of light on the ultraviolet spectrum, a short, powerful wavelength that's been shown to effectively inactivate airborne coronaviruses and other pathogens. Research continues into its large-scale applications, and TriMet is following this closely. The National Academy of Sciences says that while UVC light likely destroys COVID-19, more testing is necessary to fully understand its large-scale applications. However, our testing shows the lamps' output exceeds what's been shown to treat SARS, MRSA and other pathogens.
A light that disinfects
Before using the lamps, we first mop, wipe down and clean surfaces on board the vehicle. This first pass through removes dirt, spills and sticky spots, allowing the lights to sanitize effectively, while also disinfecting these frequently touched surfaces.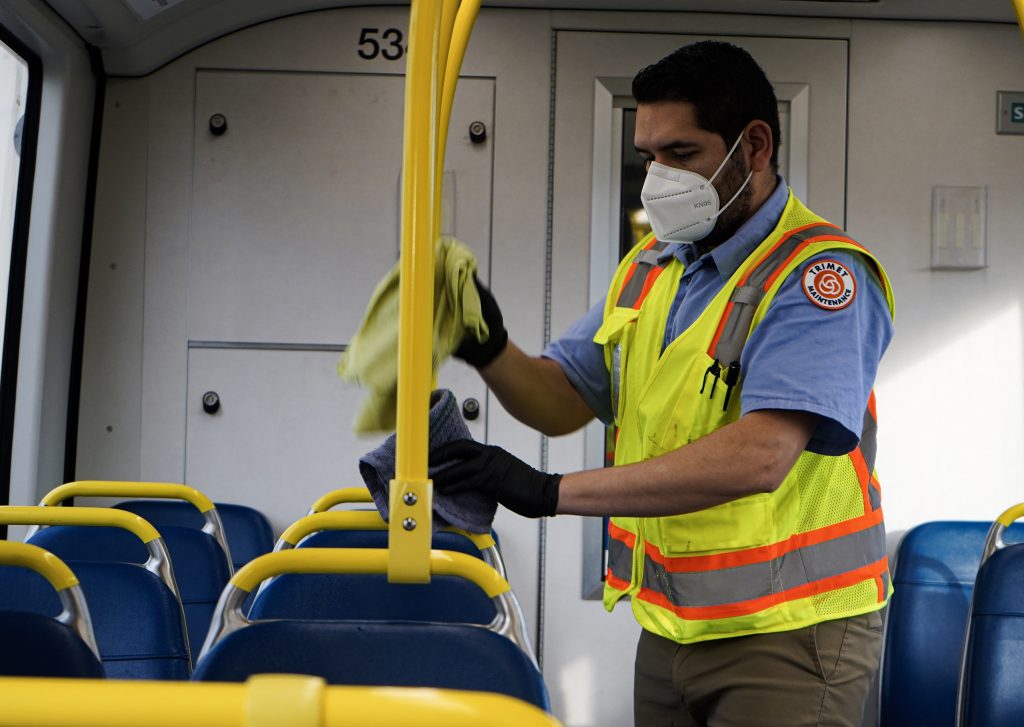 After this preliminary cleaning, service workers position a lamp inside the vehicle. After stepping outside to be a safe distance away, they turn it on remotely using a device similar to a key fob. After a few minutes, the lamp turns off automatically, and service workers can re-enter the vehicle where they reposition it. They repeat this process several times until every surface has received a dosage of UVC light.
Keeping a safe distance
As a sanitation technology, ultraviolet light has been used to clean water and in certain medical settings for more than 100 years. In recent years, hospitals have been using UVC to disinfect operating rooms due to its ability to inactivate drug-resistant superbugs, both on surfaces and in the air. We know these lights pack a strong punch and must be operated safely, as direct contact with UVC rays can cause skin redness and eye irritation.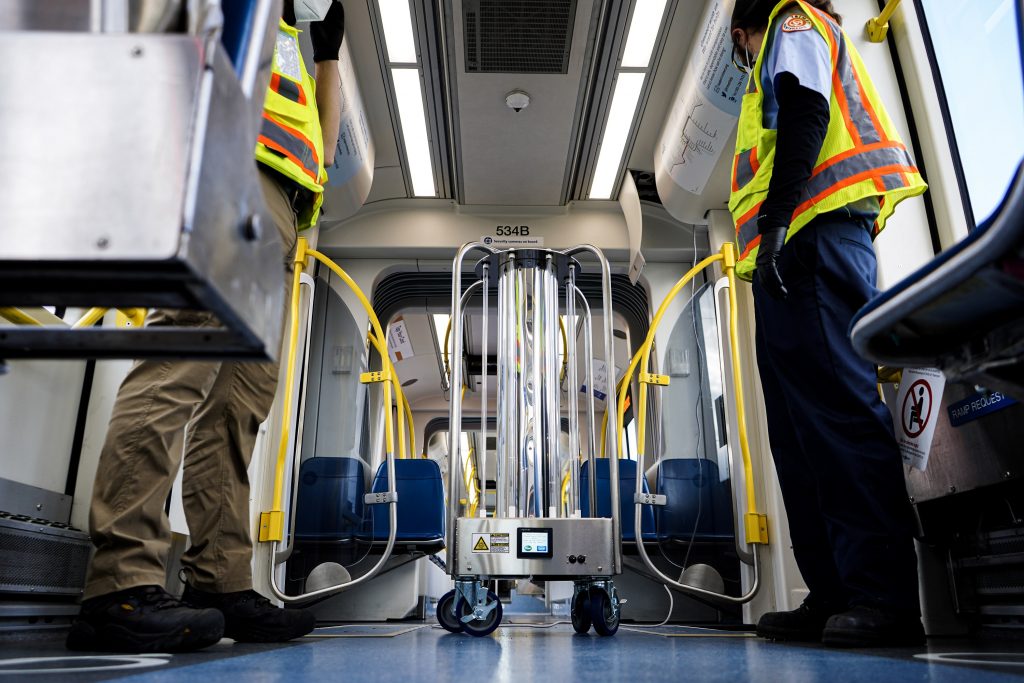 Our service workers take precautions so they're clear of the lamps when the devices are on. In addition to the protective gear they normally wear, such as gloves and face coverings, they also wear UV-blocking glasses to protect their eyes. The lamps also have sensors, which shut off the lights if someone enters the vehicle during their operation.
 Investments in cleaning
As people are venturing out more, we continue our focus on developing ways to push back on the pandemic. As the state's largest transit provider, we've been developing, and will continue to develop, new procedures to keep buses and trains moving safely.
In addition to UVC lamps, we've expanded the number of bus foggers to include 36 machines capable of cleaning hundreds of buses a day. At our MAX stations and transit centers, service workers use an anti-viral solution to wipe down all surfaces that people touch. We do the same thing throughout the day on trains when they reach the end of the line.
TriMet is also adding a legion of new cleaners, at least 130, who will help us reach our goal of cleaning all buses and trains about every four hours during the service day. Even with these efforts, along with face coverings and hand sanitizer now available on buses and trains, we continue asking that people avoid trips unless they're necessary. This provides more space on buses and trains for people who have to travel right now.
COVID-19 has changed how we all live, work and travel. Our efforts to keep trains, buses and facilities as clean as we can is a necessary investment for the health of our community. While we miss our regular riders and look forward to a time a when we can welcome more of you back on board, that time has not arrived yet. When it does, we plan to continue keeping riders and operators healthy. For more information about how we're addressing COVID-19, visit trimet.org/health.