Virtual open houses give public opportunity to learn about revised budget, service, safety and security priorities for fiscal year 2021 starting July 1, 2020
TriMet is developing plans for our future. While the COVID-19 pandemic brings many uncertainties, TriMet will continue to provide a service that is safe, reliable and equitable. We are hosting three virtual open house events to share what we want riders to know as they start returning to transit and our plans for preserving service, jobs and safety in the coming year. Join us by phone or CISCO Webex video chat and hear from our agency leaders on how we intend to begin our cautious come back.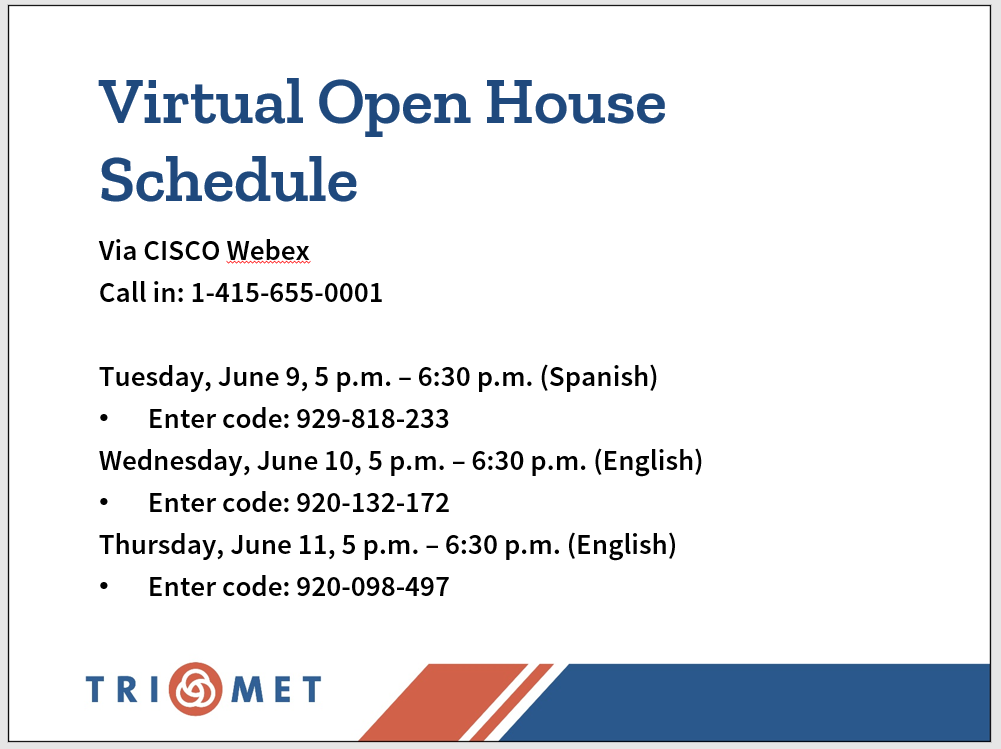 Video: Click here for Spanish (6/9), here for English (6/10) and here for English (6/11)
Virtual open houses – June 9, 10 & 11
Presenters:
Doug Kelsey, General Manager
Dee Brookshire, Executive Director of Finance and Administration
Tom Mills, Director of Mobility, Planning & Policy
John Gardner, Director of Transit Equity, Inclusion and Community Affairs
Marla Blagg, Executive Director of Safety and Security
When the coronavirus pandemic led to a statewide stay-at-home order, TriMet saw ridership drop by as much as 70%. We appreciate our riders' commitment to stay home to stay safe. Their actions helped give space and seats on our buses and trains for essential workers and those who rely on transit to access vital services. However, the loss in fare revenue, combined with a projected decrease in payroll tax revenue, has led to significant adjustments to our budget for the next fiscal year. The open houses will give our riders and stakeholders an opportunity to learn how TriMet is responding, while also preparing for the future. Topics that will be covered include:
Our revised budget for  fiscal year 2021 and the allocation of CARES Act funding
How we plan to gradually restore service to pre-pandemic levels while maintaining space on board buses and trains for physical distancing
The investments we're making in cleaning procedures, personnel and technology for the safety of riders and operators
Participants will also be able to submit questions to the panelists using the chat feature in Webex. Learn more and leave feedback through June 14 at trimet.org/openhouse.