Elevated cleaning procedures, required face coverings and reduced bus and train capacity among changes made in response to COVID-19 pandemic
TriMet joins the community in the slow and cautious return to daily life as our corner of Oregon begins to reopen. Our buses and trains continued to roll while most Oregonians stayed home to stop the spread of COVID-19. During that time, we've made a lot of changes to help keep our transit system, employees and riders safe. With the coronavirus still present in the community, the health risks of the pandemic remain. So, just as we've endured the quarantine together, it will take all of us to safely transition as the region gets back to business.
How transit has changed
The world and our local communities look much different than they did just three months ago. You'll notice many changes on the TriMet system as well.
Face coverings – Following the guidance of the Oregon Health Authority, TriMet is requiring riders to use face coverings on all TriMet buses and trains. Disposable face coverings are available on board for those who do not have their own. We do encourage people to use their own face coverings if they have them as they will likely encounter people as they travel to and from their bus or train. OHA strongly recommends riders use face coverings at rail stations, transit centers and busy bus stops, as well. TriMet employees, vendors and contractors are also required to wear face coverings on the transit system, when at least 6 feet of distance from others cannot be maintained.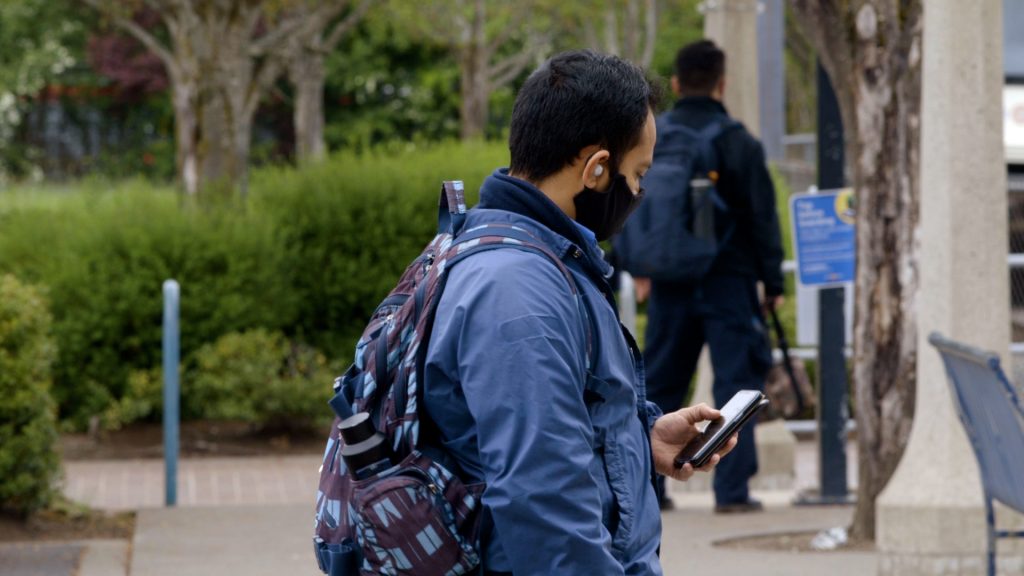 Reduced service – TriMet has temporarily reduced service system wide, to help balance operations and maintenance costs with lower ridership. Most bus lines, all MAX lines and WES continue to run, but some are running less frequently or for shorter periods of the day. Give yourself extra time and visit trimet.org to plan your trip, as schedules have changed.
Physical distancing – Following the direction of the Oregon Health Authority, TriMet is promoting physical distancing on board and at stations and stops. We've installed signs at transit centers, MAX stations and on board buses and MAX trains to encourage riders to stay at least 6 feet apart. WES riders should spread out by at least 3 feet, since these trains and stations are cleaned between the morning and evening commutes when WES isn't running.
On buses, we moved back the yellow line for standing at the front of the bus, so that it is 6 feet behind the driver's seat. We're also asking riders to exit through the rear doors, if they are able. Signs placed on passenger seats give visual clues of where not to sit, to allow safe distancing. Messages about safe riding behavior can also be heard in the overhead announcements on buses and trains.
Passenger limits – To encourage physical distancing, TriMet must limit the number of people who can be on board buses and trains at one time.
Bus: Passengers are limited to 10-15 people so riders can safely spread out. The operator or overhead sign on the bus will indicate when buses have reached capacity. We appreciate riders' patience, as you may have to wait for another bus.
MAX: Riders on MAX should spread out as much as possible and wait for the next train if they cannot spread out by 6 feet from others. Again, we appreciate your patience as we try to keep everyone safe.
WES: WES conductors may ask riders to move to another area or car of the train to keep riders separated and safe.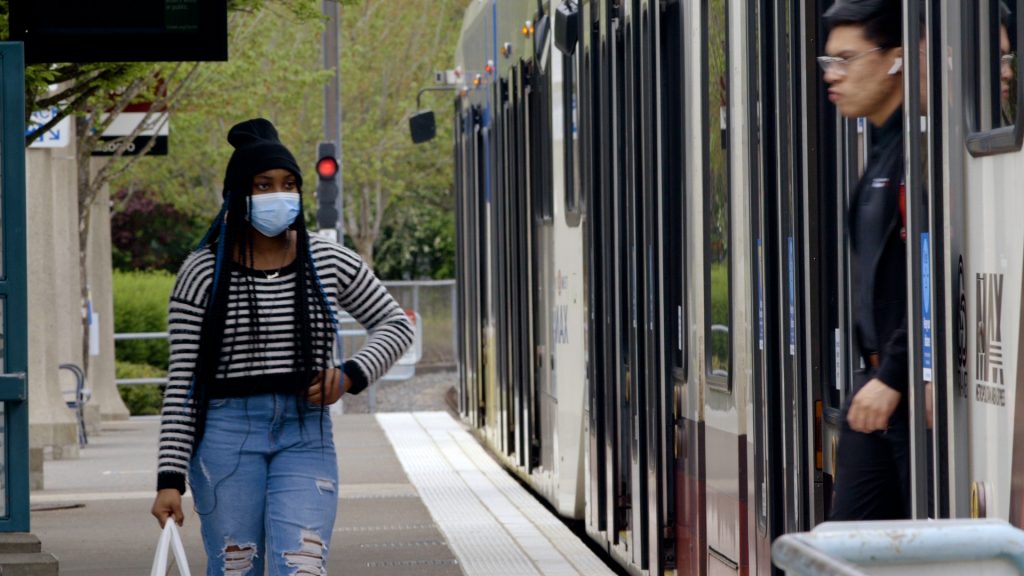 Riders can always find out when the next bus or train will arrive by visiting trimet.org, texting the stop ID # to 27299 or calling 503-238-RIDE (7433).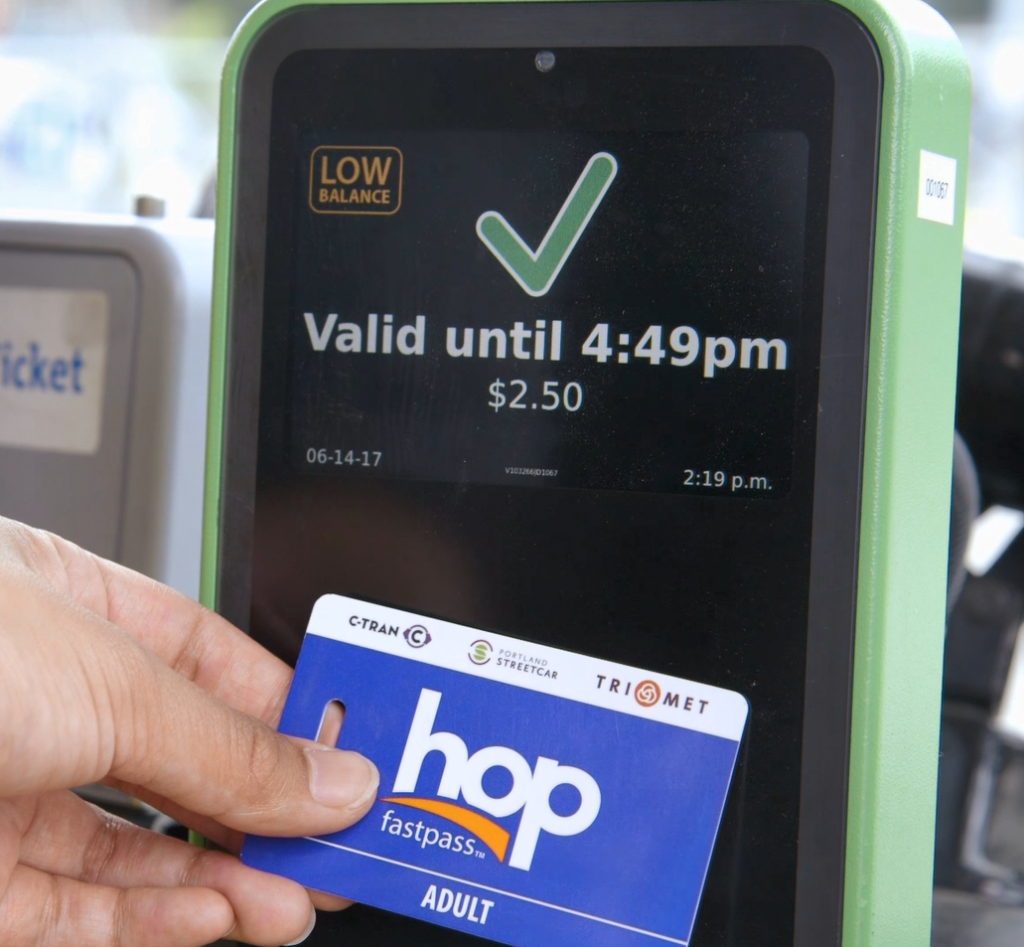 No cash fare on buses – To reduce the amount of time and interaction between operators and riders, TriMet is currently not accepting cash fare on board buses. Riders will need to pay fare with a plastic or virtual Hop card or with a 2 ½-hour or all-day Hop ticket. Tickets can be purchased with cash or payment card at vending machines at transit centers and MAX stations. Cash can also be used to load fare to Hop cards at hundreds of locations throughout the region. Due to COVID-19, Hop cards are available free of charge, by visiting the TriMet Ticket Office in Downtown Portland or calling or 503-238-RIDE (7433).
Hand sanitizer – Health experts recommend frequent and thorough handwashing to prevent the spread of COVID-19 and suggest using hand sanitizer when handwashing isn't an available option. TriMet is installing hand sanitizer dispensers on all of our buses and trains to help riders stay safe.
Bus operator safety panels – TriMet is speeding up plans to install safety panels on all of our buses, to help keep operators safe. The panels include an adjustable safety glass window around the driver's seat, and about half of the buses currently have them. While initially intended to help protect operators from assaults, the panels also provide a buffer between drivers and riders who might be sick.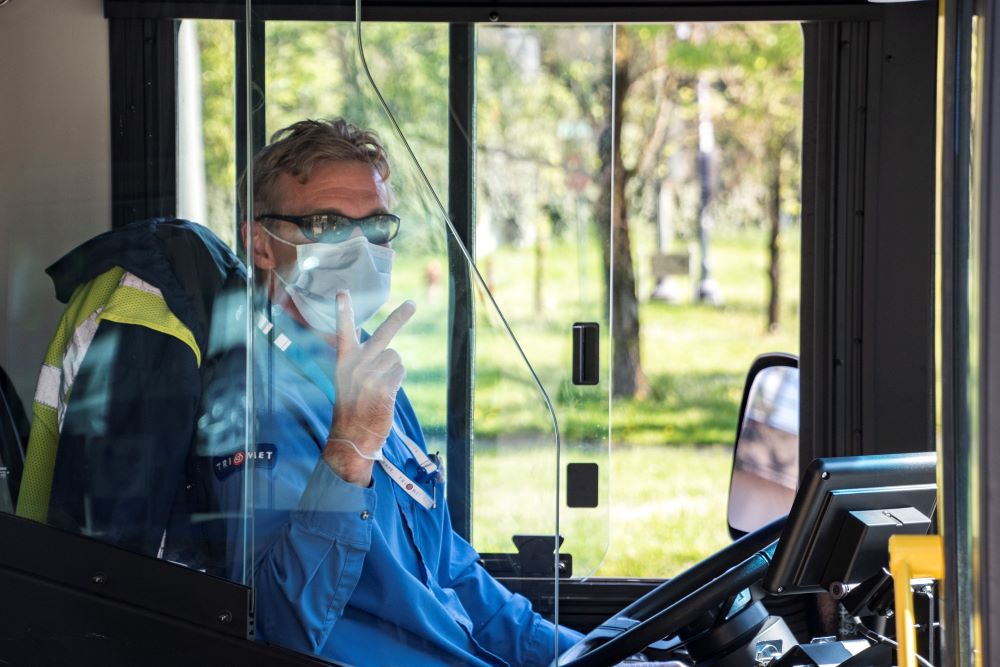 Our commitments to you
Your health and safety is important to us, and we have increased cleaning staff and procedures across the transit system in response to COVID-19.
Cleaning and sanitization – We've expanded our nightly bus cleaning routine to include sanitizing all frequently touched surfaces. We are using a hydrogen peroxide-based disinfectant fog that sanitizes every surface on the bus. Cleaners are disinfecting surfaces and touchpoints on MAX trains nightly as well, and we have stationed cleaning teams along all five MAX lines, to wipe down surfaces on board some trains during the service day. In addition, we are disinfecting surfaces at MAX stations and transit centers, including ticket vending machines, Hop readers, pay phones, railings and benches. We are ramping up cleaning even more, with the aim to clean all buses and trains about every four hours during the service day.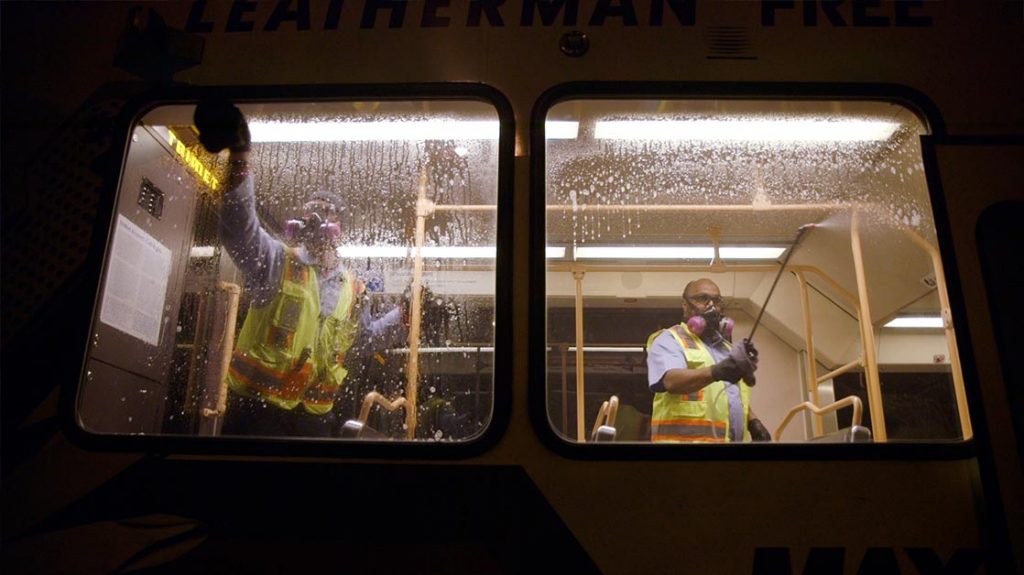 More cleaning staff – We hired 30 additional service workers to help with sustain our elevated cleaning procedures. We also are bringing on more than 100 new full time cleaners in the weeks and months to come, to support continued cleaning efforts. They will help us reach our goal of more routine cleaning of buses and trains throughout the day.
COVID-19 response protocol – If there is a concern that someone who may have had COVID-19 has been on board a bus or train, the vehicle is removed from service and thoroughly disinfected. This video shows the process for quarantining and sanitizing a bus.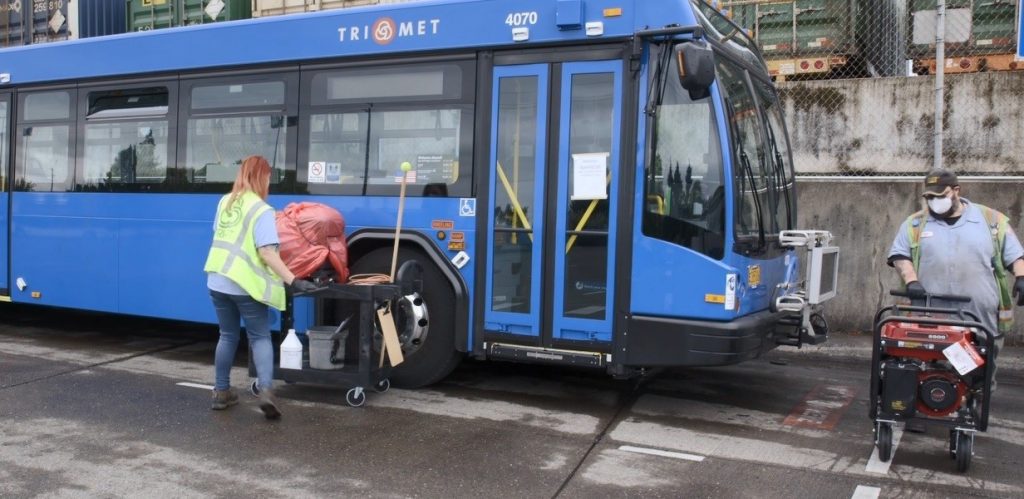 Let's protect one another
TriMet asks riders to follow the guidance of the governor and health officials when using the transit system:
Stay home if you're sick
Keep 6 feet apart whenever possible
Wear a face covering
Practice good hygiene
Minimize unnecessary travel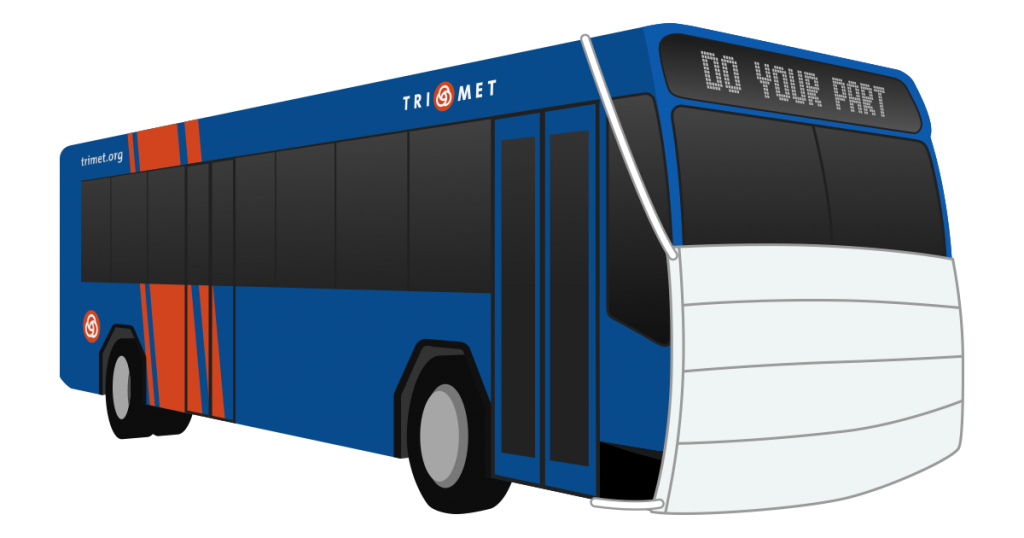 We're all in this together, and working together is the best way to keep everyone who works at TriMet or uses the transit system safe. We ask that riders be courteous and alert. Please give operators and other riders space, for your safety and theirs. We ask for your patience as we transition our operations in the midst of an ongoing, global pandemic. And, if you see an area where we can improve, let us know. Reach out by calling or texting 503-238-7433 (RIDE), tweeting to @trimethelp or visiting trimet.org/support. We're here to help, and we want to hear from you.