New devices, processes and staff are part of ongoing increased cleaning efforts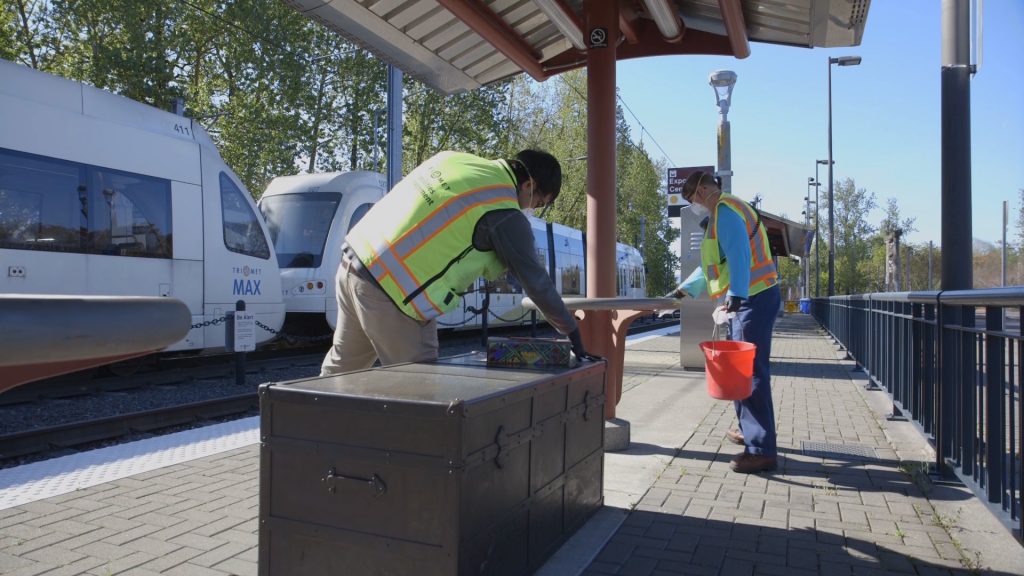 Stroll past the SE Park Ave MAX Station in Milwaukie and you may see a TriMet employee disinfecting the Hop reader before turning their attention to the ticket vending machine. With a bottle of anti-viral spray, a container of disinfecting wipes and other tools, the service worker scrubs down every surface, from trashcan lids to the pay phone.
On board a stopped MAX train, another service worker is wiping down the stanchions and handrails. Together, these cleaning specialists are working to push back on COVID-19 one station, one vehicle and one touchpoint at a time. This isn't a single event at one station but part of a larger cleaning routine happening throughout TriMet's system—every day, across our vast three-county service area.
With COVID-19 part of daily life, we've continued expanding our cleaning efforts to help keep our riders, operators and other employees healthy. Much of these will not be short-term changes but rather long-term investments. As part of this unprecedented cleaning and disinfecting effort, we're also testing new products and methods to protect those who still rely on public transit right now.
Investments in cleaning
Disinfecting our buses and trains is among our top priorities. These vehicles keep life moving for many in the region, particularly those who must travel now because of essential work, medical appointments or grocery shopping.
TriMet has hired 30 new service workers who, among other duties, will help with cleaning on vehicles and at facilities. These are critical positions, with additional hires to come, that will help us step-up efforts to keep more than 700 buses, 145 MAX trains, 6 WES cars and 96 stations and transit centers disinfected each day. The more in-depth work takes place overnight, when the trains and buses are out of service.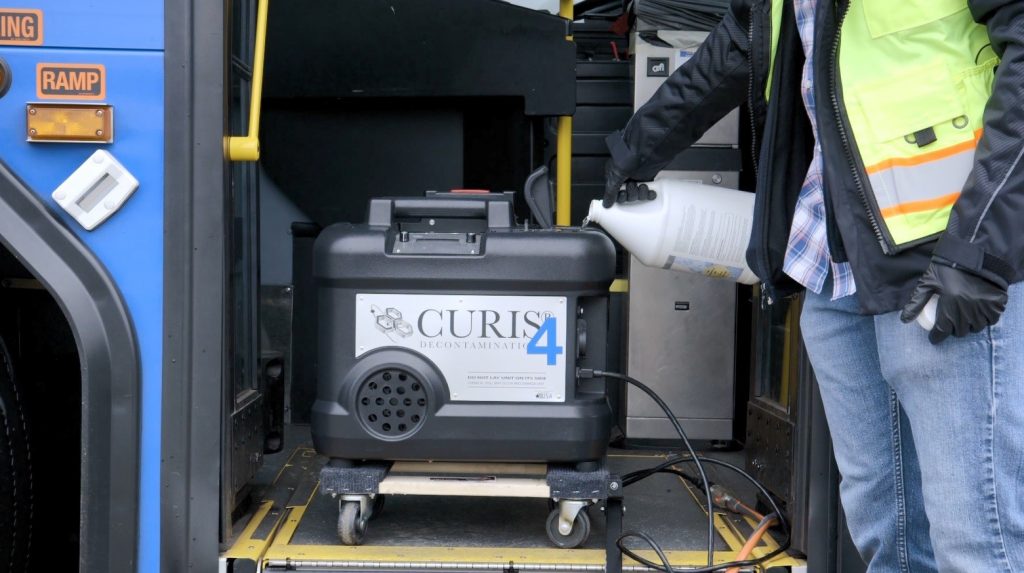 We're adding to our stockpile of cleaning tools. After testing nine disinfecting bus foggers, TriMet has made two additional purchases of the machines, which will bring the total number to 36 by the end of May. These foggers are filled with a safe, non-toxic solution, with the main active ingredient being hydrogen peroxide. The machines fill buses with the disinfectant, which is able to cover every surface of the bus.
While not as visible as the service workers cleaning stations, it's a critical part of our overall routine for disinfecting buses. One service worker can operate four machines at once. By running the foggers on out-of-service buses throughout the day, service workers can disinfect TriMet's entire bus fleet in around 12 hours. Buses sit for at least three hours after fogging. The use of the foggers allows our service workers more time to tackle other tasks that require their attention.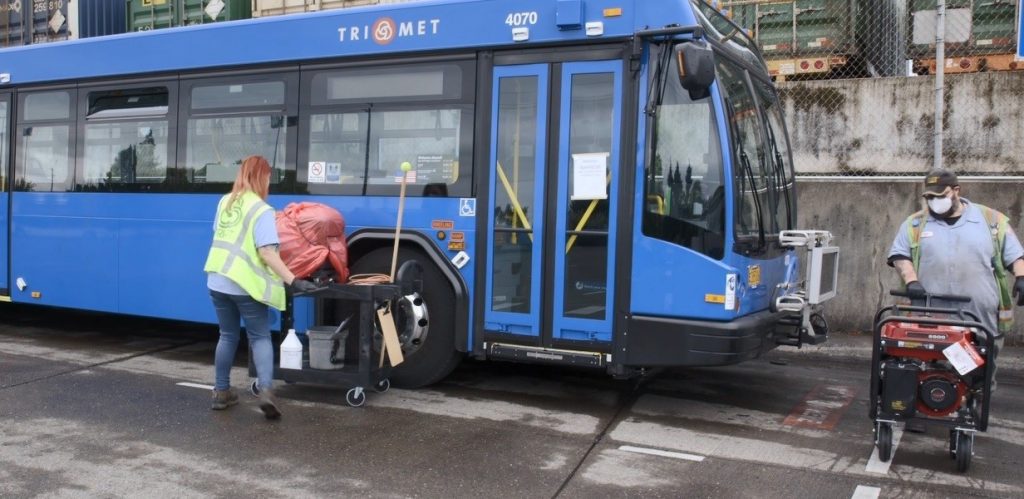 While our cleaning routines for out-of-service vehicles are thorough, TriMet will also pull buses and trains from service if the operator believes someone sick with COVID-19 may have been on board. When that happens, the operator takes the bus or train back to the facility. Buses are fogged in an isolated area. MAX trains receive a deep cleaning from service workers wearing protective gear. After several hours, both buses and trains are cleaned again before they can eventually return to service.
The operator who brought the vehicle back to the facility will also consult with their doctor about the best course of action for them, which may be a period of self-quarantine.
Enhanced daytime cleaning
Soon, you may see even more service workers out in the system, hopping on trains and now on buses. Their cleaning work will take place at stations and transit centers while buses and trains are stopped during layovers. We currently do this with trains when they reach the end of the line, with service workers moving through them to clean up spills and disinfect surfaces. We'll be doing even more of this now throughout the day. And with more service workers, we'll be able to do the same cleaning work on our buses when they're taking a break. This is an important step in creating a continuous cycle of cleaning—from disinfecting the bus when it's out of service to regular wipe downs and spot cleaning throughout the day.
At our facilities, such as the TriMet Ticket Office and Lost & Found, we also clean surfaces throughout the day. Both offices remain open, operating under normal service hours. To keep these buildings safely disinfected for customers and employees, their counters, door handles, tables and other surfaces people touch are regularly cleaned after use.
These are anxious times for everyone, whether we're worried about ourselves, our loved ones, neighbors or business. But as the region continues to respond to COVID-19, public transit will remain an essential service that ensures health care workers, first responders and others working in critical industries, including transit employees themselves, can get to where they need to go safely.