On guidance of the Oregon governor's office, TriMet takes additional actions to welcome back riders safely when local counties reopen
This post has been updated.
Oregon Gov. Kate Brown and the Oregon Health Authority have outlined requirements for transit agencies as part of the framework for 'Reopening Oregon' in the age of COVID-19. With the guidance of the governor and health authorities, TriMet is making preparations and taking new action to increase the safety of our riders and employees, while supporting the overall health of our community.
"Over the last two months, TriMet has elevated our cleaning protocols, provided riders direction to stay healthy and changed procedures to increase the wellbeing of our bus operators and other front-line staff," said TriMet General Manager Doug Kelsey. "Now, as we look forward to the TriMet of tomorrow, we will step up even more. It is paramount that our customers feel safe with the transit service we provide. Gov. Brown's order helps build on everything we've done to date."
Here are the actions TriMet will take based on the direction of the Oregon Health Authority. (Details follow.)
Face coverings required on transit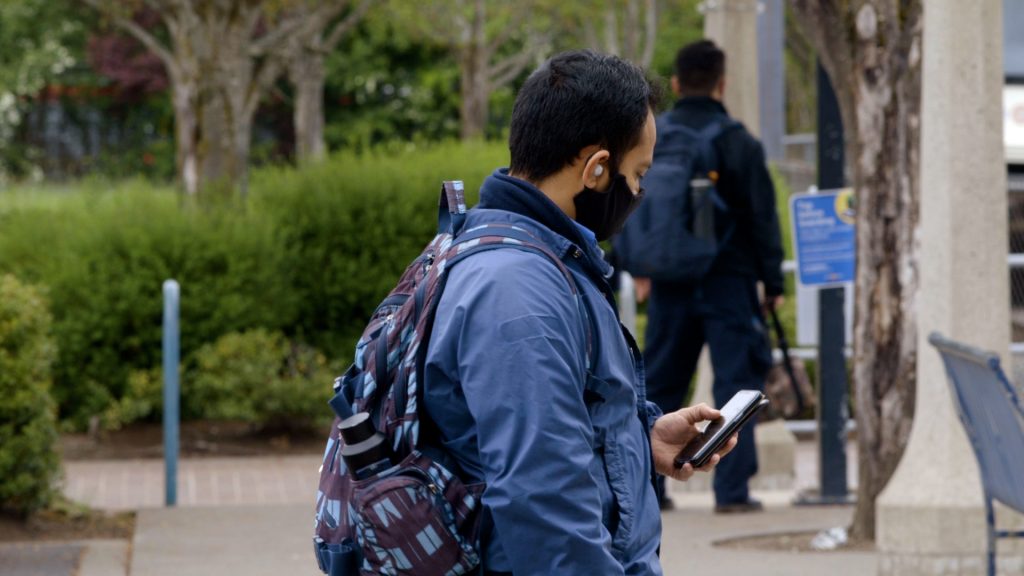 Riders—just like TriMet employees—will be required to use face coverings on all TriMet buses and trains as directed by the OHA. The requirement for riders to use face coverings on transit goes into effect Wednesday, May 20. OHA also strongly recommends riders use face coverings at rail stations, transit centers and busy bus stops. This follows the guidance of the Centers for Disease Control when physical distancing of at least 6 feet from other individuals cannot be maintained.
When people wear face coverings it sends a strong message of community. It shows respect and caring for our neighbors and each other. TriMet urges riders and our employees alike to follow this requirement to help keep everyone safe.
Children under the age of two should not wear face coverings, nor should people with medical conditions or disabilities that prevent it. Face coverings should cover both the mouth and nose. The CDC provides helpful information about wearing and making face coverings. Learn more here.
Installation of onboard dispensers for face coverings and hand sanitizer
While we do encourage riders to bring their own face covering and hand sanitizer, as they will likely encounter people as they make their way to buses and trains, TriMet will begin offering both on board vehicles. TriMet will be installing hand sanitizer dispensers and dispensers of disposable face covers in the days ahead. We understand some people may have trouble accessing these supplies on their own. If you have your own hand sanitizer or face covering, we ask that you leave the onboard supplies for others in our community who are struggling to get them.
TriMet will equip each of our some 700 buses with a face cover dispenser, located inside the front door prior to the priority seating area, and two hand sanitizer dispensers, one near each door. Each of our 145 MAX light rail vehicles will have two mask dispensers and one hand sanitizer dispenser installed. Our WES train cars will also have mask and hand sanitizer dispensers installed. LIFT vehicles will have a hand sanitizer dispenser near the front door and operators will have face coverings on hand, to give to riders if needed. Staff at the TriMet Ticket Office will also provide a disposable face covering to riders who do not have access to their own.
Moving toward new physical distancing requirements with use of face coverings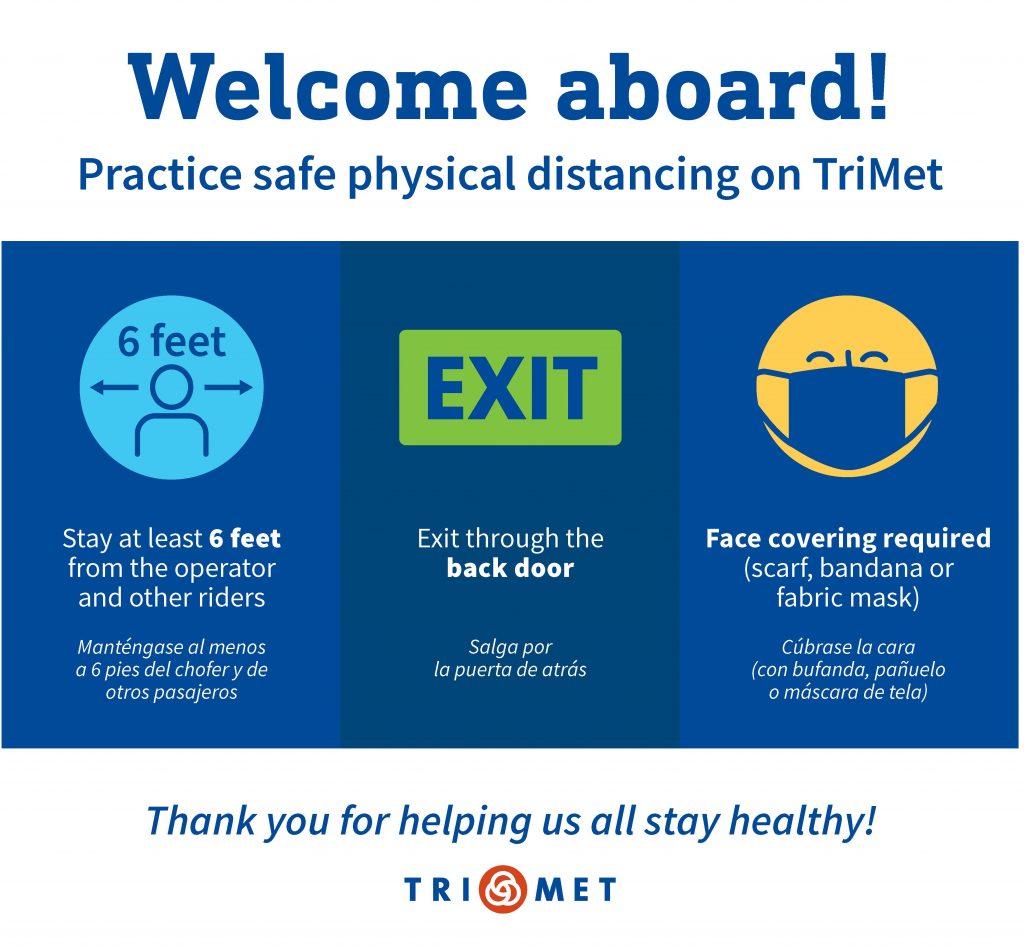 With face coverings now required for everyone on the transit system, TriMet is working toward new physical distancing guidelines. OHA says on buses and trains where space is limited and face coverings are required, riders should distance themselves from others by at least 3 feet. We will update signs and communications when we are able to move to the 3-feet guidance.
We urge riders to give bus operators as much space as possible by staying behind the yellow line on the floor of the bus near the priority seating area. This yellow line is 6 feet from the operator's seat, which follows guidance from the OHA as operators interact with riders for hours at a time. We are not accepting cash fares on buses temporarily to reduce our operators' exposure and riders should exit using the back doors whenever possible. We appreciate our riders' understanding as we try to help everyone stay healthy.
Number of riders limited on buses and trains
TriMet may adjust how many people can ride on a bus or train. However, even when we are able to increase the number of riders using OHA guidance for physical distancing, room on board will still greatly limited.
TriMet's standard 40-foot buses can only carry 10 individuals, or up to 15 people if some are riding together. We have signs that mark off seats as a visual cue to help riders spread out by at least 6 feet. If the bus has reached the limit, the sign on the front will indicate it is at capacity and riders will need to wait for a following bus. We appreciate riders for their patience, as this limit is required for their safety.
On TriMet's MAX trains, we continue to ask riders to space themselves from others as much as possible. If riders aren't able to spread out by a safe distance, people should wait for another train.
On TriMet's WES trains, riders must also spread out by a safe distance, and conductors may ask riders to wait if the train becomes crowded.
TriMet's LIFT paratransit service requires a reservation and only those riding together in will be allowed on at a time.
Added daytime cleaning of vehicles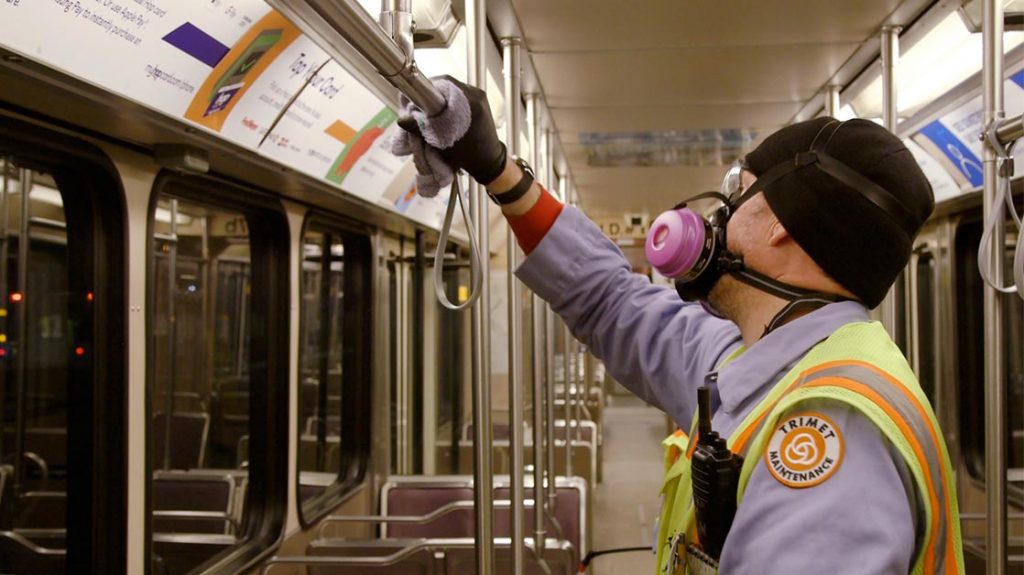 TriMet is again increasing how often we clean our vehicles and our transit system. Cleaners will disinfect the common touchpoints on all trains and buses, including LIFT paratransit vehicles during the day. This is in addition to the more in-depth cleaning performed every night to every transit vehicle. We are aiming to clean each vehicle about every four hours during the day, but this will require additional staff and take several weeks for us to reach. Workers also clean the main touchpoints on rail stations and transit centers at least once a day.
See what steps TriMet takes to keep the system clean and safe for riders and operators.
Further protection for TriMet operators
As previously announced, TriMet is speeding up our installation of operator safety panels due to the COVID-19 pandemic. Half of our buses already have the safety glass enclosure next to the operator's seat, which is mainly to protect operators from potential assaults, but can also provide some protection against viruses that spread through coughing and sneezing. While the safety panels are now in high demand throughout the world, we expect to receive a shipment of more than 300 of the panels in June and aim to have them installed by the end of July. TriMet has provided operators with face coverings since early April, along with supplying them with hand sanitizer and disinfecting wipes.
Riders and employees urged to follow all CDC precautions
The use of face coverings on transit and distancing from others in no way replaces the precautions laid out by the CDC that people should take to keep themselves and others healthy. Most importantly, if people are sick—no matter the symptoms—they should stay home and avoid all travel. While riders may welcome the availability of hand sanitizer on board, they should still follow the advice of health experts including washing hands with soap and water after riding. Get more tips at multco.us/novel-coronavirus-covid-19/transportation-and-travel-guidance-covid-19
Riders will be seeing and hearing more from TriMet as we urge them to take steps for their health and the health of those around them, including our operators and other frontline staff working throughout the pandemic to keep the community going. We will be posting new signs and messages about the face-covering requirement, COVID-19 symptoms to watch for and precautions that we all should take. Together, we can slow the spread of this virus until a vaccine can be developed to stop it. Follow TriMet updates at trimet.org/health.