New devices are helping TriMet's enhanced cleaning efforts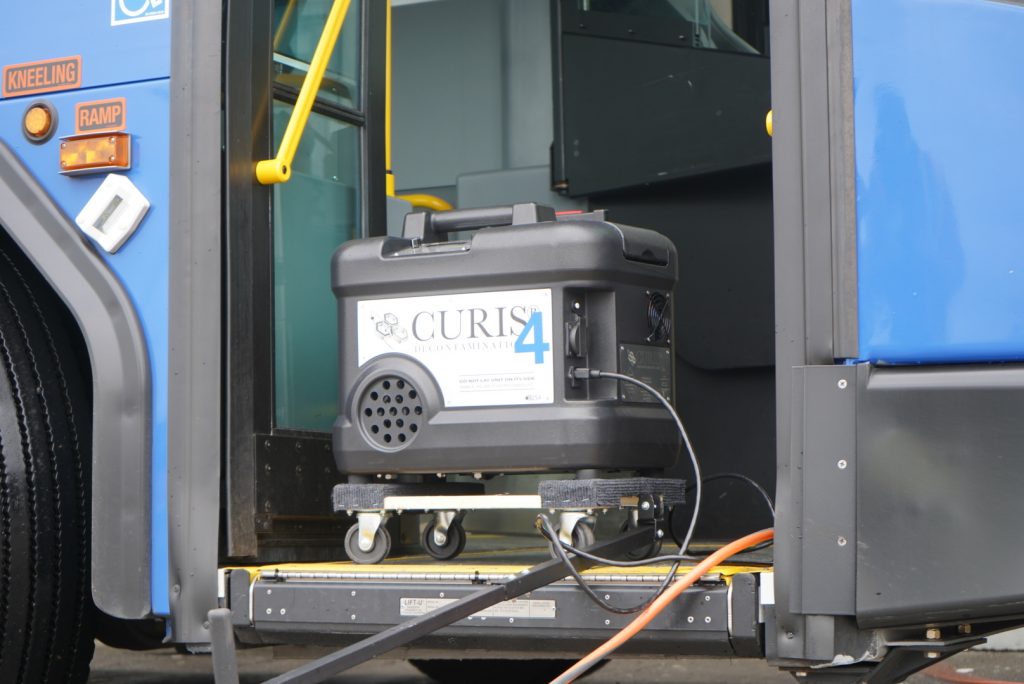 (This news feed has been updated.)
TriMet has a new tool to help keep our bus operators and riders healthy during the COVID-19 pandemic. We've added 36* portable decontamination devices to our regular cleaning routine. We have three of the machines up and running at each of our three bus operating facilities. The devices are roughly the size of a small cooler and evenly spray a fine mist of a hydrogen peroxide-based solution throughout a bus's interior.
"This is a big time saver," said Bus Maintenance Director Ed Bennett. "You can get into every nook and cranny with these."
It takes approximately 45 minutes to completely fog the interior of a bus, followed by a two-hour period where the bus sits with the doors closed. By running the foggers continuously throughout the day, maintenance staff can disinfect roughly 63 buses in an eight-hour shift—or the entire fleet of 703 buses in a week. This frees up our cleaning staff to focus their efforts on wiping down and disinfecting trains and the other buses that have ended service for the day.
Enhanced cleaning
The fogging machines will not replace cleaning by hand. Instead, the devices are intended to boost our efforts to keep surfaces as disinfected as possible.
Our cleaning staff will continue to spray and wipe down buses and MAX trains with disinfectant every night. In addition to this nightly work, we're also wiping down areas people touch at stations and transit centers, including Hop validators, pay phones, ticket vending machines, elevator doors and buttons.
The devices are similar to those used in ICUs and by other transit agencies around the world to prevent the spread of COVID-19. The disinfectant fog kills germs and other pathogens while eliminating odors.
TriMet's maintenance crews are testing the devices first on our bus fleet before deciding whether they'd be an appropriate cleaning tool for our trains. In light of the COVID-19 pandemic, TriMet continues to enhance our approach to cleaning and disinfecting vehicles. We take our responsibility of providing safe transit service very seriously, and we will continue to evaluate the most effective actions to keep our riders who must travel at this time and our operators healthy.
Stay Home, Stay Healthy
The best way people can protect themselves and their families is to avoid exposure. The Centers for Disease Control and Prevention and local health authorities recommend simple, every day steps to help prevent the spread of the respiratory virus, including:
Practice social distancing—keeping at least six feet from other people.
Wear non-medical face coverings in public places.
Avoid touching your face when you are in public, and remember to wash your hands often with soap for at least 20 seconds.
Stay home and limit contact with others. We've already seen the results of this on our buses and trains, which are emptier than they have ever been. We understand this is a sacrifice for many, but it's also the one proven way to flatten the curve.
TriMet will still be here for those who need it. Our region's health workers, grocery store employees and other essential workers, including our own operators, depend on buses and trains to keep them moving. We'll miss our regular riders, but we do urge everyone to follow the state's guidance and stay home. For more information and updates, go to trimet.org/health.
* The initial number of nine foggers increased to 36 with TriMet's purchase of more machines in May.