Free service for pre-qualified LIFT riders encourages physical distancing and provides access to essential items from food banks, grocery and pet stores
TriMet's LIFT paratransit service is reserved for the most vulnerable riders in our community — those who cannot use regular buses and trains due to a disabling medical condition or disability. Many are among the high-risk group for COVID-19. We want to help them stay home and save lives during the pandemic. Starting Monday, April 20, we will begin offering grocery pickup and delivery for established LIFT customers. The new, free service will encourage physical distancing and make it possible for our riders to stay safe, while getting the essential items they need.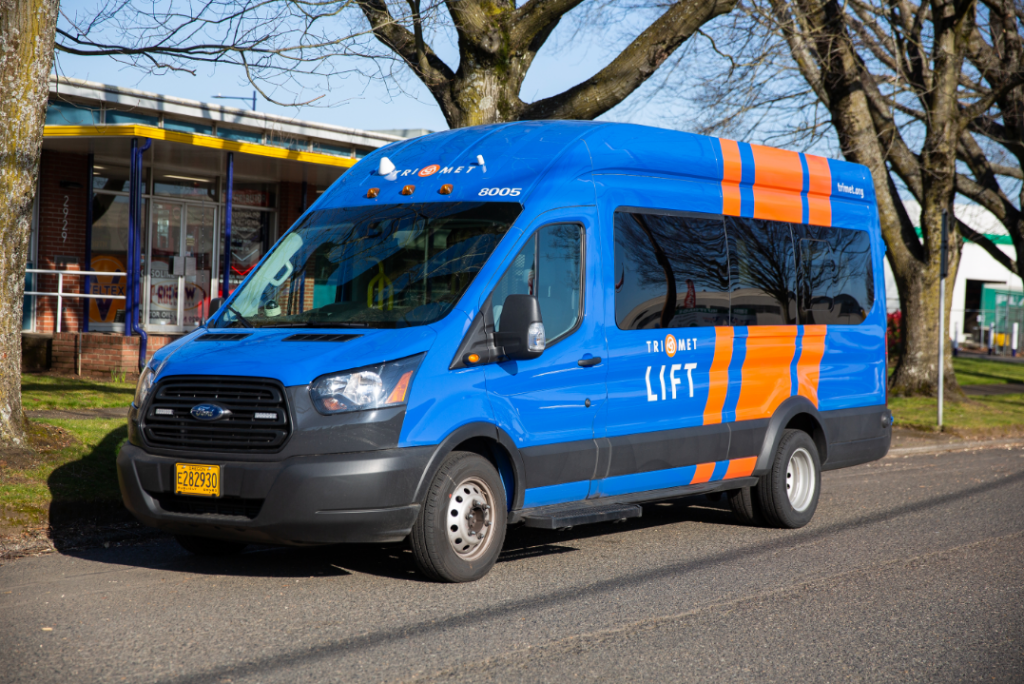 "TriMet is already on the front lines of the pandemic, filling vital transportation needs," said TriMet General Manager Doug Kelsey. "Many of our LIFT paratransit riders are battling pre-existing illness or disease. They are especially susceptible to COVID-19. For them, providing this service could be lifesaving."
As riders comply with Gov. Kate Brown's stay-at-home order and follow the advice of health professionals to stay home, paratransit ridership has decreased by 85%. LIFT operators are eager to get back on the road and reconnect with the customers they help every day. We thank our LIFT operations contractor, First Transit, for supporting their employees and TriMet's commitment to continue providing essential services to those who need them most during this unprecedented time in our history.
How to participate
The service will be available to our nearly 13,000 current LIFT customers. To participate, established riders will place an order with one of our food bank or grocery store partners, complete payment and schedule a pickup time. They will then call LIFT reservations and book a trip to have the groceries picked up. The delivery service will be available free of charge, between 8 a.m. and 8 p.m., seven days a week. The operator will knock and leave items at the door. They will not carry bags or boxes inside.
Participating food pantries and grocery store partners:
We can also pick up food and supplies from pet stores. Riders are responsible for arranging payment and must make sure items can be carried out to the bus. Our operators will not be able to go inside the store.
Our service during the COVID-19 pandemic
TriMet is still here for those who need it. So many in our region must use transit to access critical services and get to jobs at hospitals, social service agencies, grocery stores and other essential workplaces. We're proud to be there for them. We do miss our other riders and look forward to having everyone back on board, but right now, we urge everyone to continue following the state's guidance and stay home. For more information and updates on our service during the pandemic, go to trimet.org/health. �5�R�8