COVID-19 pandemic brings new challenges to all, especially those already struggling financially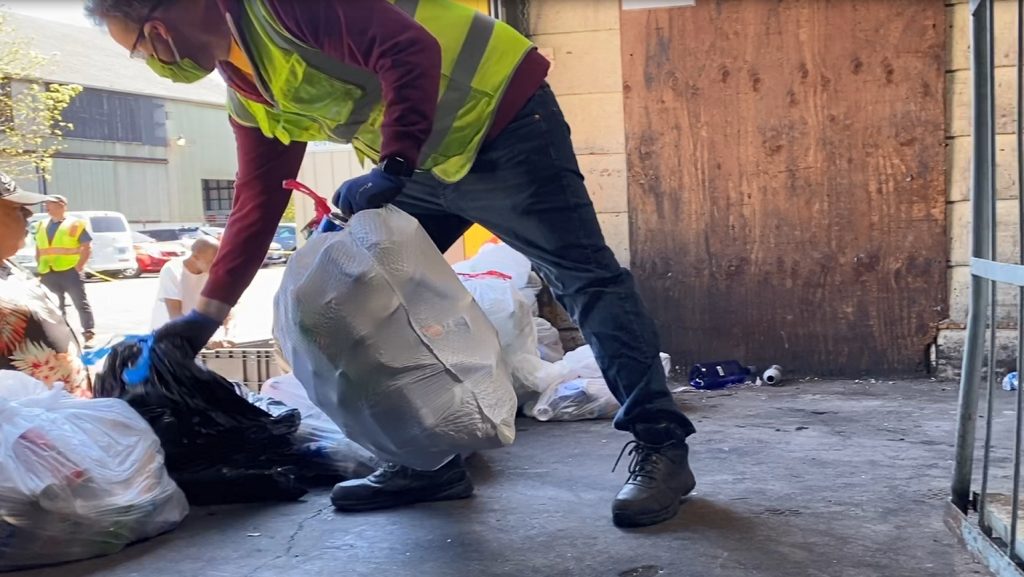 TriMet will add a temporary, free shuttle bus that we hope will help those already struggling financially, even before the COVID-19 pandemic. The new shuttle is Line 297-NW Yeon/OBRC. It will connect to a vital public service for those who make money for basic needs one bottle or can at a time – an emergency bottle return location in Northwest Portland. Service will start Wednesday, April 29. TriMet is proud to fulfill this request by Oregon Gov. Kate Brown to help fill a void due to the COVID-19 pandemic.
Grocery stores temporarily stop bottle returns
Grocery stores have stopped bottle returns as their staff focus on re-stocking shelves, increasing cleaning efforts and managing physical distancing measures based on Gov. Brown's stay home executive order. These neighborhood facilities are not required to process bottle returns through at least May 31. With that, as well as more residents putting their cans and bottles out for curbside recycling rather than venturing out, TriMet has seen a big increase in bags of recyclables brought on board our buses. We're adding the temporary shuttle buses in hopes of reducing the impact on other riders while helping those who need access to this essential service.
"We as a society must recognize that collecting bottles and cans is the only way some in our community can support themselves financially," said TriMet General Manager Doug Kelsey. "By offering this free service, to get people to where they can return the containers, we hope to help those who rely on that money and open up space on other bus lines as we continue to encourage social distancing on board."
Emergency bottle return service
The Oregon Beverage Recycling Cooperative (OBRC) has opened an emergency bottle return location at its headquarters at 3900 NW Yeon Ave, in Portland. According to OBRC's website, people can bring in bags of beverage containers, wait while the machine counts them and get their money immediately. The emergency return service is open daily from 9 a.m. to 5 p.m. OBRC has implemented measures to ensure safe physical distancing and sanitation at the site.
Line 297-NW Yeon/OBRC
The temporary Line 297-NW Yeon/OBRC will run hourly between Rose Quarter Transit Center and the NW Yeon emergency return location. The shuttle buses will serve two stops in the Old Town area–a westbound stop on NW Glisan Street just past NW 3rd Avenue (Stop ID 9311) and an eastbound stop on NW Everett Street at NW 5th Avenue (Stop ID 8886). Buses will run between 8:00 a.m. and 5:30 p.m. seven days a week. TriMet must limit the number of passengers on buses to 10-15 people for physical distancing, including the shuttle buses running on this line.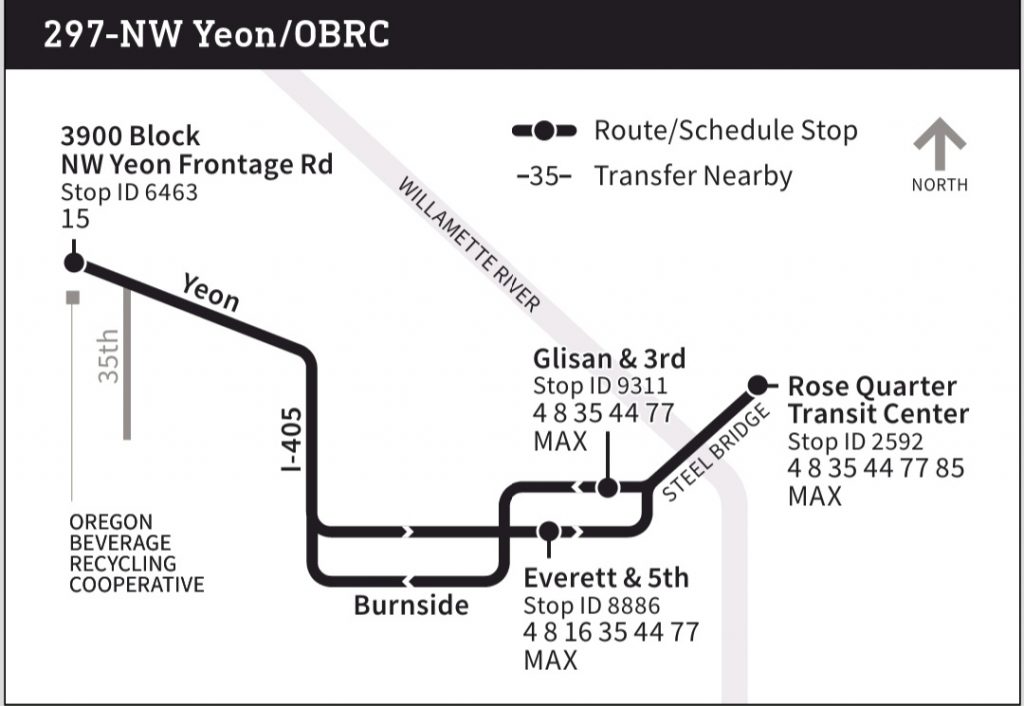 TriMet rules for bags of recyclables
TriMet does not restrict people from bringing bags of recyclables on board our buses and trains, just as we do not prevent people from bringing backpacks, luggage and shopping bags. However, TriMet Code does restrict bags of cans and bottles that are leaking, foul smelling or so big or numerous that they block aisles. Due to the physical distancing limit on buses, as well as our temporary reduction in service, we ask that everyone be kind to others, respect the room on board and follow the rules for riding.
Virtual low-income fare program enrollment
TriMet's low-income fare program may offer some relief for those struggling financially. However, many of TriMet's partner agencies that help us enroll people who qualify for our Honored Citizen reduced fare are closed or have limited hours due to COVID-19. To continue helping people sign up for the program during this time of physical distancing, TriMet is temporarily offering virtual options to sign up for those who qualify based on income. Learn more here.