Buses, trains, streetcars to take part in #SoundTheHorn campaign by sounding horns at 12 p.m. Thursday, April 16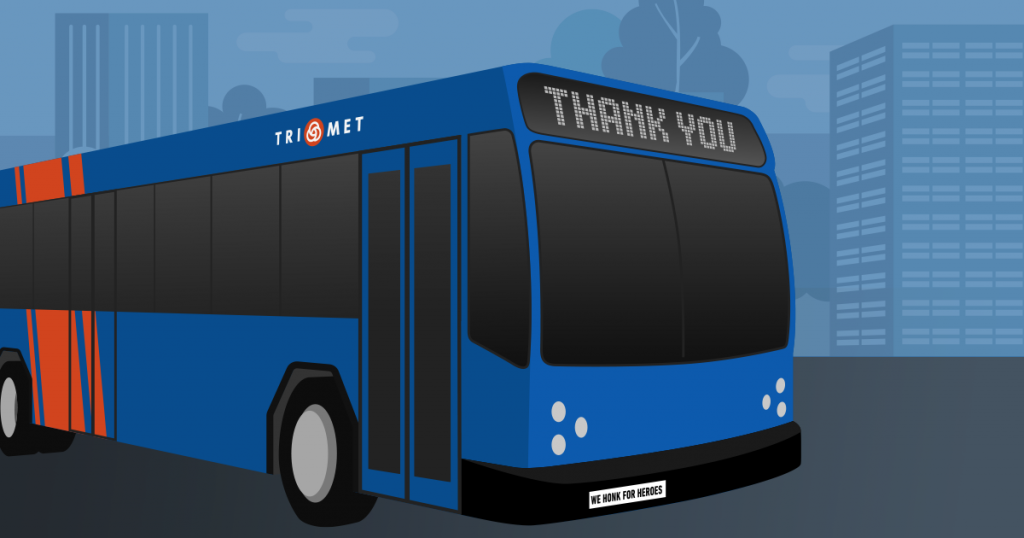 TriMet will join transit agencies across the country to 'sound the horn' for transit employees and other front line workers who are helping to keep communities going through the COVID-19 pandemic. On Thursday, April 16, TriMet bus, MAX, WES and LIFT operators will honk their horns twice at 12 p.m. It's a show of solidarity, as well as a show of respect to doctors, nurses, first responders, trash collectors, grocery store workers and others who continue to leave their homes to help others while the rest of us stay home.
Regional transit partners C-TRAN and Portland Streetcar will join TriMet in sounding their horns, along with transit agencies from coast to coast, including the Metropolitan Transportation Authority (MTA) in New York City, Amtrak and many others.
Our operators, supervisors, fare inspectors and other front line staff are our heroes who are out there day in and day out serving other heroes during this world-altering time in our history. We invite everyone to join us in thanking all our community's heroes during this pandemic.
Sound your horn too!
TriMet encourages everyone show support for our front line staff and all who keep going to work while the rest of the world stops. At 12:00 p.m., as our buses and trains sound their horns, make some noise – in person or online. Honk, whistle, clang a bell, give a shout out or a virtual "way to go". Share a message, photo or short video of your tribute. Use the hashtags #soundthehorn or #heroesmovingheroes. You can help our local transit employees see your show of support by also tagging @trimet, @ctran and @pdxstreetcar.
TriMet thanks you
We thank the community for the outpouring of support they have shown to our dedicated team during this difficult time. From donating thousands of face coverings for operators and field staff, to practicing safe physical distancing on our buses and trains, to staying home and leaving the seats on our buses and trains for essential workers and riders, you're making a difference and helping the region hold the line in the fight against COVID-19.
Our service during the COVID-19 pandemic
TriMet is still here for those who need it. So many in our region must use transit to get to their jobs at hospitals, social service agencies, grocery stores and other critical workplaces. We're proud to be there for them. We do miss our other riders and look forward to having everyone back on board, but right now, we urge everyone to continue following the state's guidance and stay home. For more information and updates on our service during the pandemic, go to trimet.org/health.