TriMet hosting five open houses plus online open house to gather public feedback on conceptual design for new MAX line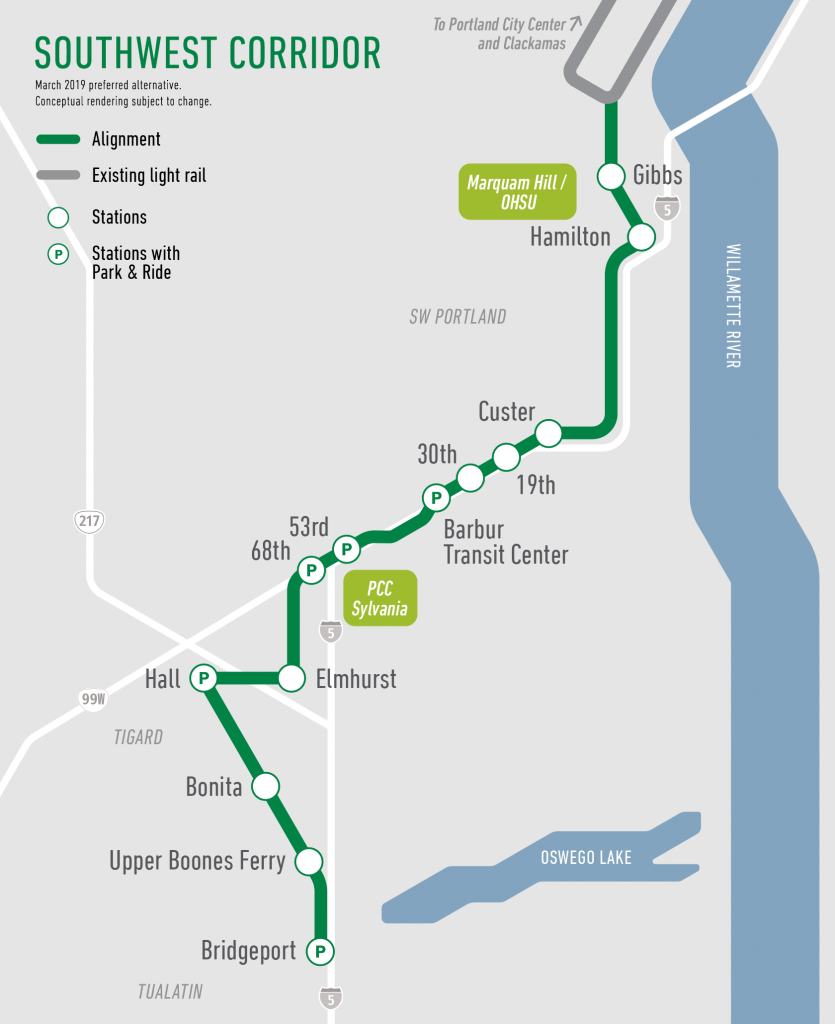 The Southwest Corridor Light Rail Project will bring high-capacity transit and consistent travel time to one of the most traffic congested corridors in our region, and now is the time for you to help shape the project.
TriMet and project partners have released the Draft Conceptual Design Report for the Southwest Corridor project. The report, posted at trimet.org/swcorridor/design, highlights project principles, goals and objectives. It also illustrates the preliminary design features of the 13 stations and related improvements along the 11-mile light rail route between Downtown Portland and Bridgeport Village in Tualatin.
Visit a Southwest Corridor open house
TriMet encourages the public to explore the report and provide feedback through March 27, 2020. To do so, we've launched an online open house at trimet.org/swcorridor/design. People can learn about station designs and project elements, and submit feedback online. We're also hosting five in-person open houses beginning February 12.
Wednesday, Feb. 12
6:00-8:00 p.m.
Multnomah Arts Center
7688 SW Capital Hwy, Portland
Tuesday, Feb. 18
6:00-8:00 p.m.
Tigard Public Library
13500 SW Hall Blvd, Tigard
Tuesday, Feb. 25
6:00-8:00 p.m.
University Place Conference Center
310 SW Lincoln St, Portland
Monday, March 2
6:00-8:00 p.m.
Tualatin Elementary School
20405 SW 95th Ave, Tualatin
Saturday, March 14
5:00-7:00 p.m.
Iglesia St. Anthony
9905 SW McKenzie St, Tigard
*Hosted by Spanish speakers
Comments can also be submitted online at trimet.org/swcorridor/design.
The feedback we get will help identify challenges and guide ongoing design efforts for the Southwest Corridor Light Rail Project in the coming years. An updated, final report will be issued in mid-2020.
Moving a growing region
The Southwest Corridor is home to more than 10 percent of the region's population and it's growing fast. Some 75,000 new residents and 65,000 new jobs are expected in the corridor by 2035. While estimates show an up to 17% increase in traffic congestion on I-5 between Portland and Tigard by 2035, the new light rail line will provide a reliable and consistent travel time. Trips between Downtown Portland and Tualatin will take just 30 minutes, with connections to regional centers including West Portland Town Center, Tigard Triangle, Downtown Tigard and Bridgeport Village.
Increasing safety, planning for affordable housing
The project will also include a variety of improvements to make it safer and easier to get around by all modes. Ten miles of new sidewalks and over six miles of upgraded bike facilities will be built along the project corridor. Roadways will be repaved and rebuilt with new upgraded traffic signals. The project will also include major stormwater improvements, including across nearly 70 acres of existing impervious surface.In addition to travel and environmental improvements, Southwest Corridor project partners are working on several initiatives aimed at preserving and building additional affordable housing. View the SW Corridor Equitable Development Strategy.
Southwest Corridor Light Rail Project at a Glance
TriMet, Metro, Oregon Department of Transportation, Washington County and the cities of Durham, Portland, Tigard and Tualatin are working together to keep this region moving.
The 11-mile light rail line between Downtown Portland, Tigard, and Tualatin will provide faster, more frequent and consistent service to the region's fastest growing corridor.
The project will improve connections to key destinations, including Portland State University, OHSU, Portland Community College Sylvania, the Tigard Triangle, Downtown Tigard and Bridgeport Village.
The new light rail line will create a 30-minute travel time between Downtown Portland and Bridgeport.
Projections show 37,500 daily trips by 2035.
Roads, sidewalks and bikeways will also be constructed or improved along the project alignment.
Cost is expected to be $2.8 billion, with about 50 percent of the funding expected from the Federal government.
Construction is expected to begin in 2022 with the project opening in 2027.
Learn more and sign up for project email updates at trimet.org/swcorridor.