Starting Monday, Jan. 27, load Hop cards at check stands and self-checkout registers at Kroger-owned grocery stores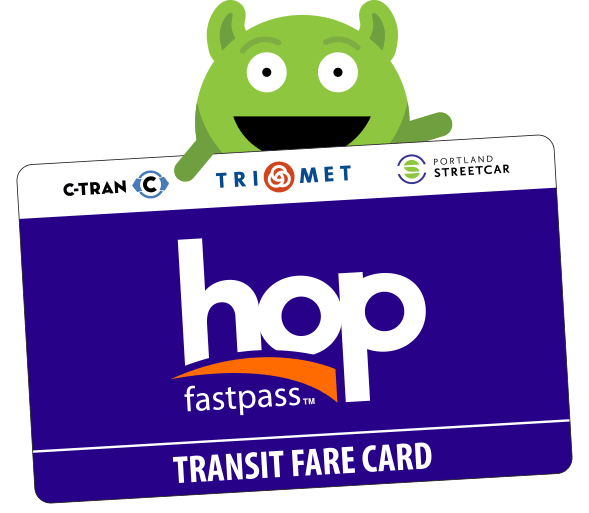 It will soon be faster and easier to reload your Hop Fastpass® card when you visit your neighborhood Fred Meyer or QFC store. Starting Monday, Jan. 27, you'll have a new option for adding funds to your card. In addition to doing it at the customer service desk, you'll be able to top off your card with $5 or more, in the same place you buy the rest of your groceries – in the checkout line or at a self-checkout kiosk.
Hop – Hop Fastpass® is a safe, easy and convenient way to pay for trips on TriMet, C-TRAN and Portland Streetcar.
Skip – Skip the customer service desk and reload $5 or more to your Hop card at check stands in Fred Meyer and QFC grocery stores.
Jump – Jump onboard! Just remember to tap with every ride.
More people using Hop now, than ever
More than half of our riders are already on board, as we near completion of our full transition to Hop. The electronic fare system offers a number of innovative ways to purchase fare. Its most basic form is the physical Hop card, which works just like gift card. You load money to the card and then tap it to a Hop reader, to deduct fare when you ride. Hop readers are located on board buses and at the platform for MAX and WES. Tap with every ride and transfer when you use Hop. It's your proof of payment and shows you have valid fare.
There are more than 500 locations across the Portland metro area where you can reload your Hop card, Among them are nearly two dozen Fred Meyer and QFC stores. For riders who spent years purchasing tickets and passes while doing business at these stores, having the option to quickly and easily reload a Hop card just makes sense. TriMet appreciates the efforts of partners like Fred Meyer and QFC, to make the process as seamless as possible. Riders also have the option of reloading cards online at myhopcard.com, through the Hop mobile app and by calling 1-844-MYHOPCARD.
Why Hop?
Hop is loaded with benefits and can help you save on your transit costs. Here's how:
With Hop, you'll earn passes as you ride. That means you'll never pay more than the cost of a day pass for a day of travel, and once you reach the cost of a month pass, the rest of the rides that month are free.
By earning passes, you also avoid the upfront cost of buying a day or month pass. Adult riders who previously purchased a month pass for $100 can load funds to their card as needed for trips. Once you reach $100 within a calendar month, the rest of the month's rides are free!
With earned passes, you also avoid paying for rides you don't take. If you don't reach the cost of a monthly pass within the month, anything left over can be applied to the next month's rides.
Registered cards come with even more cost-saving benefits. If you happen to lose your card, you can call 1-844-MYHOPCARD to freeze the balance and transfer it to a new card.
When a card is registered, it can also be set to auto-load funds to your account from a bankcard, so you can rest assured you will always have fare.
Hop offers even more ways to pay
In addition to the physical Hop card, there are plenty of options to pay your fare: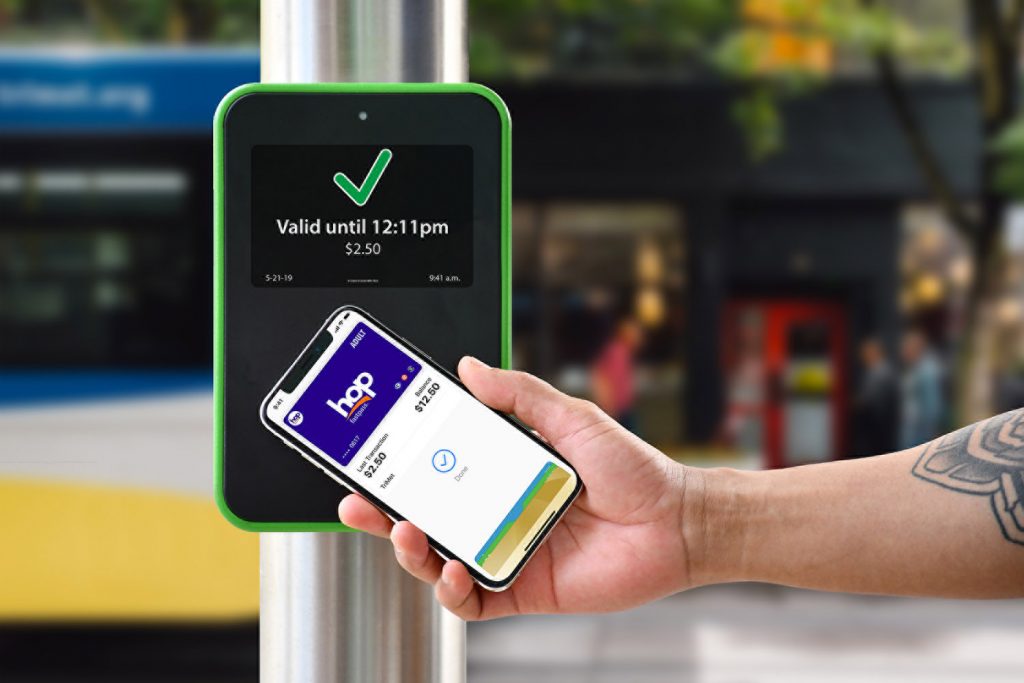 Virtual Hop card – Virtual Hop cards are available for both Apple and Android smartphones and can be purchased directly from the Hop mobile app. You can also use the app to convert a physical card to a virtual card. Virtual cards can easily be reloaded using a bankcard, through the Hop app or at myhopcard.com.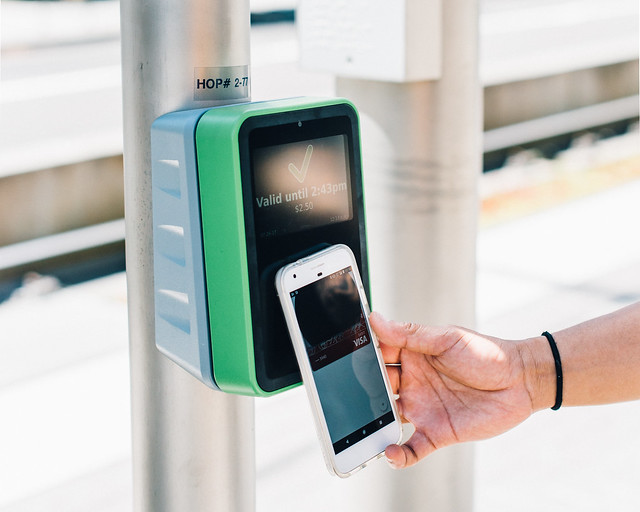 Mobile wallet or contactless credit card – Hop readers accept payments directly from phones linked to a mobile wallet and contactless credit cards. Simply tap the phone or card to the NFC symbol on the Hop reader to pay fare. You do not need a Hop card or account to use this option.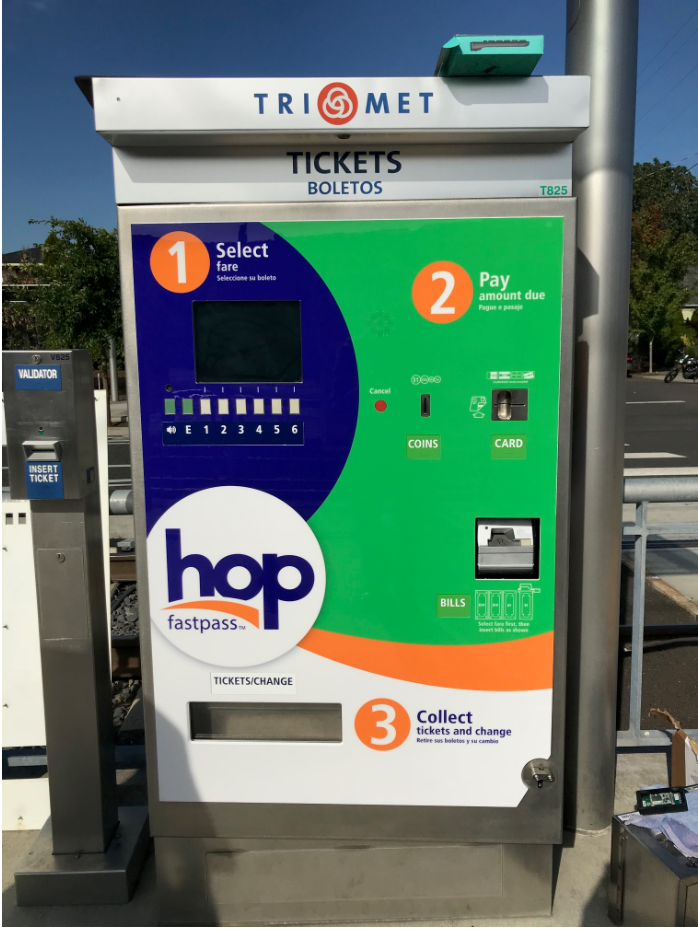 Hop ticket – Hop paper day passes and 2 ½ hour tickets, embedded with Hop technology, can be purchased with cash or card at ticket vending machines. Even though these cards are not tied to an account and cannot be reloaded, riders need to tap the ticket to a Hop reader before each ride.
Cash on board buses – We still accept cash for 2 ½ hour and day passes at the fare box onboard buses. Riders should use exact change and tell the operator which fare you are purchasing.
Hop Fastpass®
TriMet and our transit partners, C-TRAN and Portland Streetcar, launched Hop Fastpass® on July 17, 2017, introducing a better way to pay across the Portland-Vancouver Metro area. Go to myhopcard.com to learn about Hop, including answers to common questions, how-to videos and more! And, always remember to tap with every ride.