Updates to schedules on lines 2, 10, 12, 14, 19 and 20 take effect Monday, Dec. 16
New transit priority lanes on SW Madison and the Burnside Bridge in Portland's Central City are getting riders to their destinations quicker. By giving buses their own lane and separating them from auto traffic, trips are getting faster, so this Monday, Dec. 16, 2019, TriMet will need to adjust the schedule times on five lines that travel on Madison and Burnside. This will match the schedules with the reduced travel times. Riders who use Line 2-Division, Line 10-Harold St, Line 12-Barbur/Sandy Blvd, Line 14-Hawthorne, Line 19-Woodstock/Glisan and Line 20-Burnside/Stark should check their bus schedule beginning Monday, Dec. 16, as some arrival times will change throughout the routes.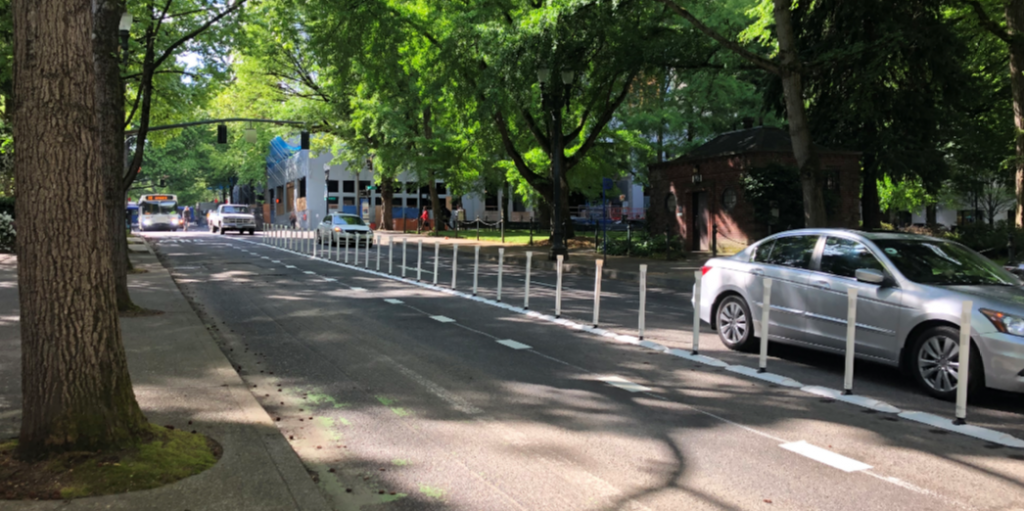 "We usually have to adjust schedules due to congestion slowing down buses, but making changes because the buses are able to move faster due to transit priority improvements – that's a major reason to celebrate!" said TriMet Chief Operating Officer Sam Desue. "Our riders are getting where they need to go sooner, and when transit is efficient and stays on time, it becomes a better option than sitting in a car that's stuck in traffic."
"I am thrilled that our initial investment in bus-only lanes is already paying off," said Portland City Commissioner Chloe Eudaly, who oversees the Portland Bureau of Transportation. "This schedule change demonstrates the exciting potential that the Rose Lane Project has to make transit a more reliable and viable option for commuters. Thank you to my team at PBOT and our partners at TriMet for your commitment and support."
Burnside Bridge bus-only lane
In early November, Multnomah County reopened the Burnside Bridge with a new, eastbound, bus-only lane. Proposed as part of the PBOT Central City in Motion project, the new bus-only lane across the bridge is an extension of a bus-only lane previously put in between the bridge and SW 3rd Avenue. Bus operators took note of the improvement. With trips speeding up, they found that the schedules on lines 12, 19 and 20 allowed too much travel time. By making some small adjustments, the schedules will reflect the faster trips, help keep buses on time and get our riders where they need to go quicker.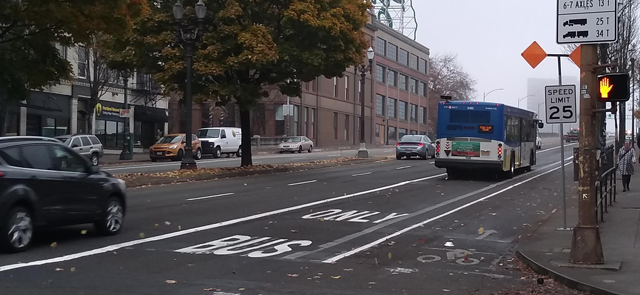 SW Madison bus and bike-only lane
PBOT installed a bus and bike-only lane on SW Madison Street in May, also as part of Central City in Motion. During the evening commute, as buses travel eastbound between 4th and 1st avenues, delays have been reduced by as much as 76%. In response to the time savings, we're also adjusting schedules for our riders on lines 2, 10 and 14 to reflect their faster trips.
Plan your trip, check schedules, get real-time arrivals and monitor service alerts at trimet.org.
Regional team effort
The Portland metro area's population is growing and the economy is expanding, but our roadway space is not. If we don't provide better travel options for new residents and commuters, we'll have an additional 110,000 cars on Portland-area streets by 2035, a 54% increase. TriMet is working with PBOT, Multnomah County and other jurisdictions throughout the region to innovate ways to speed up transit. PBOT and TriMet will continue to invest in additional Central City in Motion projects to help manage this growth, with new bus lanes planned on SE Hawthorne Boulevard, NE Martin Luther King, Jr. Boulevard and Grand Avenue. PBOT is also developing the Rose Lane Project. The plan includes adding red paint to transit priority lanes, to see if it can change driver behavior and keep personal vehicles out of lanes dedicated to transit. Pilot projects are already in place on SW Main Street, NE Martin Luther King, Jr. Boulevard and NE Grand Avenue.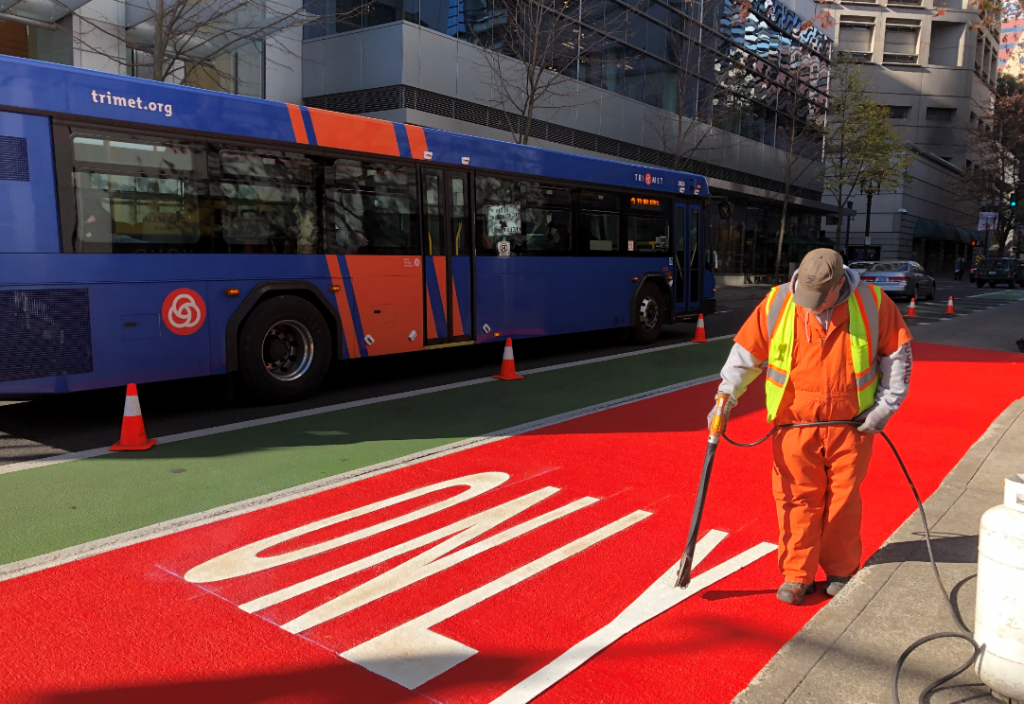 Making transit better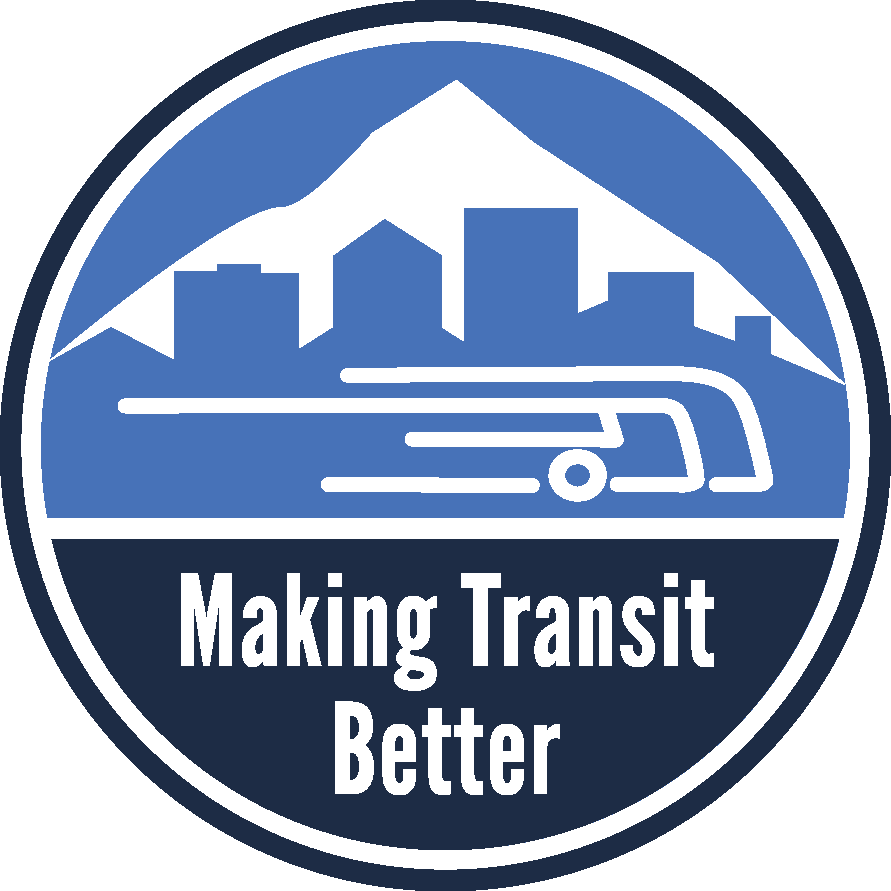 TriMet thanks our local, regional and state partners for helping us make transit better. When trips on our buses and trains are safe, fast and reliable, transit becomes a more viable option for getting to work, school, appointments and events. As transit use increases, congestion and air pollution decrease. So we're not only improving the ride, we're helping to drive the livability of our community and advance climate goals that benefit us all.