Feel like Santa in his sleigh and exclaim 'On, TriMet! On, MAX!' by using the train to get to the plane this holiday
'Twas a few days before Christmas, when all through Port-land,
too many people were stirring, steering wheels in hand.
Cars pack the roads, making travel a hassle,
leaving drivers to wonder why leave their castle.
There are flights to catch o'er at ol' PDX,
to make it to granny's for the season's apex.
Visions of transit dance in their noggin,
as they sit in their cars making the slog in.
When off to the side there appeared such a sight,
a MAX train with passengers set to take flight.
zipping past traffic with relative ease,
the MAX train will arrive as swift as the breeze.
No traffic! No turmoil!
No cab fare or parking!
Only Hop Fastpass! That's it.
One tap. Now, that's something!
With the holidays just a few days away, bags are packed and tickets booked, as around 650,000 travelers are poised to pass through the gates of Portland International Airport between now and Monday, Dec. 30. Like Bing Crosby in his 1941 classic, many people will be singing, "I'll be home for Christmas. You can plan on me."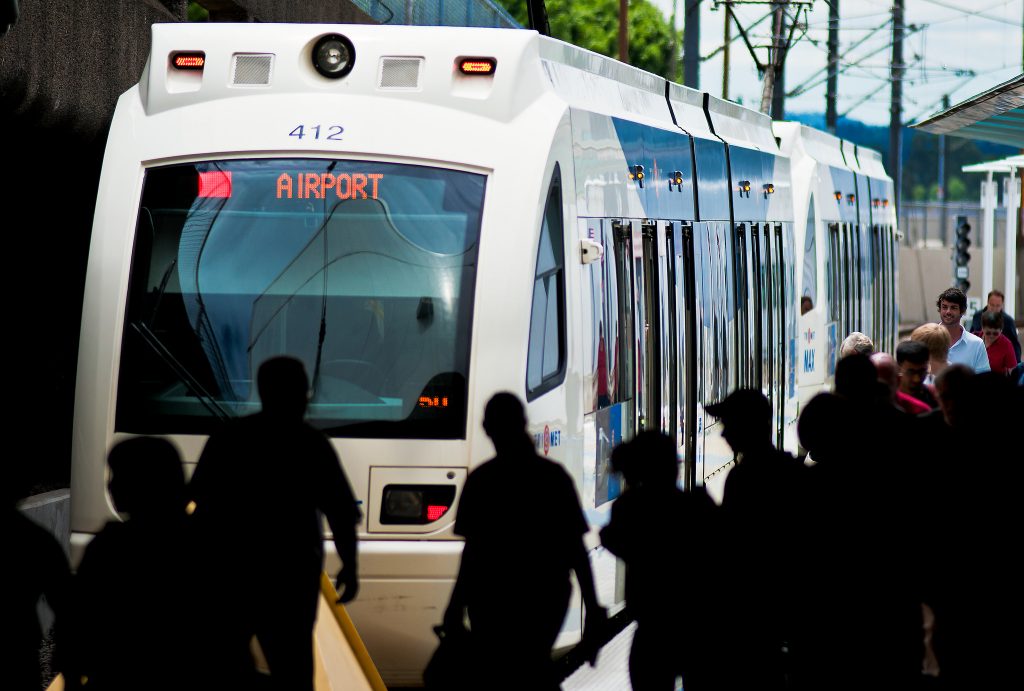 And you can plan on TriMet to take you around the bustle of holiday traffic. The MAX Red Line delivers you to the front door of PDX, so you can be with loved ones for the holidays. By taking MAX to the airport, travelers push past freeway traffic, and the airport's loading and unloading zones, to end up just steps away from their terminal.
Save money, avoid congestion
Expect freeways to be packed this holiday season. More Americans than ever will be on the roads—an expected 115.6 million, according to AAA— from Saturday, Dec. 21 through Wednesday, Jan. 1. This is the highest number since AAA began tracking road travel in 2000, and a 3.9% increase over last year.
Not only does the MAX Red Line avoid the gridlock of holiday traffic, it's affordable. A single trip on TriMet costs just $2.50 for adults and $1.25 for youth ages seven to 17. (Kids under 7 ride free.) Those single-trip tickets are good for 2½ hours. That's much less than you'll pay for an app-based ride-hailing or taxi service, which would cost between $20 and $50 from Downtown Portland to the airport. It's also far cheaper than buying long-term parking at the airport. The estimated cost to park at the airport from Dec. 23 to Dec. 29 is between $72 and $245.
Tips for holiday travelers (and their families)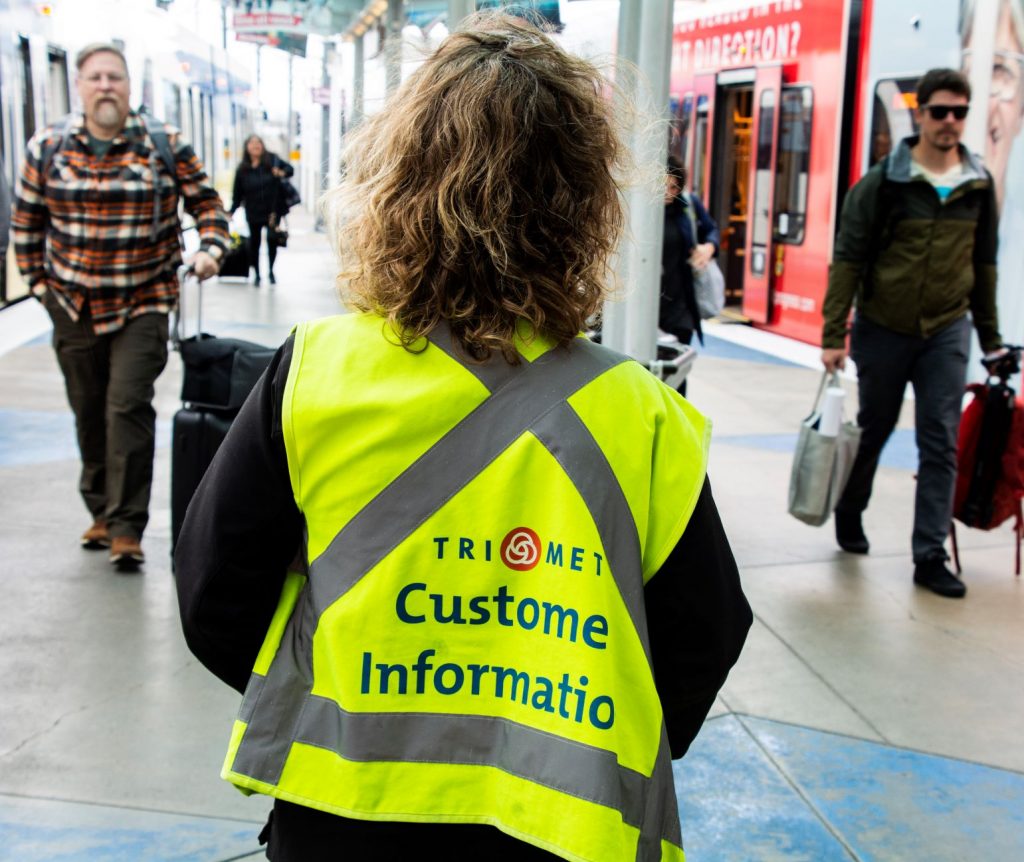 Always check schedules in advance and plan ahead using TriMet's Trip Planner. The MAX Red Line arrives at PDX every 15 minutes for most of the day, from around 6 a.m. to about 10 p.m. when it switches to every 30 minutes with the last train arriving at 1:26 a.m.
With one connection, riders who don't live near the MAX Red Line can make their way to PDX.

The MAX Blue Line connects with the MAX Red Line at the Beaverton Transit Center, which is also a stop for bus lines 20, 42, 53, 54, 58, 61, 76, 78 and 88.
The MAX Green Line connects with the Red Line at the Gateway/NE 99th Ave Transit Center, as do bus lines 15, 19, 22, 23, 24 and 5.
MAX Orange Line passengers can get off their train at the Pioneer Courthouse/SW 6th Ave station, then take a short walk to the Pioneer Square South MAX station, where they can hop on the MAX Red Line.
MAX Yellow Line passengers can get off at the Interstate Rose Quarter station and walk a couple of hundred feet to the Rose Quarter Transit Center, which also serves bus lines 4, 8, 44, 77, 85 and C-Tran.

Need extra help planning your trip? TriMet's Rider Support team is available 24 hours a day, seven days a week via text message at 503-238-7433 and on Twitter at @trimethelp. You can also call them daily between 7:30 a.m. and 5:30 p.m. at 503-238-RIDE (7433), or reach them online at support.trimet.org. 
Park & Ride facilities are a great resource, but remember that they're intended for short-term parking and have a 24-hour limit. Many people rely on the Park & Ride facilities to make their daily commutes to work or to run errands and reach holiday events.
Hop Fastpass® is your ticket to ride. If you already have a physical or virtual Hop card, remember to tap it. If you don't have a Hop card yet, you can learn how to easily purchase one and load value on it at myhopcard.com. No card, no worry. Another option is using a mobile wallet app—Google Pay, Apple Pay or Samsung Pay—to purchase fare with a mobile phone. You can also purchase a single-use ticket at a self-service ticket machine. Whatever fare form you use, just remember to tap for every ride at the Hop card readers on MAX platforms or onboard our buses.
If you are expecting friends or relatives, and you can't pick them up from the airport, please remind them of the convenience of taking MAX. While fare is required on MAX, it's a more affordable option than a cab or app-based ride-hailing service. They can buy a Hop paper ticket at machines located inside and outside PDX near the MAX station. They do need to tap the Hop paper ticket at a Hop card reader on the platform before boarding. Learn more even more about Hop, all the ways to pay with Hop and the benefits, such as how you can earn monthly passes as you ride at myhopcard.com.
Expect trains to be a bit more crowded than normal. Holiday travel means extra people with luggage and gifts. Try to keep the doors clear so people can easily get on and off, especially people with disabilities.
Overnight shuttle buses to PDX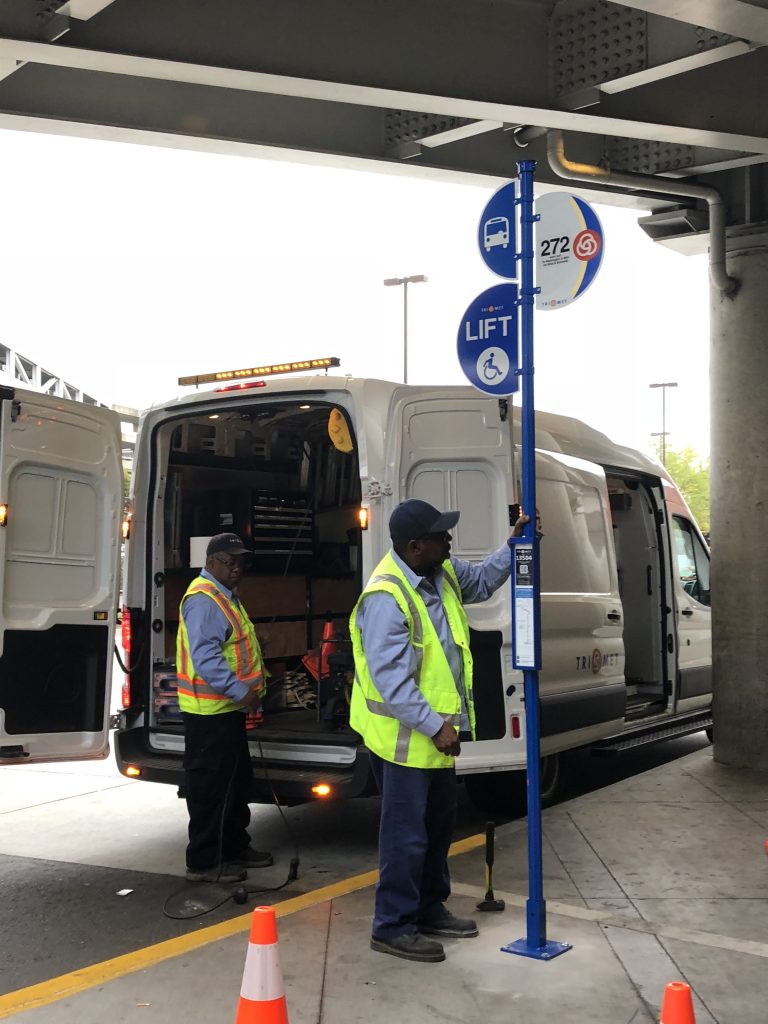 Early morning flights mean an even earlier arrival to PDX. Getting there at 3 a.m. had traditionally meant using a taxi, app-based ride-hailing service or private shuttle bus. But that ended with the introduction of TriMet's late-night/early-morning bus service, Line 272-PDX.
Started in 2018, Line 272-PDX serves stops on NE Airport Way, 82nd Avenue, East Burnside and SE Stark. Buses run on the hour, with departures from PDX at 1:53 a.m., 2:53 a.m. 3:53 a.m. Riders can transfer to Line 20-Burnside/Stark, which provides 24-hour service.
Merry Christmas to all, and to all a good flight
At PDX, riders glimpse their operator with glee;
that's St. Nick, they all think, he undoubtedly must be.
With a red hat on his head and looking quite jolly,
to think otherwise would be absolute folly.
Dressed in fur with a beard, the jolly man laughed,
the notion he was Santa, he said it was daft.
He travels quick, he admits, but without the reindeer,
no Kris Kringle is he, just a spreader of cheer.
And with a wink of his eye, he sent the MAX bell ringing,
down the tracks he glided for more riders to bring in.
Folks heard him exclaim, as they went to their flight,
"Merry Christmas to all, and to all a good night!"