Exchange unvalidated foil-stamped paper tickets and tickets purchased on the TriMet Tickets mobile app for Hop by Tuesday, Dec. 31, as they will no longer be accepted as valid fare in 2020
The year was 2011. Oprah Winfrey hosted her talk show finale after 25 years on the air. NASA retired the Space Shuttle Endeavour after it flew its final mission to the International Space Station. Dish Network bought Blockbuster video, only to close all of its stores – except the last one standing in Bend, Oregon. In Portland, TriMet was also ushering in change. We were phasing out our old-style non-foil and one and two-zone tickets at the end of the year, and to remind riders of the move, we set the news to a familiar tune: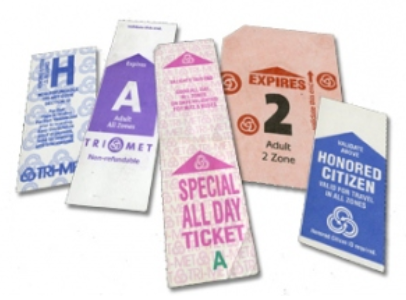 "Don't let old tickets be forgot" (to the tune of Auld Lang Syne)
Should old style tickets be forgot,
And never brought to mind?
Exchange them now, 'cause New Year's Day
they won't be worth a dime…
It wasn't the first time we had phased out some forms of fare, and it certainly won't be last. From the Rose City Transit Company's iconic, star-centered token, to Hop Fastpass®, our industry-leading electronic fare system, we've evolved as technology has improved over the last 50 years. As part of our transition to Hop, for the last six months, TriMet has been phasing out foil-stamped paper tickets and tickets purchased on the TriMet Tickets mobile app. They will no longer be accepted as valid fare after Tuesday, Dec. 31, 2019.
Still time to exchange tickets for Hop
Just as we did when we transitioned out old tickets in 2011, we're helping riders make the switch – this time to Hop. Take any unused paper or mobile fares to the TriMet Ticket Office in Pioneer Courthouse Square by Dec. 31 and exchange them for equal value on a free, physical or virtual Hop card. The ticket office is open Monday through Friday between 8:30 a.m. and 5:30 p.m. It will be closed on Christmas Day.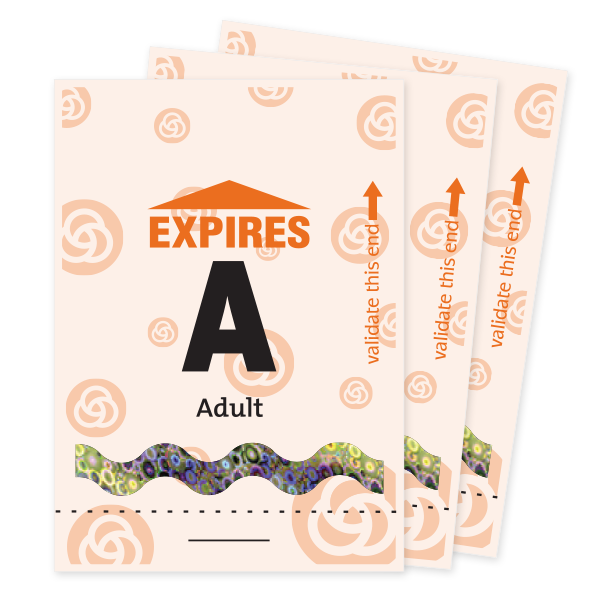 Paper tickets can also be exchanged by completing this form and mailing it, along with your tickets to:
Ticket Exchange
TriMet Ticket Office
701 SW 6th Ave.
Portland, OR 97204
The mail-in option can take up to two weeks to process. Riders should make a plan to use other valid fare as of Jan. 1, 2020, until the new Hop card arrives.
Getting on board with Hop
We launched our Hop system publicly in the summer of 2017. Since then, tens of thousands of riders have learned why it's a better way to pay. For those new or unfamiliar with the system, here are five key differences between Hop and our paper and mobile ticket fares:
With Hop, you earn all-day tickets and monthly passes with rides. This feature helps make our service more accessible and equitable, because it reduces the burden of paying the full price of a pass at the beginning of a day or month.
Hop helps you save money. Since passes are earned instead of paid for upfront, you won't pay for rides you don't take. With paper and mobile tickets, you were out the full cost once the pass was validated, whether you took rides or not. Think of it this way, Adult fare payers get unlimited rides for $100 a month; Honored Citizen and Youth get unlimited rides for just $28 a month.
Hop cards work like gift cards. You can load as little as $5 or as much as $250 to a card, but just like using a gift card in a store, the purchase requires a transaction. Fare is deducted when a Hop card is tapped to a reader. With each tap, the reader also displays how much time remains until additional fare is required.
Hop cards must be tapped to a Hop reader with every ride and transfer. The tap is your proof of payment and valid fare. Hop readers are located onboard buses and on MAX and WES train platforms
Registered Hop cards have lost-card protection. When you report a lost card, we'll freeze any remaining balance and transfer it to a new card when you're ready. If you lost a paper ticket or pass, you'd have to buy a new one before taking another ride.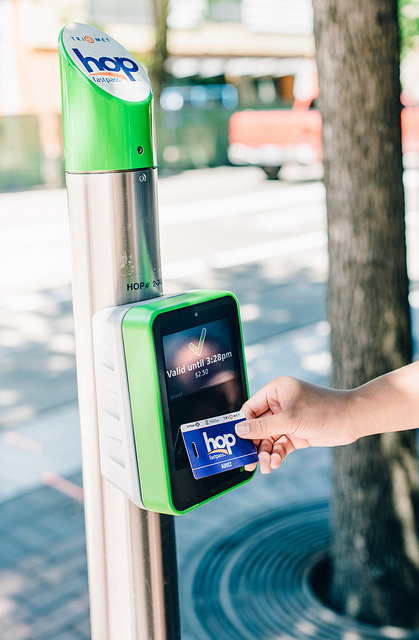 No Hop card, no problem
TriMet announced plans to phase out most non-Hop tickets in April, but there are still many ways to pay, even without a Hop card:
Mobile wallet/contactless bankcard – If you don't have a Hop card, you can use your contactless bank card, or Apple Pay, Google Pay or Samsung pay to purchase fare. Just tap your smartphone or bankcard to any of the 1,217 Hop readers across our transit system.
Paper Hop ticket – You can use purchase non-reloadable, paper Hop tickets from any of our 276 ticket vending machines. Note that some machines accept bankcards only. Just like the reloadable Hop card, single use Hop cards should be tapped with every ride and transfer.
Fare box – We still accept cash onboard buses. Riders using cash are encouraged to bring exact fare, as fare boxes do not dispense change.
About Hop
Hop is the next generation of transit fare, offering a cash-free, hassle-free option that's valid throughout the Portland-Vancouver metro area. Use it to pay fare on TriMet, C-TRAN and Portland Streetcar. Load fare in the store, at the TriMet Ticket Office, online at myhopcard.com or by calling 1-844-MYHOPCARD. You're ready to ride! Just remember to tap your card at the green Hop reader on board buses and streetcars, and on MAX, WES and Vine platforms. Go to myhopcard.com to learn about Hop, including answers to common questions, how-to videos and more!