All bus, MAX service free from 8 p.m. New Year's Eve until the end of service
Need a ride this New Year's Eve? TriMet has you covered, providing complimentary trips to and from the festivities. All buses and MAX trains will be free starting at 8 p.m. Tuesday, Dec. 31, with late-night MAX service extended through 3 a.m. Wednesday, Jan. 1. Portland Streetcar service will also be free starting at 8 p.m.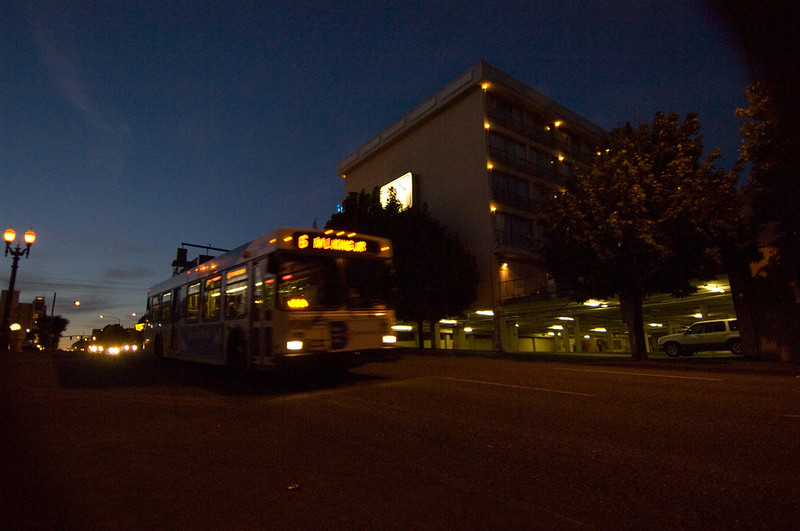 If you already have a Hop card, there will be no need to tap it after 8 p.m. Just board the bus, MAX train or streetcar and let it whisk you to your destination. Not a regular rider? Welcome aboard and enjoy! With a service area covering 533-square miles across Multnomah, Clackamas and Washington counties, TriMet has been providing free New Year's Eve service for years as a convenience for the community and to encourage safety over drinking and driving.
Plan ahead for how you go
As the melody of Auld Lang Syne fades away and the party dwindles, don't be left wondering how you'll get home from the celebration. Plan ahead using one of TriMet's scheduling tools. It's better to preplan your schedule than wait until the wee hours of the morning, and it's as simple as making a few finger taps on your cell phone.
We're extending late-night MAX service on New Year's Day, with the last train out of Downtown Portland leaving at around 3 a.m. Throughout the night, the Red, Blue, Green, Orange and Yellow lines will be operating on a regular weekday schedule and will run every 30 minutes. Buses will also operate on regular weekday schedules. If you plan to take the bus, check ahead to make sure your line is still operating when you need it. You can plan your trip with our Trip Planner feature, which provides arrival times and step-by-step directions for taking the fastest, most direct route.
When planning your trip, make sure you select Jan. 1—or Dec. 31, if you're using the bus or MAX to get to your celebration before midnight. To check the status of your MAX train or bus, go directly to our Transit Tracker feature at www.trimet.org.
For maps and arrival times for the Portland Streetcar, visit its website at www.portlandstreetcar.org. TriMet is also part of Portland's Safe Ride Home/Vision Zero, a partnership to prevent impaired driving.
Tips for riding
We understand that New Year's Eve is one of the biggest parties of the year. That's why we want to help you and everyone else on the road this holiday stay safe. For this fun and festive night, we're offering some suggestions on responsible ridership.
Be respectful: Please be courteous and respectful of our operators and your fellow passengers. Rude, aggressive or disruptive behavior have no place on TriMet.
Be aware: If you see unsafe behavior or hear threatening language, notify the operator or dial 9-1-1.
Be patient: Buses and MAX trains run on regular schedules, but there may be a short wait. They may also be more crowded than usual. We greatly appreciate your patience as we work to get people to their destinations.
Be visible: There will be a lot of activity on New Year's. And because foot traffic mingling with autos can be a dangerous mix at night, we recommend bringing a light or other type of visibility device so you stand out. This will also help our bus operators see you waiting at a stop.
New Year's Day
On New Year's Day, buses and MAX trains will run on Sunday schedules, so service may be less frequent. WES Commuter Rail will not be in service at all. Our online Trip Planner and TransitTracker will be updated to reflect these holiday schedules.
TriMet's Rider Support team will be available via text message at 503-238-7433 and on Twitter at @trimethelp, but the 503-283-RIDE call center and TriMet Ticket Office at Pioneer Courthouse Square will be closed.