Chains, ice melt, switch heaters and more are at the ready in the event of snow or a deep freeze this winter
Portlanders aren't typically fazed by a little rain. But falling snow, slippery asphalt or the swooshing sting of sub-freezing wind—well, those conditions cause some understandable concern. It can seem like life comes to a screeching halt as soon as the first snowflake falls.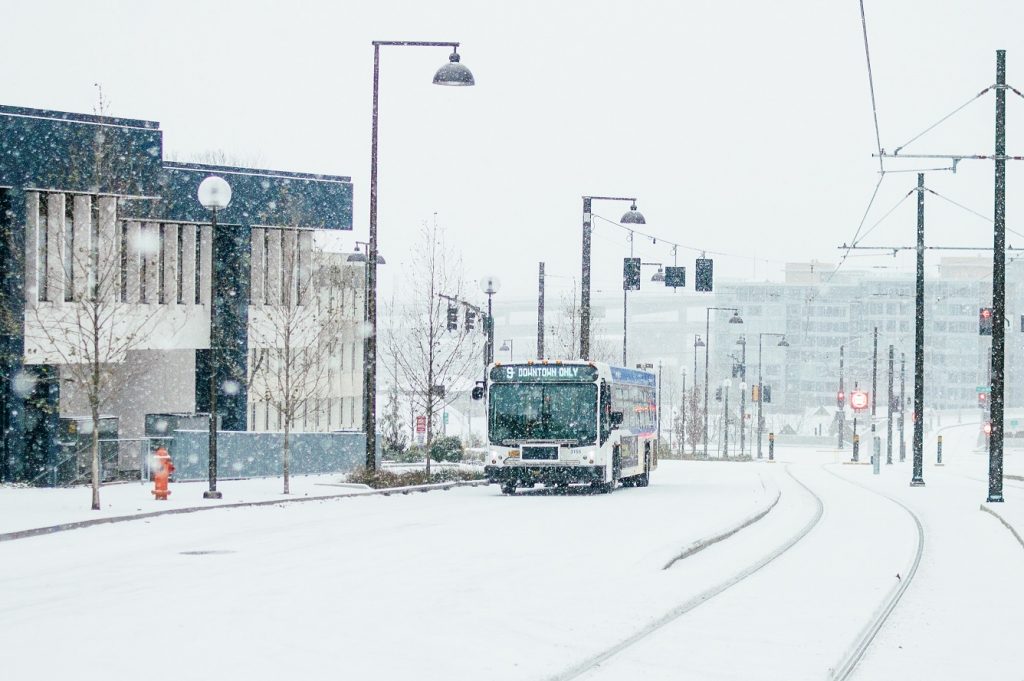 TriMet understands that the build-up of snow and ice can cause some worries about getting to work or appointments. That's why we're preparing for the worst to help keep you moving through the wintry mix. With some forecasts showing the possibility of snow and ice this winter, we're taking stock of our winter-busting equipment, testing new materials and planning for different weather scenarios.  All of this is necessary to maintain as much transit service during ice and snow as possible, to get everyone to their destination safely.
How we prepare
We're paying close attention to extended forecasts to anticipate incoming winter storms. Alongside our state, city and county transportation partners, we're ready to jump into action as soon as we get word that wintry weather is heading our way. Partners like the Portland Bureau of Transportation (PBOT) and others focus their efforts during a storm on our busiest routes, keeping as much service rolling as possible.
TriMet provides more than 300,000 trips per day, so we know how important our service is for people who rely on it. This is especially true during winter storms, when roads become treacherous and not everyone is equipped to handle the conditions. That's why we have equipment ready. Seventy-five percent of our buses are fitted with automatic drop-down chains that provide extra traction if snow begins to fall during service or is only sticking in higher elevations. In heavy snow, crews will install snow chains to our bus fleet's tires. TriMet has 2,832 sets of snow chains on hand, about four sets per bus.
For MAX, ice can form on overhead wires, creating an insulated barrier that prevents power from running to the trains. To keep MAX trains moving, we've increased the number of vehicles equipped with ice cutters this winter to 25. Attached to a train's second pantograph, the part of the train that makes contact with the overhead wire, the cutters aim to scrape away enough ice to maintain a surge of electricity to the trains.
But freezing rain and sleet can coat overhead wires with ice in minutes, posing problems that the ice cutters cannot quickly fix. When this happens, we might need to temporarily change or stop service.
"The safety of our riders, our employees and members of the public is incredibly important to us – every day as well as in the challenging conditions that winter can bring." said TriMet's Chief Operating Officer Sam Desue, Jr. "Please know that those of us at TriMet, along with our transportation partners, will do all we can to keep you moving, and doing so safely, but it may take longer than normal. "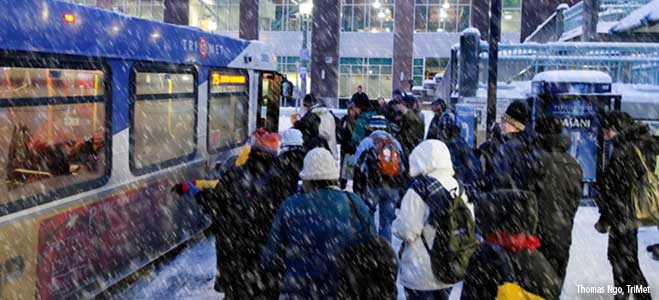 We pay special attention to our tracks and switches during winter. When the temperature drops below 32 degrees Fahrenheit, heaters turn on to prevent our switches from icing over. We also use switch covers and occasionally place oil-burning devices called a smudge pots at switch points to melt nearby snow and ice.
TriMet keeps tons of snow and ice melt on hand in advance of winter weather. The ice melt is used on rail platforms and transit centers. In total, we have about 65,000 pounds of ice melt on hand this year. But because fighting ice is a constant battle, we still advise caution when way to stations or stops.
LIFT gets new winter socks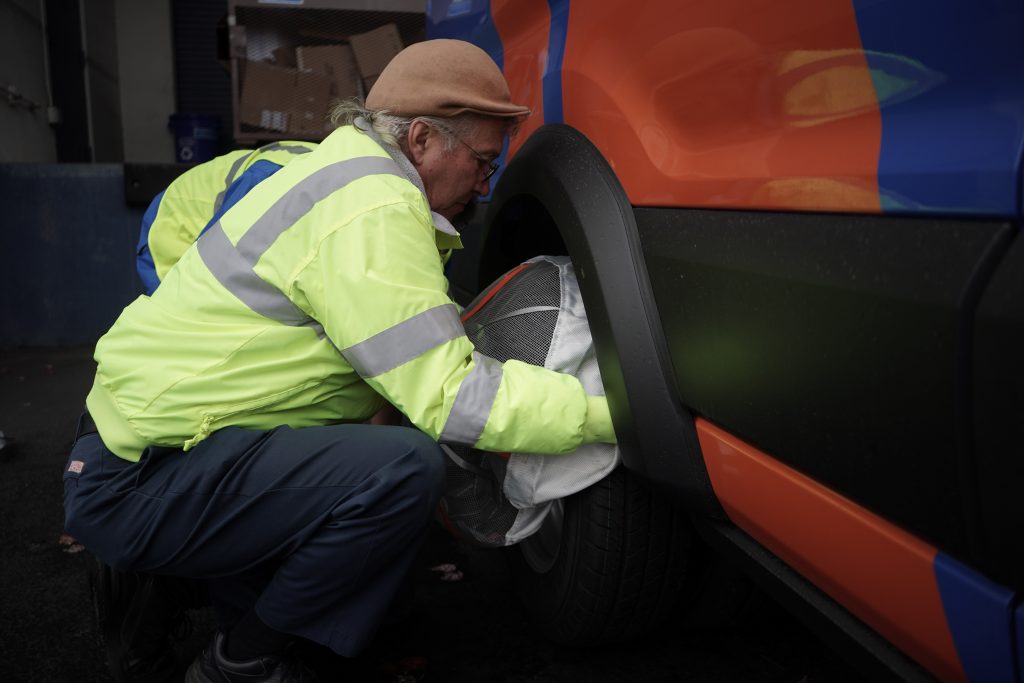 A new pair of cozy winter socks aren't just for your feet anymore. They're for tires now, too. This year, we're piloting a new traction device for our LIFT paratransit vans called "snow socks" Unlike chains, they only take about 30 seconds to install and don't damage roads. Made from Kevlar mesh, they're lightweight and improve tire traction in the snow.
To test the new devices, LIFT drivers went to Mt. Hood to give them a real-world workout. Our operators gave the new snow socks a thumbs up, saying they helped with traction, prevented slipping and were gentler on the tires, with less wear and tear to the vehicle itself. We're looking forward to trying them out on our smaller LIFT vans, getting more feedback from operators and hearing what riders think as well.
Keeping you informed
To help you prepare for winter-related changes in service, TriMet provides real-time updates about temporary stops, delays and disruptions.
Buses may change their routes when there's considerable snow or ice on the ground, especially on hills and narrow roads, which can become impassable in slick, snow-packed conditions, even when a bus is equipped with chains. We check for snow-covered roads by deploying what we call "snowbirds," early-morning crews that assess bus routes at higher elevations and report back on their conditions.
If TriMet determines that part of a bus route isn't safe, we'll detour buses off those roads. Some stop locations will change if a bus has to stray from its route. To stay informed about winter service, detours and stop locations, we always recommend checking trimet.org/alerts before you head out. Also, sign up for alerts via email or text at trimet.org/email.
Tools for planning ahead
Remember, during a winter storm, service will be slower than usual. In extreme cases, some service may stop altogether. We suggest planning extra time, as snow and ice can slow the entire transportation system. For more tips on winter riding, go to our winter weather page. Our Rider Support team can also help you navigate through a storm. They're available everyday via Twitter @trimethelp or by text message to 503-238-7433. They will respond to emails, questions submitted online and phone calls to 503-238-RIDE, between 7:30 a.m. and 5:30 p.m.
Providing everyone with safe, reliable transit is at the heart of what we do. We appreciate your understanding and patience during times of extreme winter weather.