MAX whisks you around the congestion on I-205, avoids the need to find a parking spot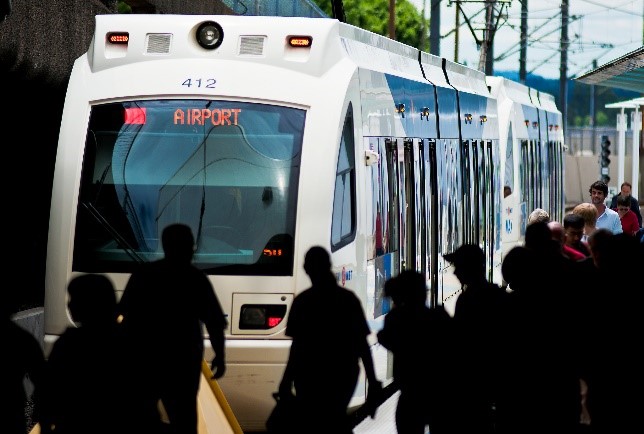 Today, Friday, Nov. 22, is expected to be the busiest day of 2019 at Portland International Airport, and TriMet's MAX Red Line lands you right at the terminal. Trains run every 15 minutes most of the day, every day. It's a simple and cost-effective connection to your plane.
Save money
A trip (within 2 ½ hours) on TriMet costs just $2.50 for adults and $1.25 for youth ages seven to 17. Kids under seven ride free. That's much less than you'll pay for an app-based ride-hailing or taxi service, which would cost between $22 and $49 from downtown Portland to the airport. It's also much cheaper than the $12 a day economy parking at the airport, which will cost you $60 for a five-day trip.
Avoid congestion
The MAX Red Line lets you avoid the search for parking at the airport, and it speeds you past the traffic congestion on I-205. Easily transfer between the Red Line and other MAX or bus lines at Pioneer Courthouse Square, Rose Quarter Transit Center, Gateway Transit Center or other stations.
Taking a red-eye? Take the bus
Our Line 272-PDX Night Bus serves PDX between about 2 a.m. and 4 a.m. (when the MAX Red Line isn't running), creating a 24-hour connection to the airport. Line 20-Burnside/Stark, one of our two 24-hour bus lines, connects to Line 272.
Visitors flying in can hop on board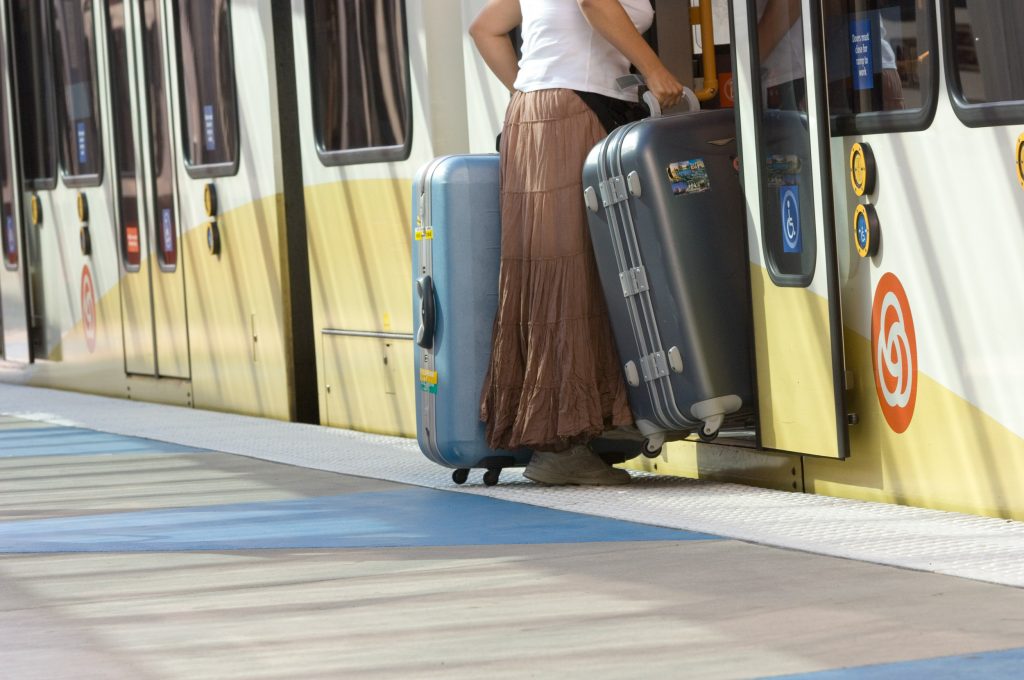 The MAX Red Line also makes it easy for visitors coming to town for the holidays. MAX trains depart from the airport right outside the baggage claim. With our Hop Fastpass® electronic fare system, visitors, can simply use their mobile wallet to pay for Adult fare, or use the ticket machine for Adult, Honored Citizen or Youth. Just let them know to tap for every ride! Learn more at trimet.org/fares.
TriMet connects to Union Station, BoltBus and Greyhound
If flying is not on your Thanksgiving itinerary, and you're taking Amtrak, BoltBus or Greyhound instead, TriMet can get you there also. MAX Green, Orange and Yellow lines, as well as various TriMet bus lines, serve Amtrak's Union Station and the nearby Greyhound curbside bus stop. You can also connect with the new BoltBus stop on NE 13th Avenue by bus and MAX Blue, Green and Red lines.
Holiday service details
Our service runs on special schedules on holidays. Thanksgiving Day, Thursday, Nov. 28, buses and MAX will operate on Sunday schedules. Plan ahead as several bus lines and our WES Commuter Rail do not run on Sundays. TriMet's Trip Planner and TransitTracker will be updated for trips planned for Thanksgiving Day and all other holidays. If you need help, you can reach our Rider Support team 24 hours a day via text message at 503-238-7433 and on Twitter at @trimethelp. Our staff also answers phones and will reply to your online submissions from 7:30 a.m. to 5:30 p.m. seven days a week.
MAX Red Line – a part of TriMet history
While TriMet is celebrating our 50th anniversary, the MAX Red Line has been whisking people to and from Portland International Airport for more than 18 years. It was the first train-to-plane connection on the West Coast and serves more than 20 stations between Beaverton and the airport.
A better MAX Red Line on approach
We're making plans to extend and improve the MAX Red Line. Expected within the next five years, the Red Line will be extended to run between the Fair Complex/Hillsboro Airport station and PDX. That's ten more stations served by the line. With that, we're also making improvements along the Red Line to improve reliability throughout the MAX system and keep trains running on time.