MAX and bus service bring you within steps of Portland's two biggest light displays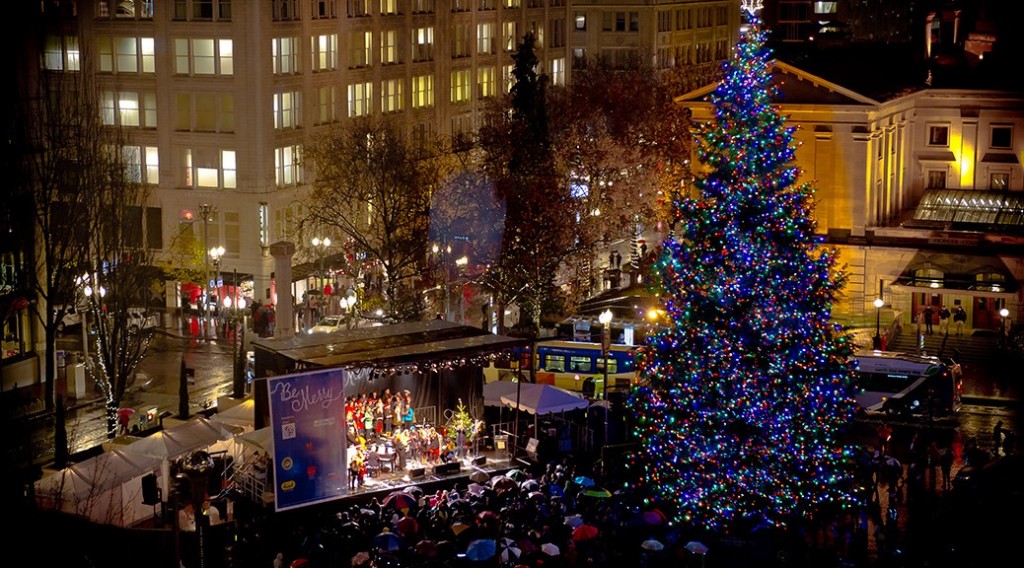 It'll soon look a lot like the holidays, with the festive sparkle of lights adding a touch of magic to the city. And while Rudolph and his famous nose aren't available to guide the way to the lighted celebrations, TriMet has you covered. Whether by MAX or bus, let TriMet bring you to Portland's Tree Lighting Ceremony on Friday, Nov. 29, at Pioneer Courthouse Square, or ZooLights, starting Nov. 29 and lasting through Jan. 5.
Beat the crowds to the Tree Lighting Ceremony
Now in its 35th year, the Tree Lighting Ceremony at Pioneer Courthouse Square is expected to attract more than 25,000 people. They'll gather to watch the 75-foot tree burst to life thanks to more than 14,000 lights. The ceremony begins at 5:30 p.m. and is expected to wrap up at 6:30 p.m. All MAX lines and more than 15 bus lines stop within a few blocks of the square. Due to the high concentration of people in the area, some stops will be closed and moved, with bus lines detoured to accommodate the large crowd.
MAX stations closed
From 3-7 p.m., MAX Blue and Red line trains will stop serving both the north and south Pioneer Courthouse Square stops, while the MAX Green and Yellow lines will bypass the Pioneer Courthouse/SW 6th Ave station . During the closures, trains will stop at the stations for safety but will not open their doors. If you're using MAX to travel to the Tree Lighting Ceremony, we recommend you exit the train at the stops immediately before or after Pioneer Courthouse Square, which are located only a few blocks away.
Bus detours
Starting at 3 p.m., all TriMet bus lines (1, 2, 4, 8, 9, 12, 17, 19, 35, 36, 43, 44, 54, 56, 94 and 99) that travel on SW 6th Avenue, in addition to CTRAN buses, will be detoured between SW Columbia and Washington streets.
Bus stops will be closed during this time at the following locations:
SW 6th/SW Salmon
SW 6th/SW Taylor
SW 6th/SW Yamhill
SW 6th/SW Alder
SW 6th/SW Washington
SW Jefferson/SW 5th Ave
Buses will detour between 3-7 p.m., or until the crowd disperses. For those traveling through downtown during this period, plan a little extra time.
Take TriMet to ZooLights
ZooLights, one of Portland's most popular holiday traditions, returns for another holiday season. Featuring a stunning spectacle of more than 1.5 million lights, along with attractions like the lighted train, ZooLights draws huge crowds during its month of operation. Last year's ZooLights broke attendance records, attracting over 270,000 visitors.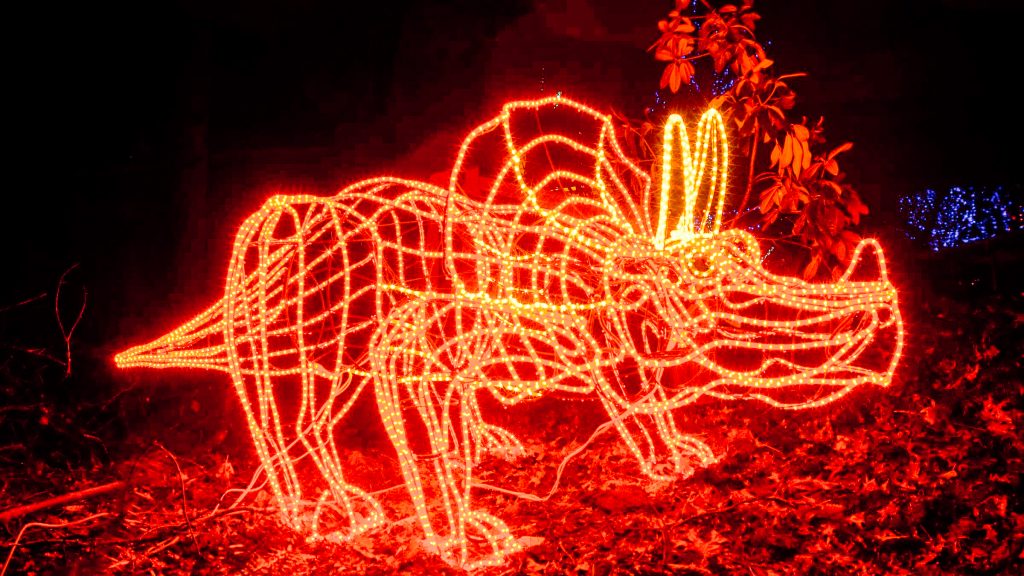 With parking limited at Washington Park, TriMet is your easy and affordable option for reaching the ZooLights experience. The MAX Blue and Red lines both serve the Washington Park MAX station, just steps away from the Oregon Zoo. And when you ride, you'll beat traffic and save on your ZooLights tickets when you show your fare at the gate.
People traveling to Washington Park using the MAX Blue or Red lines may want to plan a few extra minutes as two of the four elevators at the station are closed for renovation. Everyone will need to use the open set of elevators to get between the platform and plaza levels.
TriMet can get you to tree lighting and holiday events throughout the season. To plan your trip, visit Trip Planner to find the most direct routes and check arrival and departure times.
Hop Fastpass® is your affordable ticket to the lights
Riding TriMet is convenient and affordable for the entire family. A day pass costs just $5 for adults and $2.50 for youth, ages 7-17, and honored citizens, including those ages 65 and above. Hop Fastpass® makes it easy for the entire family to ride.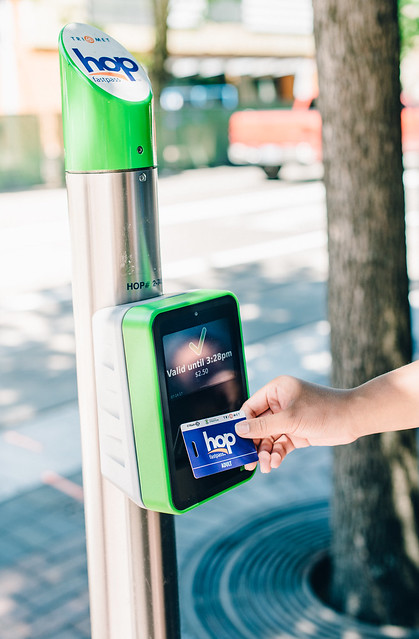 With the Hop electronic fare system, you never pay more than you should to use transit. Purchase a plastic Hop card or load value at 500 retail locations across the Portland metro area. Some locations are cash-only or load-only, so check before you go using the interactive map at myhopcard.com. Once you register a Hop card, your money is protected. If you happen to lose your card, first check with TriMet's Lost & Found by calling 503-238-7433. Hop cards are one of the most commonly returned items. If your card remains missing, report it lost and we'll replace it.
Don't want a physical card? Try our virtual Hop card, which you can download at the Google Play store or with Apple Pay. Load it with money using a credit/debit card in your mobile wallet and remember to tap the Hop reader every time you board, especially if you're making transfers.