TriMet has launched our largest bus service expansion in history, and we're already planning for improvements that you'll see in the fall of 2020 and beyond. Help shape the future of transit by attending an upcoming open house and sharing your feedback. You could help make a difference for hundreds of thousands of riders who use our system every day.
Here's what we are proposing for Fiscal Year 2021 (July 2020 – June 2021):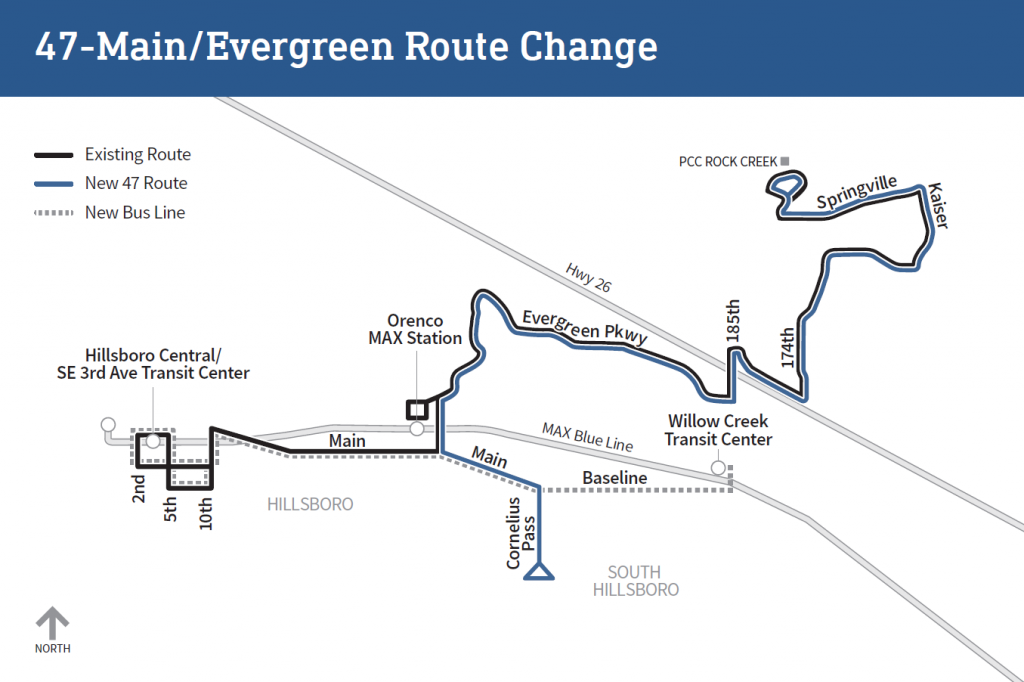 An improved route! We're considering extending Line 47-Main/Evergreen and adding more buses and reducing wait times during the weekday commute.
A new bus line! We'd like to add a new east-west bus line in Washington County, running between Willow Creek Transit Center and Downtown Hillsboro.
Better service! We want to improve Line 16-Front Ave/St Helens Rd with more buses and shorter waits during the weekday commute.
More service! We're looking at adding later weekday trips on Line 87-Airport Way/181st.
More convenience! We'd also like to add buses and reduce wait time during the weekday commute on Line 155-Sunnyside Rd.
You talk. We listen.
In the spring of 2019, TriMet made a big change to Line 24-Fremont. By extending it across the Fremont Bridge, we created a new connection between Northeast Portland and Northwest Portland. Feedback from riders influenced the decision. They told us they wanted a faster option for crossing the Willamette River to reach the Pearl District, NW 23rd Avenue, Providence Park and MAX Blue and Red lines.
"I take the 24 to and from work each day," wrote a rider named Cara to TriMet's Customer Service team. "I love, love, love this route. When it started going over the river to NW Portland, it changed my life! It's so fast and takes me much less time than my old route."
In the six months since we made the improvement, weekly ridership on Line 24 more than doubled, going from 2,500 trips in the spring of 2018 to 5,760 trips in the spring of 2019. A rider named Pete was among those to try it.
"I want to congratulate and thank you for the new 24 Fremont line over the Fremont Bridge. I started riding it this week, and it could not be a more perfect commute vehicle for me," he said. "When riding the 24, I can read, and while walking to work (from my stop), I can stop and get coffee. It's a great experience."
Following the route change, TriMet heard another call from riders. The line's last trip was around 9:30 p.m., and they wanted to take Line 24 home after late Timbers and Thorns matches. That made a lot of sense, so we decided to experiment with adding two return trips from Providence Park on game nights.
"Using the 24 bus to and from Providence Park on match days has been great," said a rider named Zachary in a comment posted at trimet.org/customerservice. "There were a good 30-40 people on the bus after the match."
All of this is to say that when riders tell us what they want and need from their transit service, we listen. We can't make every change that is requested, but we do review and evaluate the feedback.
Share your feedback
You're invited to come by one of our four open house events to learn more, tell us what you think and help shape the future of our bus service.
Open house events
St. Johns
Tuesday, Oct. 22
5:00 p.m. – 7:00 p.m.
St. Johns Community Center
8427 N. Central St. – Portland
Happy Valley
Wednesday, Oct. 23
5:00 p.m. – 7:00 p.m.
New Seasons
15861 SE Happy Valley Town Center – Happy Valley
Hillsboro
Tuesday, Oct. 29
5:00 p.m. – 7:00 p.m.
Washington Street Conference Center
102 SW Washington St. – Hillsboro
Downtown Portland
Thursday, Oct. 31
12:00 p.m. – 2:00 p.m.
Central Library
801 SW 10th Ave. – Portland
You can also find more information and an opportunity to comment by visiting trimet.org/plan. Feedback is also welcome when you connect with us at trimet.org/customerservice.