New Fare Inspectors, enforcement strategy begins rolling out on Monday, Oct. 21
You walk up to the MAX station and tap your Hop card on the card reader. When the train comes, you step on board to get to work, school or wherever it is you need to go. At the same time, you see others hopping on board without tapping, without stopping at the ticket machine. You wonder, "Are they paying for the ride?" If you're paying your fair share, shouldn't they? Right about that time, wouldn't it be nice to see a Fare Inspector get on the train?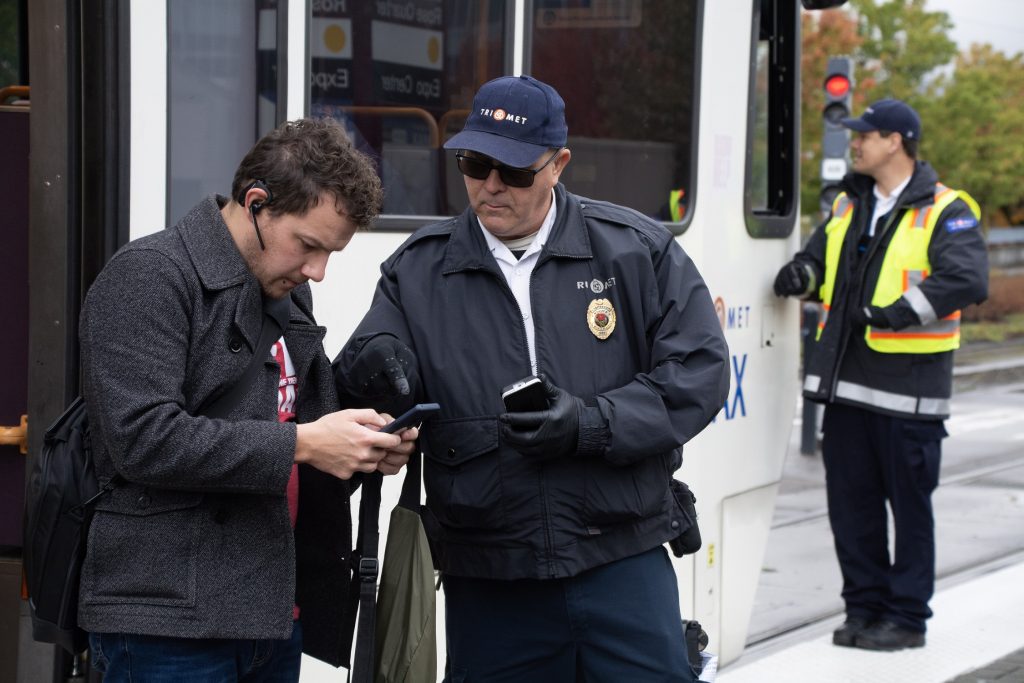 TriMet is increasing the ranks of our fare enforcement teams with the addition of nine new Fare Inspectors. They join three other dedicated Fare Inspectors. Other staff conduct fare enforcement assignments on a rotating basis but perform other duties as well, such as coordinating extra transit service after a Blazers game or responding to a passenger having a medical issue. For these 12 Fare Inspectors though, enforcing TriMet's Code of Conduct for riding, including the requirement to have proof of valid fare, will be their primary job.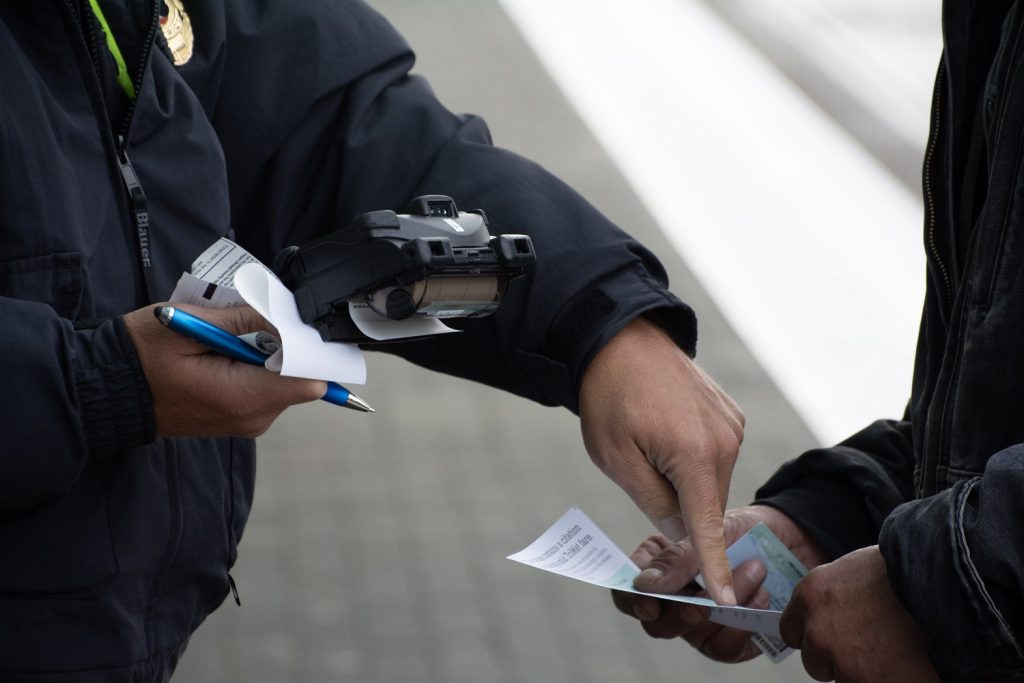 The nine new Fare Inspectors begin their field training on Monday, Oct. 21, so riders should expect to see them out on the system and expect to have their fare checked. During this phase of training, you may see large groups working together. Once fully trained though, our Fare Inspectors will break into teams of two to do random fare inspections on trains and buses, and at stations and transit centers.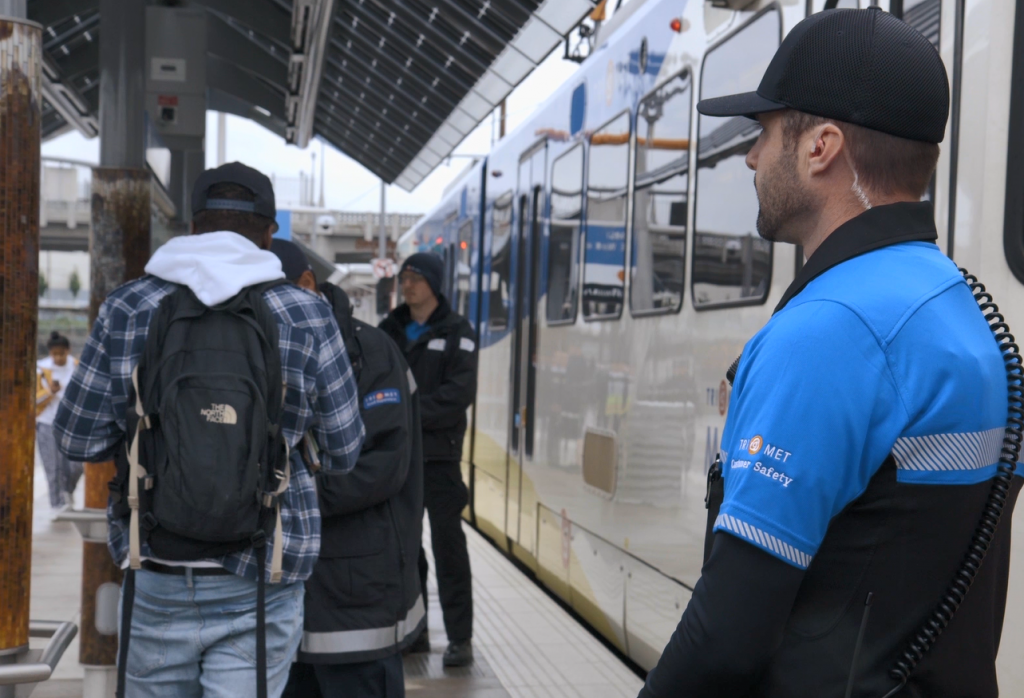 Fare Inspectors will be joined by contract Customer Safety Officers. These Officers will assist riders and Inspectors during fare checks. The teams will be assigned to geographical regions in our service area so they can get to know daily riders better and the riders can get to know them. These fare enforcement teams will also provide a valuable security presence on the system, people who riders can go to for help. We'll be evaluating the new approach for fare enforcement and possibly look at bringing in more dedicated Fare Inspectors in the future.
"Every interaction with a customer is an opportunity to make a positive difference," said TriMet Director of Security and Emergency Management Pat Williams. "While our new Fare Inspectors begin training on the system, they have already received weeks of training on how to provide good customer service, how to be compassionate while still making sure people follow the rules, and how to de-escalate tense situations."
Fare is fair
TriMet requires fares to ride the transit system. It's our second largest source of funding and accounts for more than 16% of our revenue. The money that comes in helps us provide bus and rail service in a 533-square mile area, across 60 miles of light rail track, 14.7 miles of commuter rail track and 981.5 miles of bus routes. It pays for the vehicles you ride in, the maintenance of those vehicles and the tracks our trains run on, the shelters and benches at stops and stations, the information about when your bus or train will arrive, and so much more.
While some riders question the cost of the fare, it's important to realize every rider on the TriMet system is subsidized. No one is paying the real cost of taking a trip on TriMet. For instance, riders who pay $2.50 for an Adult 2 ½ hour ticket would pay $5.06 per ride if paying the full cost of the service.
We understand that for some riders, the cost of an Adult fare can be financially challenging. That's why we have our Honored Citizen reduced fare. It gives riders living on a low income, seniors who are 65 and older, Medicare beneficiaries and riders with a mental or physical disability the option of paying less. We also have reduced fare for youth and children under age 7 ride free.
Tap every time
Our Hop Fastpass® makes it easy to pay fare. Whether you prefer a plastic Hop card, virtual card stored in your phone, or you pay with a physical credit card (NFC enabled) or one in your mobile wallet, remember to tap every time – for every ride including when you transfer. The tap is your proof of valid fare.
Don't worry about being charged more the more you tap. The Hop system automatically caps your cost in a 2 ½ hour period and in a service day so you never pay more than the standard fare.
Our Fare Inspectors, Supervisors and Transit Police Officers use a device that shows whether your Hop ticket, Hop card or credit card was tapped. If you haven't tapped, you may need to get off the train to tap your card and catch the next train. Or, you may get a warning or a citation. No one – our Fare Inspectors, our Transit Police Officers, none of us at TriMet – want you to be delayed or face the consequences, so we urge you to get in the habit of tapping for every ride.
If you choose to buy a Hop ticket or Hop day pass from the ticket machine on a rail platform, you also need to get in the habitat of tapping. Tap the paper Hop fare to the card reader at stations or on board buses for every ride. There are microchips inside the paper tickets that require the tap.
Learn more about Hop, all the ways to pay with Hop and the benefits such as earning monthly passes as you ride at myhopcard.com.
Who's who?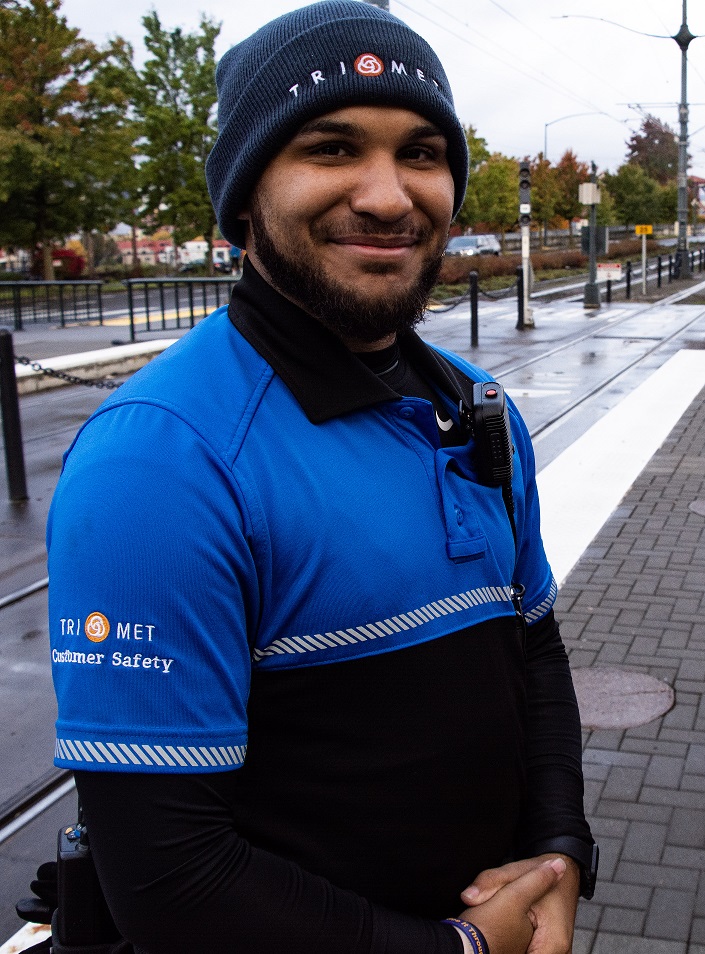 From Fare Inspectors to Operators, Transit Security and Customer Safety Officers, Transit Police Officers and our Customer Service Representatives, there are lot of people out and about to help our riders. Who's who and how can you tell if they work for TriMet? We've created a web page – trimet.org/personnel – that shows you the uniforms that each wear and what they do on the system.
We hope this helps you feel comfortable and know who to turn to, whether it's asking for directions or to report a spill on board. Please know that if you have an immediate concern, any TriMet employee, contract security personnel and police officer can help or you can contact 911. We want to get you safely where you need to go and enjoy the ride getting there.