It's easy as 1-2-3. Take your Hop card or Hop ticket, tap it to a Hop reader, hop on board. TriMet is reminding riders to follow these three easy steps every time you ride a bus or train and every time you make a transfer. Tapping your Hop card or Hop ticket ensures you have valid fare and saves you the hassle of getting a citation for fare evasion.
This month, we've had "tap teams" at transit centers and MAX stations throughout the Portland metro area, to help riders remember to tap. This is part of our transition to the Hop Fastpass® electronic fare system. We began rolling out Hop in July 2017, bringing a new way to pay for TriMet, C-TRAN and Portland Streetcar. Just remember to tap with every ride! After Dec. 31, 2019, most non-Hop paper tickets and mobile tickets will no longer be accepted.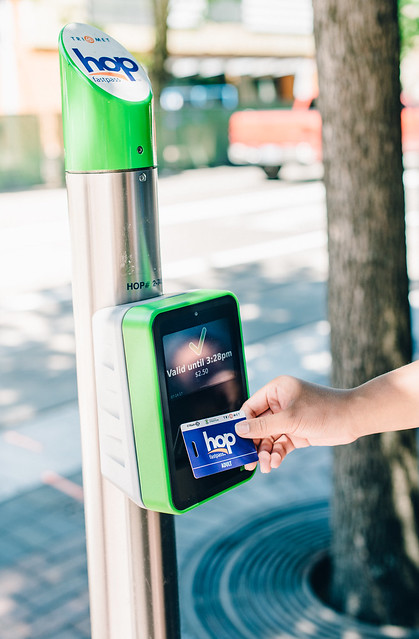 Tap tally
53,500,000+ – Total number of taps since we launched Hop in July 2017
186,000+ – Number of taps we see on a typical weekday
90,000+ – How many more weekly taps we're seeing this year over last
1,480 – Total number of Hop readers available on TriMet, C-Tran and Portland Streetcar
Five tapping myths debunked!
1. I should only tap for my first ride of the day.
False! Your tap is your proof of valid fare. Tap with every ride and transfer, or you could get a citation. Remember to tap, even if you've already earned a day or month pass.
2. I don't need to tap a paper Hop ticket.
Yes, you do! Paper Hop tickets need to be tapped, just like all other Hop fares. No matter how you use Hop – physical card, virtual card, contactless bankcard, mobile wallet or paper Hop ticket – remember to tap with every ride.
3. Hop will deduct fare every time I tap.
Not true! Hop is great for people who aren't so good with math because it does the work for you. Tap for your first ride, Hop deducts your fare. Tap with every transfer for the next 2 ½ hours and pay nothing more. Keep tapping throughout the day and you'll never pay more than you would for a day pass. Hop will even deduct the difference if you transfer from a service with lower fare to one with higher fare.
4. I can be tracked through my taps.
We do not track riders' movements on our transit system. We may use data from Hop to help improve our service, but it does not contain personal information and is only used to take a broad look at ridership patterns and trends.
5. My employer provides me with an annual Hop pass. Do I need to tap every time?
Welcome to the club! Yes! You must tap your Hop card every time you board or transfer, even with passes provided by employers, schools or social service organizations. Your tap is your proof of payment. Join the rest of us and make it a good, new habit.
Our fare inspectors carry an electronic device that, when placed near a Hop card, virtual card, mobile wallet, contactless bankcard or paper Hop ticket, can determine whether fare is valid. Think of your tap like a digital validation stamp. It's required for every ride.
Tap teams coach riders
TriMet and our partners launched Hop more than two years ago, and since then, we've seen more than 53 million taps. That's a lot of taps, but we know that for some, remembering to tap and knowing when to do it has been confusing. This month, we sent tap teams to MAX platforms and transit stations across our district to do some one-on-one coaching on how to use Hop and let folks know why it's important to tap for every ride.
TriMet's transition to Hop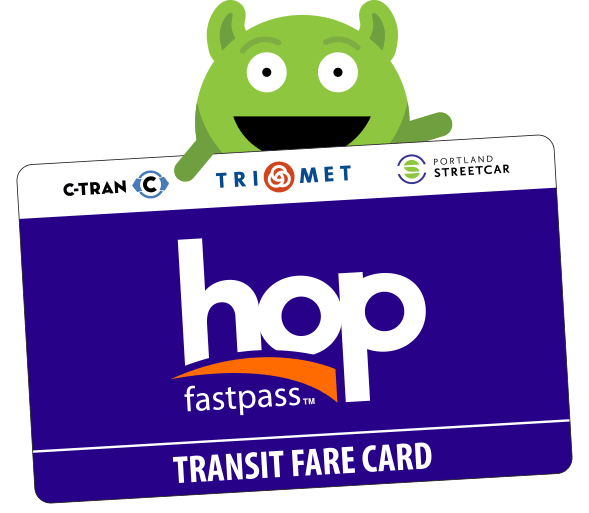 Last April, TriMet announced plans to phase out most non-Hop paper and mobile tickets. Since then, we've been helping our riders switch to Hop. We've hosted ticket exchange events throughout the area, to give away free Hop cards and load them with value equal to your remaining paper and/or mobile tickets. Visit trimet.org/ticketexchange to find an upcoming event that's convenient for you.
Riders can also exchange tickets at the TriMet Ticket Office, Monday through Friday, between 8:30 a.m. and 5:30 p.m. For riders who still have unvalidated foil-stamped paper tickets, there's a mail-in option, too. Print and complete this form and send it to us with your tickets, and receive a free Hop card loaded with equal value. Otherwise, use your paper and mobile tickets before Dec. 31, and then switch to Hop. Since it's a better way to pay, you'll be happy that you're on board. Learn more at myhopcard.com.