With daylight saving time ending Nov. 3, boost your brightness and take extra precautions
As the days continue to get shorter, more pedestrians and cyclists will encounter a common scenario: a flash of headlights shine out of the darkness. As a pedestrian or cyclist, you see the lights, but does the driver see you?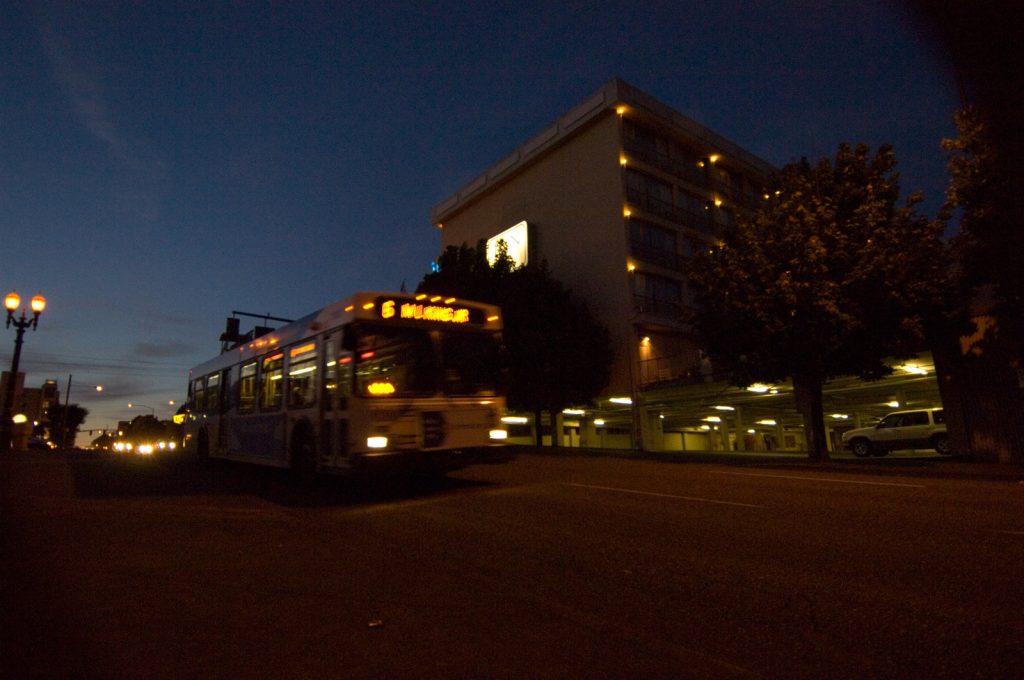 With the start of November comes the end of daylight saving time. On Sunday, Nov. 3, we'll set our clocks back an hour, making the already short days seem even shorter. As our daylight diminishes during afternoon traffic times, TriMet reminds everyone to stay visible, alert and safe.
Four illuminating ways to be seen
Be bright: Research shows that most crashes between vehicles and people out walking or biking happen at night, with the National Highway Traffic Safety Administration reporting that nearly three-quarters of pedestrian deaths occurred during dusk-to-dawn hours. Wearing brightly colored outerwear such as a fluorescent jacket is the first step in helping you stand out in the dark.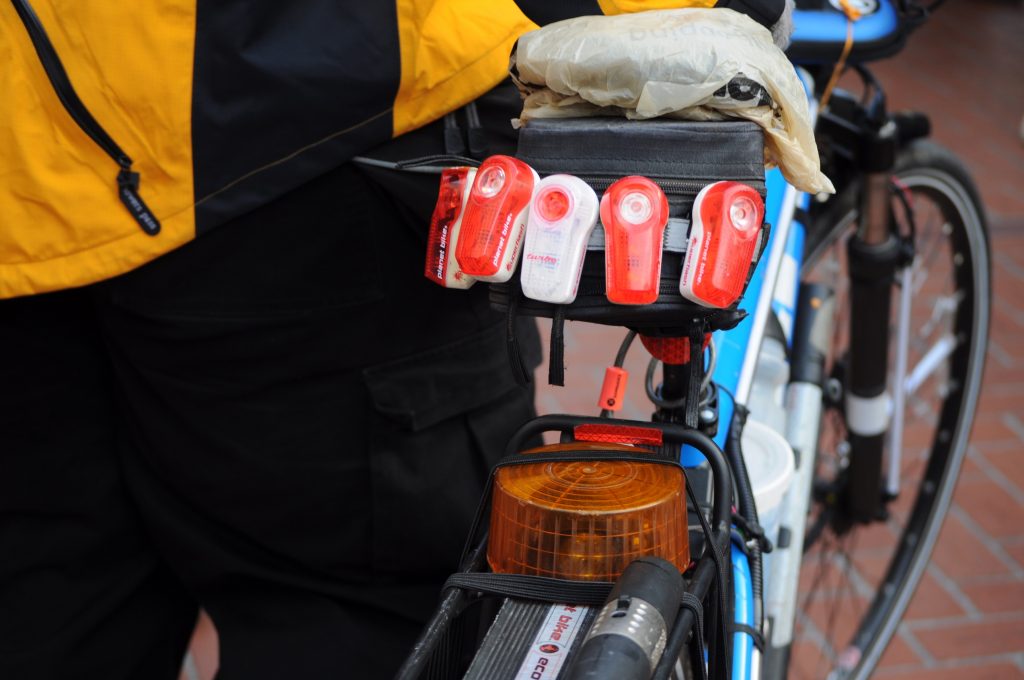 Wear lights: Clipping a blinking LED light to your backpack or outer layer of clothing is an excellent way of being seen, even if you're located far beyond the reach of a vehicle's headlights. A blinking light is your personal beacon, sending a message to bus and auto drivers: I'm here! If you prefer using a headlight or flashlight, please do not direct the lights at buses, as this is unsafe and could affect the driver's vision.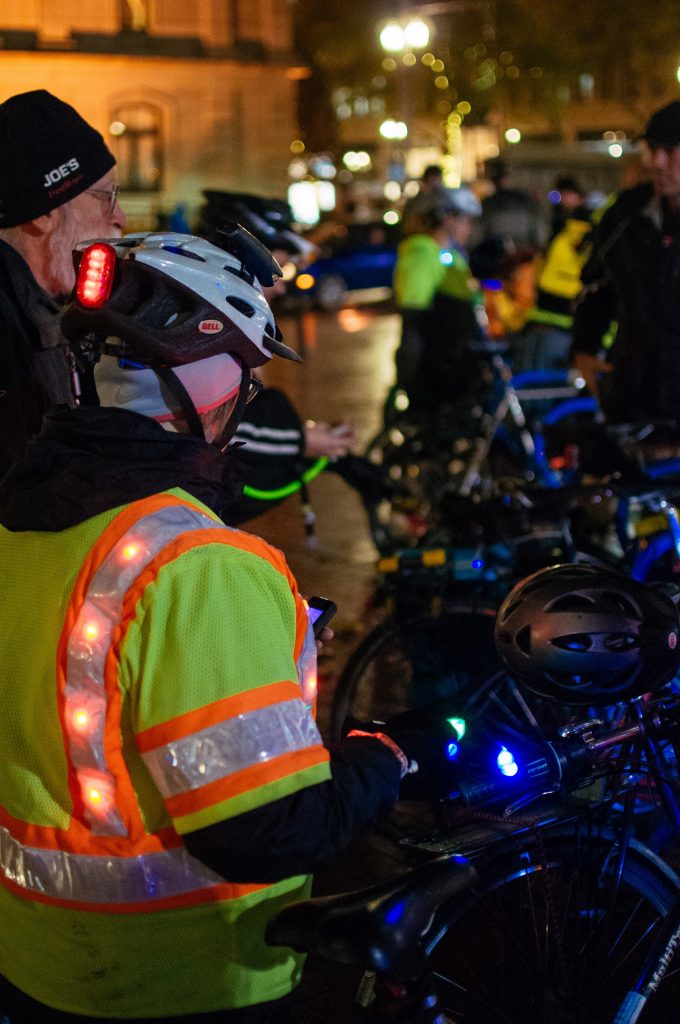 Go reflective at night: Safety vests aren't just for TriMet employees like maintenance workers and operators! Many people wear them during the winter months so motorists will see them in the dark. But if you don't want to make that commitment, you can fashion your own safety gear by using store-bought reflective strips or other high-visibility gear. These handy items come in different varieties, with many available for purchase either online or at a sporting goods department. Manufacturers are also introducing new reflective or glow-in-the-dark gear every year, specifically made for cyclists and those on foot.
Stay alert: People are creatures of habit, often sticking to daily routines. It's easy to do the same thing every day without giving it a second thought. But during the dark days of winter, when pedestrian incidents increase, being alert, predictable and observant will make you safer—even if others aren't always following the same advice. Remember to cross MAX tracks only at designated locations and to look both ways before doing so. Remove your headphones and keep your eyes up when walking across tracks or the road.
Watch for people walking and biking
We're also reminding people to drive with extra caution during the fall and winter months. These months have seen an increase in pedestrian fatalities nationally over the past decade. During that time, the number of nighttime pedestrian deaths increased by 45%, compared to an 11% increase in daytime pedestrian fatalities, according to a 2018 report from the Governors Highway Safety Association.
As a driver, it's important to take extra caution in rainy, slick and dark conditions. Many TriMet riders need to cross streets to get to their stops. Watch for pedestrians at all intersections. Under Oregon state law, all intersections are crosswalks whether they're marked or not. And if you see lights blinking at a marked crosswalk, slow down. If you're turning on a green light, remember that pedestrians also have crosswalk priority. Check to make sure no one is walking across the street before making that turn!
Drivers, pedestrians and cyclists can also look for the flashing amber light bars affixed to the fronts and backs of some buses. We rolled those out in July as part of a pilot project and continue to collect feedback on their use. They're designed to keep pedestrians, cyclists, and auto drivers safer. The same goes for our riders and bus operators.
Night Stops get you closer
With the end of daylight saving time, TriMet is also reminding riders of our Night Stop program. Between 8 p.m. and 5 a.m., in neighborhoods outside Portland City Center and Lloyd neighborhood, bus riders can request to be dropped off at non-designated stops along the route. Operators will only make these special drop-offs if it's safe to do so.
When you board the bus, ask your driver if it would be possible to stop someplace other than a designated stop. You'll then want to request the location a block or two from where you'd like to get off. Your operator will determine whether it's a safe location and, if it isn't, may drop you off at an alternate spot. And if the bus turns left on the same block as the requested location, your driver will only make the drop-off after first making the turn.