MAX Blue Line disrupted, streets closed in Gresham during two-week construction, from Sept. 22 through Oct. 5
A major improvements project to the MAX Blue Line in Gresham is less than a week away. Once completed, it will represent one of the most diverse collections of upgrades TriMet has performed during a two-week period. From Sunday, Sept. 22, through Saturday, Oct. 5, crews will be working on a series of upgrades across a 2.3-mile stretch of tracks at the east end of the MAX Blue Line. As crews work, the Blue Line will end and begin service at the Rockwood/E 188th Ave Station, with shuttle buses serving the five final stations at the end of the line.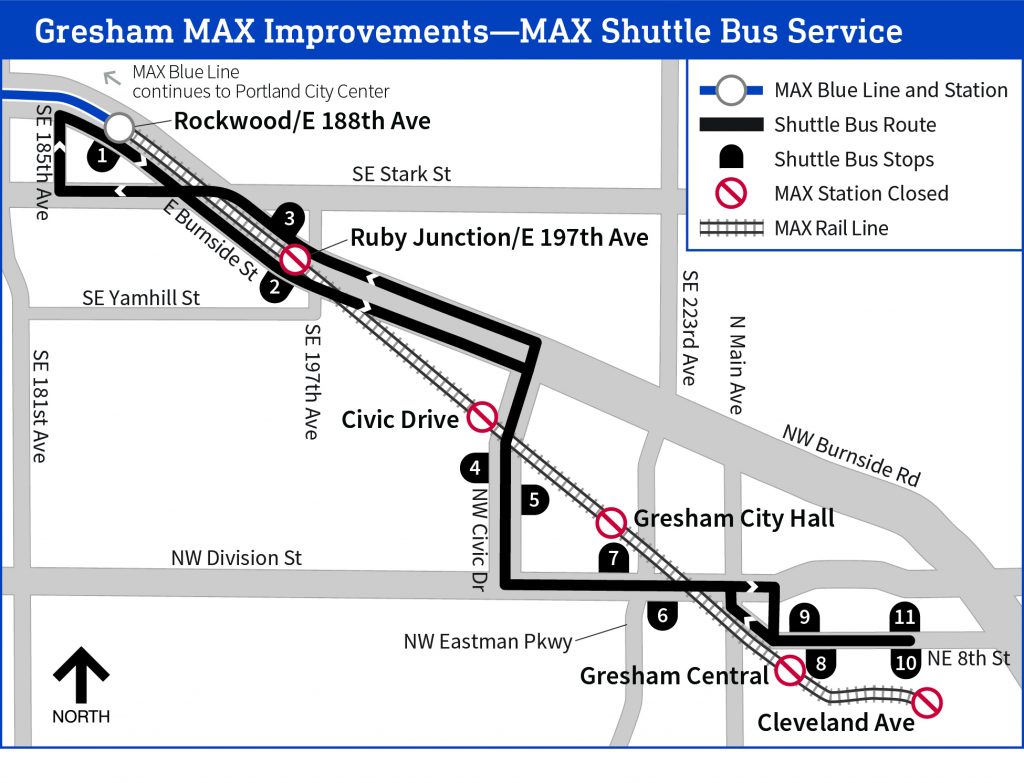 Overall, the project is made up of several improvements – upgrades, repairs and replacements that extend from several feet below ground to nearly 20 feet up in the air. Some of the work will happen at rail crossings, areas where tracks cross (or intersect) roads. Our riders — as well as motorists, pedestrians and cyclists — will end up feeling the difference. While the rides will be smoother, the work helps improve the reliability of MAX trains heading through the stretch, which then keeps trains running on schedule throughout the light rail system.
Traffic impacts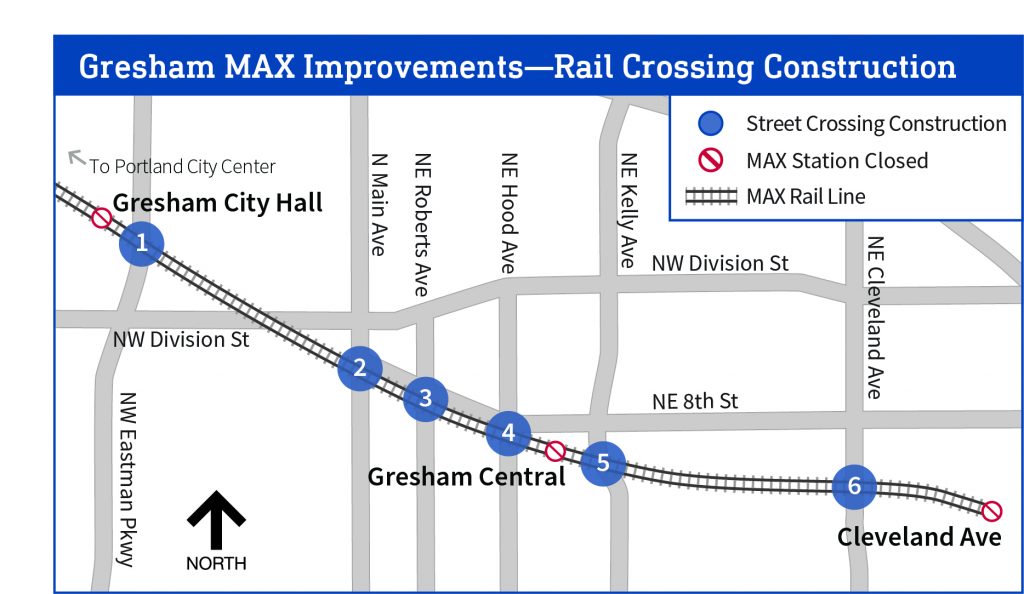 Crews will be making repairs and improvements to seven rail crossings along the MAX Blue Line as part of the Gresham MAX Improvements project. Construction will result in intermittent closures of six roads that intersect with the tracks. The seventh road, Northwest Birdsdale Avenue, will have a single lane closure, with flaggers directing motorists in both directions through the worksite.
Crews will work on one to two crossings at a time. Detour signs will direct motorists, bicyclists and pedestrians through the construction zones.
At most of the crossings, the work is expected to close the roads for two days each. Once crews finish one intersection, they'll move on to the next. Crossings that are next to each other will not be closed at the same time to minimize the impacts on motorists, pedestrians and cyclists.
Weekend closure:
(Work may take place 24 hours a day)
NW Eastman Parkway
Closed 10 p.m. Friday, Sept. 27 — 4 a.m. Monday, Sept. 30
Weekday closures
(Work will take place between 7 a.m. to 7 p.m.)
N Main Avenue
Closed 4 a.m. Thursday, Sept. 26 to 10 p.m. Friday, Sept. 27
NE Roberts Avenue
Closed 4 a.m. Wednesday, Oct. 2 to 10 p.m. Thursday, Oct. 3 (tentative)
NE Hood Avenue
Closed 4 a.m. Monday, Sept. 30 to 10 p.m. Tuesday, Oct. 1 (tentative)
NE Kelly Avenue
Closed 4 a.m. Wednesday, Sept. 25 to 10 p.m. Thursday, Sept. 26
NE Cleveland Avenue
Cleveland closed 4 a.m. Tuesday, Oct. 1 p.m. to 10 p.m. Wednesday, Oct. 2 (tentative)
Partnering with City of Gresham
The crossing at NW Eastman Parkway, a busy four-lane thoroughfare running past Gresham City Hall, will be closed over the weekend, as crews may need to work around the clock to complete the job there. Here, crews will lift and level the concrete panels at the rail crossing, creating a level surface, and repair the track bed underneath. They'll fill in the asphalt gaps next to the rails and replace old wooden rail ties with concrete ones.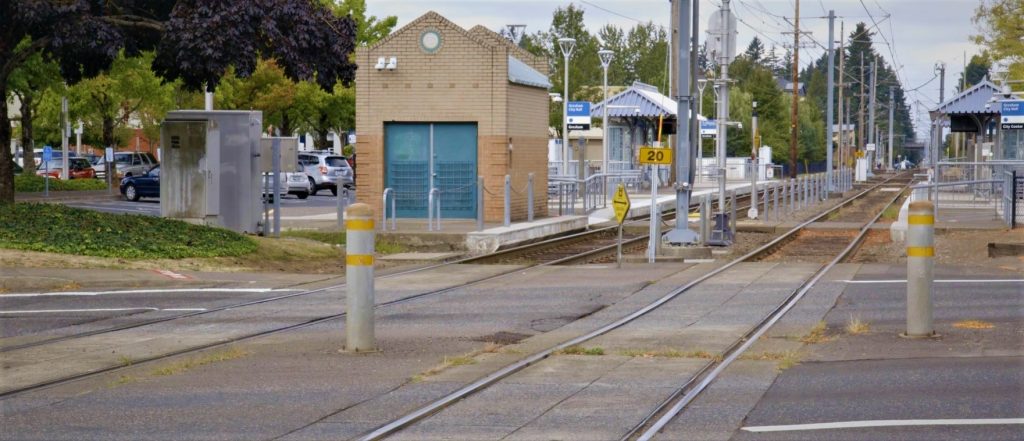 Altogether, the improvements will involve leveling out the asphalt and filling in the gaps between the road and the rail, creating less bumpy trips over the crossings for everyone. The City of Gresham will follow up our improvements and repave from our trackway south to NW Division Street.
Two weeks, multiple improvements
During the two-week disruption to MAX service, TriMet is making improvements not only to track crossings and railroad ties, but also to the overhead wire and the signals system. We will also be replacing switch machines and deep cleaning stations.
Because the improvements are extensive, we cannot complete them during normal service hours while the trains are running. These upgrades will have far-reaching impacts. Not only will they help MAX Blue Line trains run on time in the area, but, because all lines interact, the improvements will help with the overall reliability of the MAX system. We appreciate people's patience and understanding as we continue our efforts to make transit better.
Making Transit Better
Over the past several years, TriMet's major MAX improvement projects have helped make transit more reliable, resilient and comfortable for our riders. These upgrades make what's old new again, help reduce the wear and tear on our trains, and bring the latest technology to older sections of our light rail system, some that have been in use for more than 30 years. This reinvestment is necessary as MAX is the second oldest light rail system on the West Coast and third in the nation. Learn about past projects and other ways TriMet is making transit better.