TriMet urges riders to use remaining tickets before Dec. 31, 2019 or exchange them for a free Hop card loaded with equal value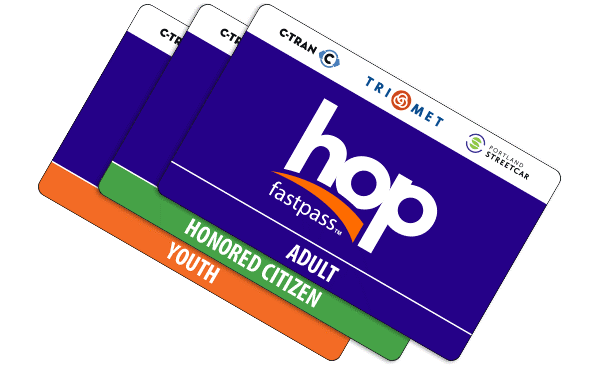 TriMet is counting down to the New Year and urging riders to make a resolution now to get on board with Hop Fastpass®. This Sunday, Sept. 22, 2019 marks 100 days until TriMet will no longer accept most non-Hop paper and mobile tickets. That means it's time to switch to Hop, so you can start tapping and start saving over the old ways to pay.
We're here to help!
If you're still holding on to unvalidated foil-stamped paper tickets or tickets purchased through the TriMet Tickets app, we can help you make the move to Hop. We'll give you a free Hop card and apply the value of your remaining tickets to the card. Here's how you do it:
Unvalidated foil-stamped paper tickets

TriMet Tickets app
Visit the TriMet Ticket Office – The TriMet Ticket Office is open Monday through Friday, between 8:30 a.m. and 5:30 p.m. Stop by with your tickets and/or your phone, and we'll help you move everything over to Hop.
Drop by a ticket exchange event – TriMet is hosting ticket exchange events, where you can turn in your unvalidated, foil-stamped paper tickets and/or mobile tickets and get a free Hop card loaded with equal value. We have upcoming events at Gresham Central Transit Center, Rose Quarter Transit Center and at the TriMet Ticket Office on select Saturdays. Find event details here.
Mail us your paper tickets – For people with unvalidated, foil-stamped paper tickets, our mail-in option may be easiest for you. Print and complete this form and mail it to us with your tickets. We'll send you a Hop card free of charge, loaded with value equal to your tickets.
Use them before Dec. 31, 2019 – Simply use all of your paper or mobile tickets before Dec. 31 and then get on board with Hop.
More than one way to Hop
Physical Hop card

Virtual Hop card

Mobile wallet
Hop is fast, easy and convenient. If you choose a physical card, you can reload it using a bankcard or with cash at more than 500 locations across the region. We now also offer virtual Hop cards in Apple and Google Pay. You can even use Hop without a Hop card. If you have a bank card loaded to your mobile wallet, simply hold your phone to the NFC symbol on any Hop reader, and validate your payment if your phone requires it. When you hear the ding and see the checkmark, you've paid your fare and you're good to go! Just remember to keep tapping for every ride. Learn more at myhopcard.com.
Five fundamental Hop resolutions
We know that using Hop can be new and different, so here are several things you'll want to remember from the start:
Tap for every ride and transfer – Look for the green Hop readers near the fare box on the bus and on the platform at MAX and WES stations. Tap your card to the symbol below the screen to pay your fare. Tap again for your next ride or transfer.
Register for more benefits – Register your Hop card to enjoy even more benefits including lost card protection and the ability to auto-load funds to your Hop account so that you'll never find yourself without fare.
Don't forget to tap! — Your tap is your proof of valid fare. Continue tapping once you've earned a day or month pass. Hop guarantees you'll get the best rate and won't deduct additional funds from your account once you've reached the cost of a pass.
Keep your phone charged – If you're paying with your phone, make sure it will be charged while you ride.
Tap, tap and tap! – Fare inspectors have devices that show whether a Hop card has been tapped for the ride. You could receive a citation if you forget to tap.
Hop is a better way to pay
It's been nearly six months since TriMet announced plans to phase out our mobile ticketing app and most non-Hop paper tickets. Mobile ticket sales stopped in August. After Tuesday, Dec. 31, 2019, we will no longer accept most foil-stamped or mobile tickets. Since Hop is a better way to pay, you'll be happy you made the switch.