Highlights include adjustments to all MAX schedules, moving Line 19 out of one of SW Portland's most congested sections, expanding service on Line 74 and adding Sunday service on lines 30 and 32 starting Sunday, Sept. 1
TriMet continues our largest service expansion in history with improvements that give riders more service and more options, at more times. We're improving the ride with a route change and schedule adjustments to help keep buses on time. We're adding nearly 200 hours of bus service, bringing new options for getting to work, school, appointments and events across the region. We're also adjusting schedules on all MAX lines and many bus lines to make transfers easier and more reliable. We ask all riders to check schedules as changes take effect Sunday, Sept. 1. Plan ahead by visiting trimet.org/planner.
A small route change for Line 19-Woodstock/Glisan, with big benefits
To help keep buses on time and get our riders where they need to go quicker, we're moving Line 19-Woodstock/Glisan out of a congested area between the Ross Island Bridge and I-405. The new route will use SW Lincoln St. between 1st and 5th avenues instead of SW Broadway, SW Arthur, SW 3rd Ave. and SW 5th Ave. Buses will continue to cross the Ross Island Bridge. It's a small change, but buses can get caught creeping through the 0.7 mile stretch for 12 minutes or more.
TriMet will also eliminate two afternoon trips to Union Manor in Southeast Portland, to reduce delays caused by traffic congestion on SE McLoughlin Blvd. As part of the improvement, some bus stop locations will change and schedules will be adjusted.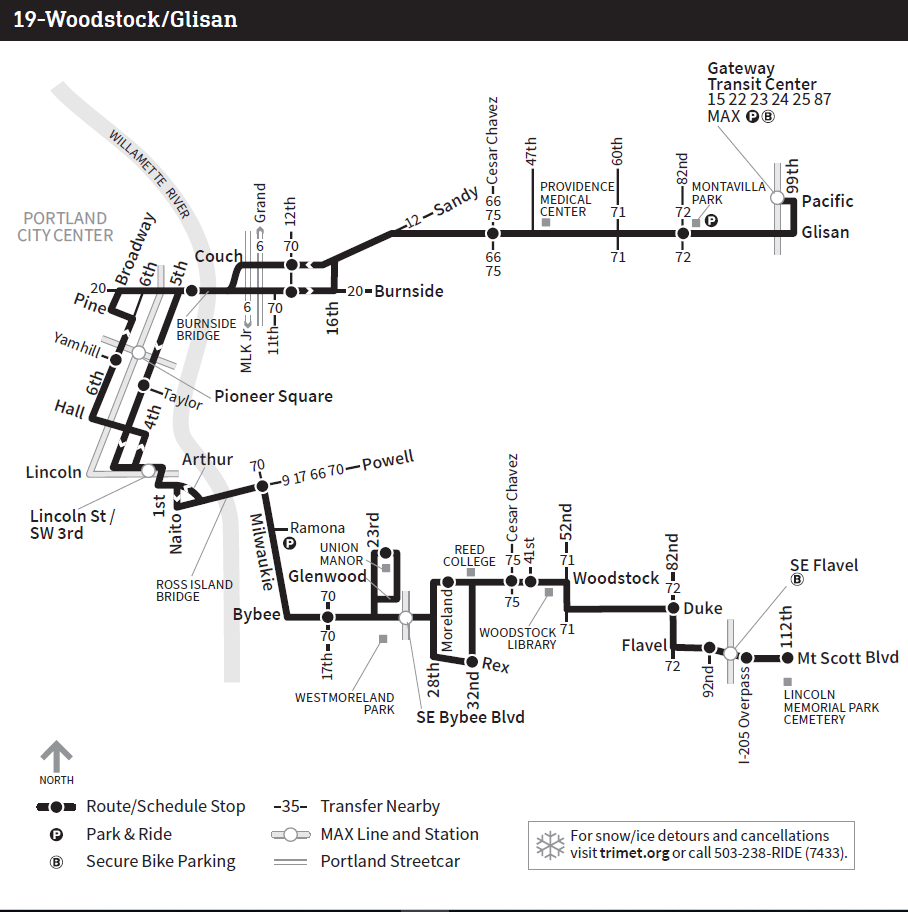 Sunday service for Line 30-Estacada and Line 32-Oatfield
Much anticipated Sunday service is coming to Line 30-Estacada and Line 32-Oatfield. Sunday service will follow the Saturday schedules. Line 32 will also follow the Saturday route, with buses running only between Clackamas Community College and Oregon City Transit Center. The service expansion brings new options to riders in Clackamas County with access to safe, reliable transportation seven days a week.
Later trips and new weekend service on Line 74-162nd Ave
Just 18 months after we launched Line 74-162nd Ave, we're expanding service! More buses during peak commuting times, later trips and weekend service start Sept. 1. Line 74 provides an important north-south route for riders looking to make connections in East Portland and Gresham. The increase in service improves the transit network in East Portland and Gresham, where riders make connections to bus and MAX for work, school, shopping, entertainment and more.
New MAX schedules and better connections
All schedules on all MAX lines will shift two minutes later. The slight change will improve transfers and reduce wait times for riders who go between MAX Blue and Red lines trains and WES Commuter Rail. We're also making adjustments to ease congestion and help keep trains on time.
More service improvements and schedule upgrades
We're making smaller improvements to a number of other lines to improve connections, ease transfers, better match traffic conditions and help keep buses on time. Riders should check the schedule and always arrive at their stop or station a few minutes early.
Line 15-Belmont/NW 23rd
Line 16-Front Ave/St Helens Rd
Line 24-Fremont/NW 18th
Line 38-Boones Ferry Rd
Line 43-Taylors Ferry Rd
Line 50-Cedar Mill
Line 57-TV Hwy/Forest Grove
Line 88-Hart/198th
Line 291-Orange Night Bus
Expanding service throughout the region
TriMet is expanding service throughout the region under HB 2017, the Keep Oregon Moving law, as well as the increased employer payroll tax, approved by TriMet's Board of Directors in 2015. These improvements are part of our 10-year plan to provide more and better bus service to serve riders across our 533-square mile district in Multnomah, Washington and Clackamas counties. We're growing and expanding throughout the region, and we're already making plans to do more. See how we're making transit better and check out our plans for spring 2020 at trimet.org/plan.