Getting there faster and getting home sooner. Coming this fall, TriMet continues to improve our bus service with adjustments that speed up the ride and offer more buses at more times, on more days. On Sunday, Sept. 1, as part of our fall service improvements, we'll make a change to the route for Line 19-Woodstock/Glisan to move buses out of a notoriously congested area. The new route, just blocks away, will mean better, faster and more reliable service for thousands of riders.
Most days, regular Line 19 rider, Rodney, takes the bus from his home in Southeast Portland to work downtown and back again. He's well aware of how much traffic slows the line down, especially as buses crawl during the morning and evening commutes between SW 5th Avenue and the Ross Island Bridge.
"There's a lot of congestion in that area due to the proximity of I-405 and people leaving work coming from across town," said Rodney. "It adds a lot of time to the trip going home, which is good if you like to read a book, but if you want to get home soon, it's not."
Bus operator Jon Gove agrees.
"This gets pretty jammed up," he said while slowly navigating the bus through the Sheridan curves, behind bumper-to-bumper traffic. "We'll probably be 15 or 20 minutes late by the time we get to the other side of the bridge."
The new route shifts Line 19 a short distance to the north and east, where it will use SW 1st Avenue, SW Lincoln Street and SW 4th Avenue. Riders who catch the bus or get off in the area will use alternate but existing bus stops. One stop at SW 3rd and SW Barbur will close. The line will continue to use the Ross Island Bridge. It's a welcome change for Rodney, who says he's gotten used to the time it takes to get through the curves but sometimes tries to avoid it.
"Instead of boarding where I did on the transit mall, I will walk to the stop at 1st and Arthur just so I can bypass all of this," he said.
After Sept. 1, that won't be necessary for Rodney or the other riders who take nearly 31,000 trips on Line 19 each week. All riders should check the updated schedule, as the change will affect service on the entire route. Line 19 stretches nearly 19 miles between Gateway Transit Center in NE Portland, to Portland City Center and the Sellwood-Moreland, Woodstock and Mount Scott neighborhoods. As part of the update, we will also eliminate two afternoon stops at Union Manor in Southeast Portland, to reduce delays caused by traffic congestion on SE McLoughlin Boulevard.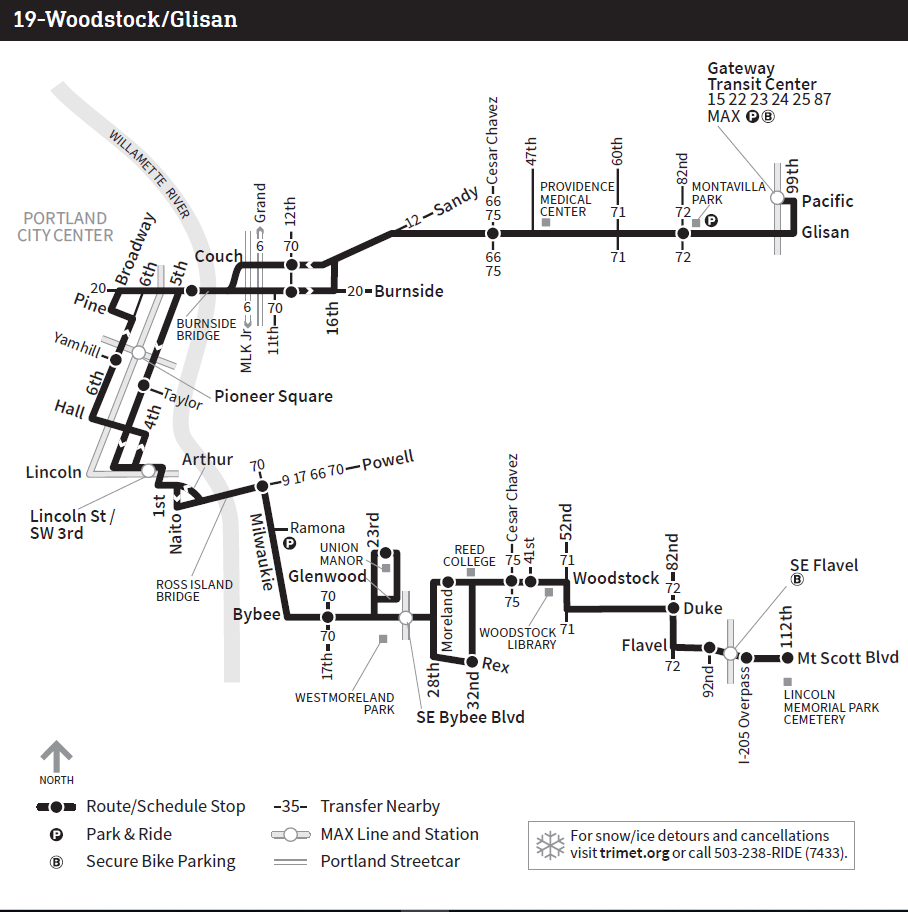 "Those route writers know what they're doing," said Gove. "It's a good change."
The route adjustment for Line 19 is part of TriMet's fall service improvement plan. We're speeding up trips, adding service at more times and working to keep buses on time, even when there's traffic congestion. On Sept. 1, we'll also launch weekend service, add buses during peak travel times and extend service hours on Line 74-162nd, as well as add Sunday service on Line 30-Estacada and Line 32-Oatfield. These improvements continue our 10-year expansion of bus service. Learn more at trimet.org/servicechange.