Three MAX lines disrupted, fewer trains running on all lines Aug. 4 – Aug. 17
Pardon our disruption as TriMet's Lloyd MAX Improvements project will impact all MAX service from Sunday, Aug. 4 through Saturday, Aug. 17. While MAX riders will face service changes during the project, once the construction finishes they're in for a smoother, more reliable ride.
Temporary MAX service
From Aug. 4 through Aug. 17, MAX Blue, Green and Red lines will be disrupted with no trains running between North Interstate and our Lloyd Center/NE 11th Ave Station. Fewer trains will be running on all lines. They'll be on a different schedule and may be crowded. Shuttle buses will be running in the Lloyd neighborhood, serving stations between the Interstate/Rose Quarter and Lloyd Center stations. Also, a special airport shuttle will run direct between the Kenton/N Denver Ave Station and Portland International Airport.
Top five tips for navigating the MAX disruption
Here are the top five tips for riding MAX during the Lloyd MAX Improvements project:
1. Know before you go
If you'll be riding MAX between Sunday, Aug. 4 and Saturday, Aug. 17, your trip will be different than normal. Go to trimet.org/lloyd to get details on how your MAX line will be affected.
There will be no MAX Green or Red Line service on the west side. MAX Blue Line trains will run on the MAX Yellow Line tracks between Interstate/Rose Quarter and Expo Center. The Rose Quarter, Convention Center, NE 7th Ave stations will be closed. Only MAX Blue and Green lines will be running between Lloyd Center Station and Gateway Transit Center.
2. Plan ahead and plan extra time
With fewer trains running on all MAX lines, schedules will be adjusted and trains will not be leaving at their regular times. There also may be longer waits between trips. Plan an extra 30 to 45 minutes for trips during the disruption.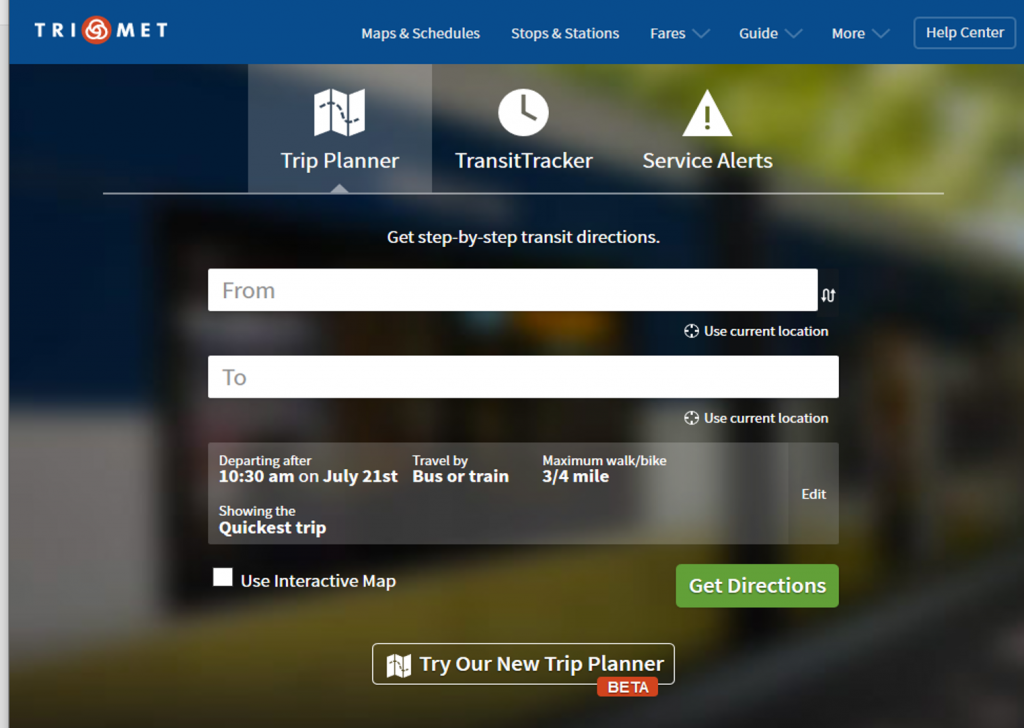 3. Go by bus! (or streetcar, bike, scooter)
Many TriMet bus lines can get you to destinations near MAX stations and may get you there faster during the disruption. In Downtown Portland and the inner east side, Portland Streetcar is a good option. Also, BIKETOWN is running a special promo with discounts for new and current members during the Lloyd MAX Improvements.
BIKETOWN
New user promo code: TRIMET19
$7.50 credit for the Pay As You Go plan (covers the 1-time set up fee and 30 minutes of ride time)

Current member promo code: MAX19
$2.50 credit on any current plan type (30 min ride time)
Check out TriMet's interactive map and online Trip Planner, or contact TriMet's Rider Support Team, to plan a bus trip.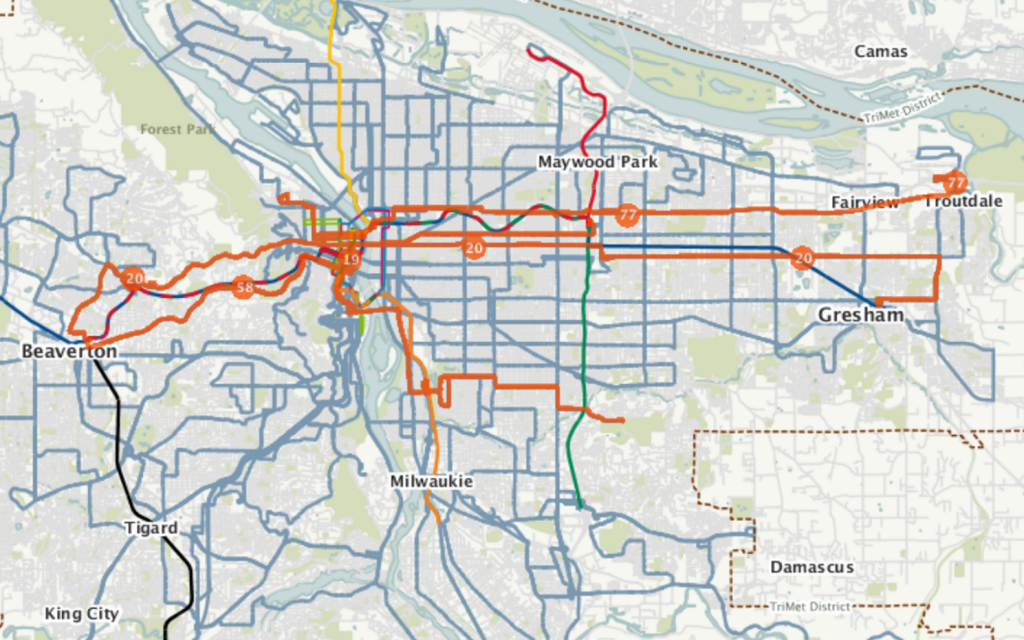 4. Choose a train or shuttle bus for PDX trips.
TriMet will be running a special shuttle bus that will go directly between the Kenton/N Denver Ave Station and the airport. This is the best option for those traveling between the west side of the Willamette River and PDX or using the MAX Orange and Yellow lines. Those traveling between NE Portland and the airport will have a faster trip using MAX Blue or Green Line trains and transferring to and from Red Line trains at Gateway Transit Center.
5. Please be patient
TriMet will have shuttle buses running about every three to five minutes in the Lloyd area most of the day. Between the Kenton/N Denver Ave and airport, shuttle will run about every ten minutes most of the day. We'll have staff out to help guide riders around the disruption.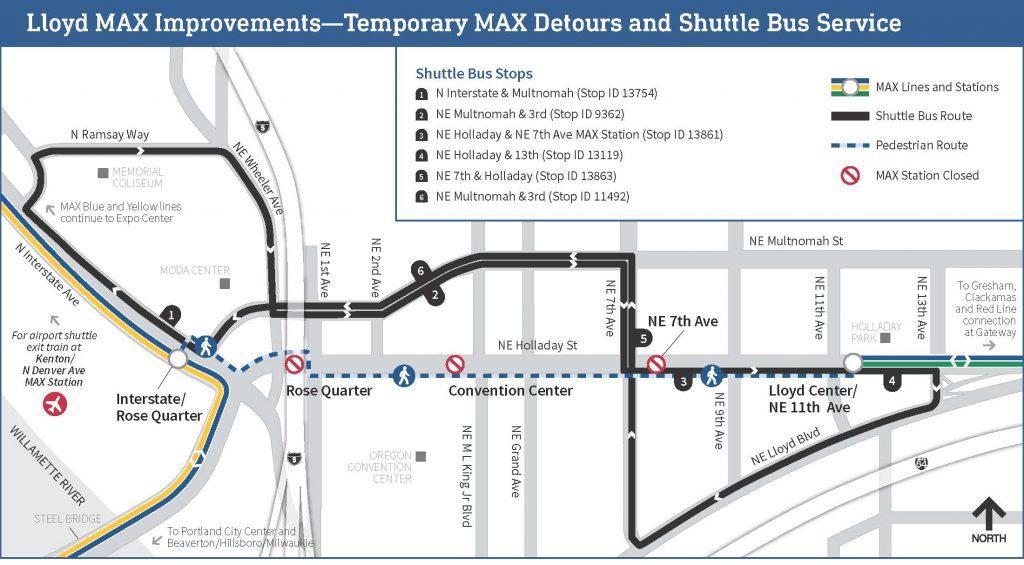 The improvements being done during the two-week disruption are extensive and cannot be done in the few hours MAX doesn't run each day. The work will improve your ride for decades to come and make the system more reliable. Thank you for your patience and understanding as we work to make transit better.
Making transit better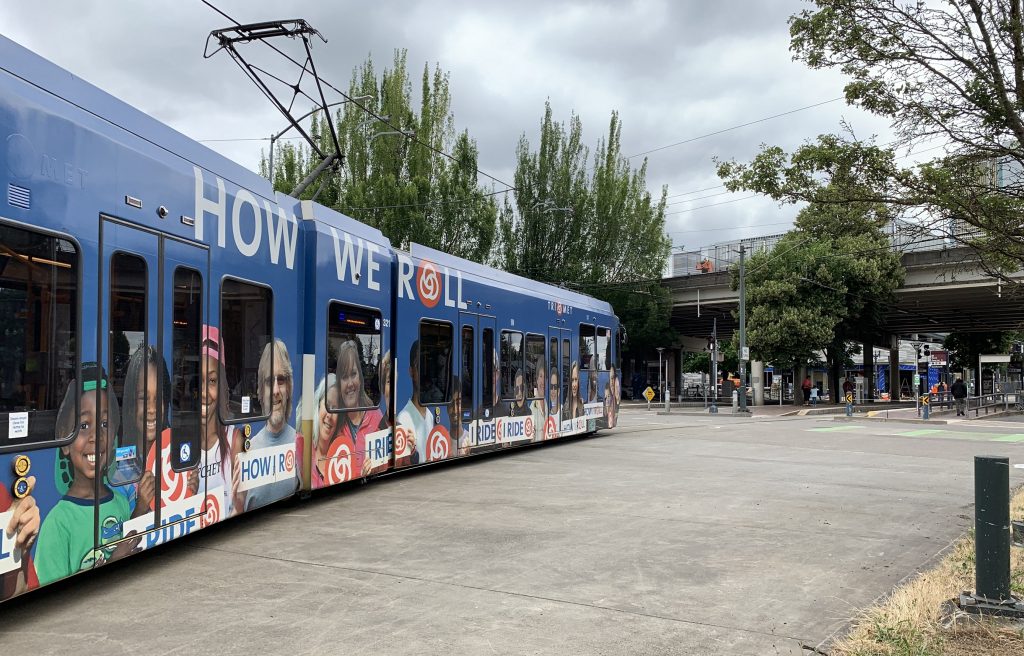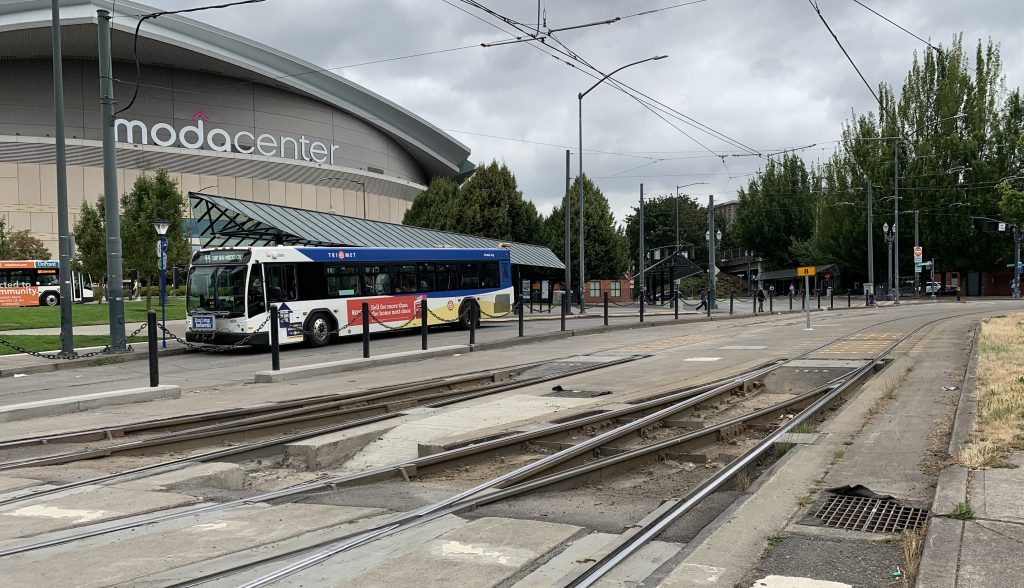 During the Lloyd MAX Improvements project, crews will be upgrading some switches in the Rose Quarter area and replacing sections of curved rail that are worn from more than 30 years of use. They'll be making an improvement so that the signal system is more reliable. The work in the Rose Quarter area will keep trains moving on time, create a smoother ride and help set up for the Steel Bridge MAX Improvements project next summer.
Crews also will remove a little-used manual switch on Holladay Street, between 9th and 11th avenues, to put in straight sections of rail. This will eliminate bumps riders feel in that section of track.
Crews will do some initial construction without affecting service, but the main improvements require shutting down the trackway from Aug. 4 through Aug. 17.
Learn about other ways TriMet is making transit better.
Traffic impacts during the Lloyd MAX Improvements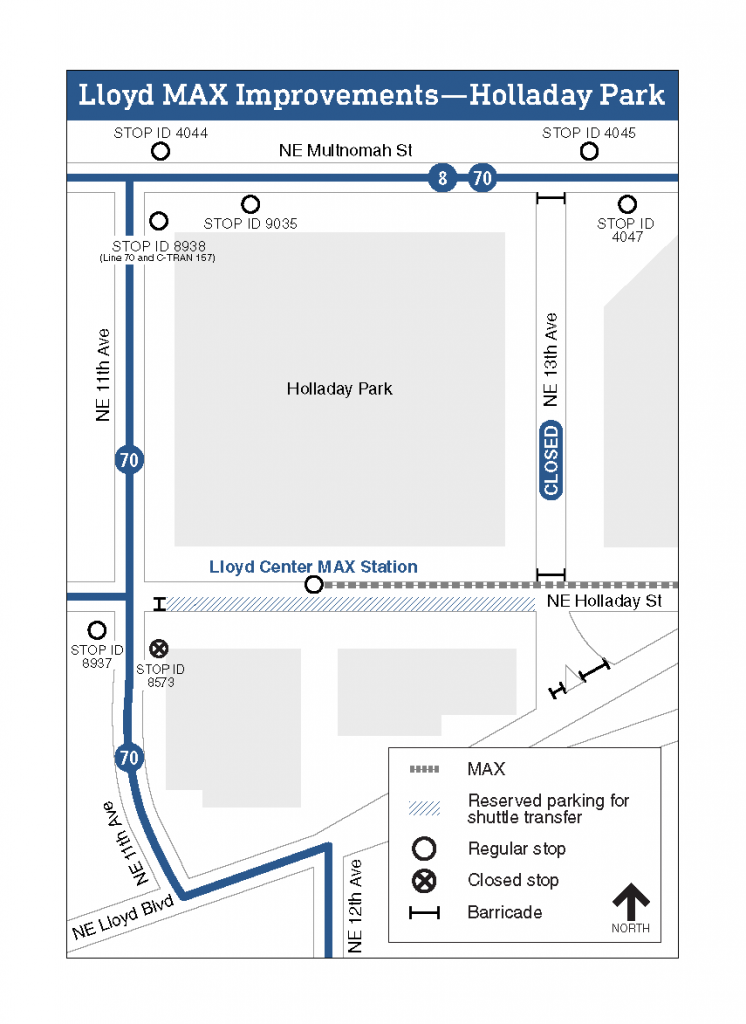 Beginning as early as Aug. 3, the northbound right auto lane and bike lane on N Interstate Avenue from NE Wheeler to Drexler, which is just north of the Interstate/Rose Quarter Station, will be blocked by construction and shuttle bus operations.
Closer to TriMet's Lloyd Center/NE 11th Ave MAX Station, Holladay Street will be closed between NE 11th and 13th. Also, NE 13th Avenue will be closed between Lloyd Boulevard and Multnomah Street.