Three MAX lines disrupted, fewer trains running on all lines Aug.4 – Aug. 17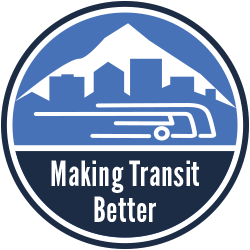 TriMet crews will be back at it this summer and fall, making major improvements on the MAX system to help keep trains running on time, increase the system's resiliency and create a smoother ride.
First up, the Lloyd MAX Improvements project will get underway Monday, July 29, in the Rose Quarter area and near the Lloyd Center/NE 11th Ave Station. The work will require a two-week disruption to MAX service from Sunday, Aug. 4 through Saturday, Aug. 17. MAX Blue, Green and Red lines will be disrupted. All lines will have trains running less often and on special schedules. With fewer trains in service, space on board may be very limited during commuting hours. Riders are urged to consider altering their trips.
Lloyd MAX Improvements
Crews will be digging up and replacing some sections of rail in the Rose Quarter area where we have switches that allow trains to move from one set of tracks to another. In addition to the new switches and sections of curved rail, crews will also be upgrading a component of the system that signals when a train is present. This work will keep trains moving on time through the area, create a smoother rider and help set up for the Steel Bridge MAX Improvements project next summer.
Farther east on Holladay Street, crews will remove a little-used manual switch between 9th and 11th avenues and put in straight sections of rail. This will eliminate bumps riders feel in that section of track.
Our maintenance-of-way crews do the majority of maintenance work on the MAX system during non-service hours or without affecting service. However, complex projects like the Lloyd MAX Improvements cannot be done in the few hours MAX doesn't run. Crews will do some initial construction without affecting service, but the main improvements require shutting down the trackway.
Navigating the MAX disruption Aug. 4-17
The construction means no trains can run between N. Interstate Avenue and the Lloyd Center Station from Aug. 4 through Aug. 17. The Rose Quarter MAX Station, Convention Center Station and NE 7th Ave Station will be closed.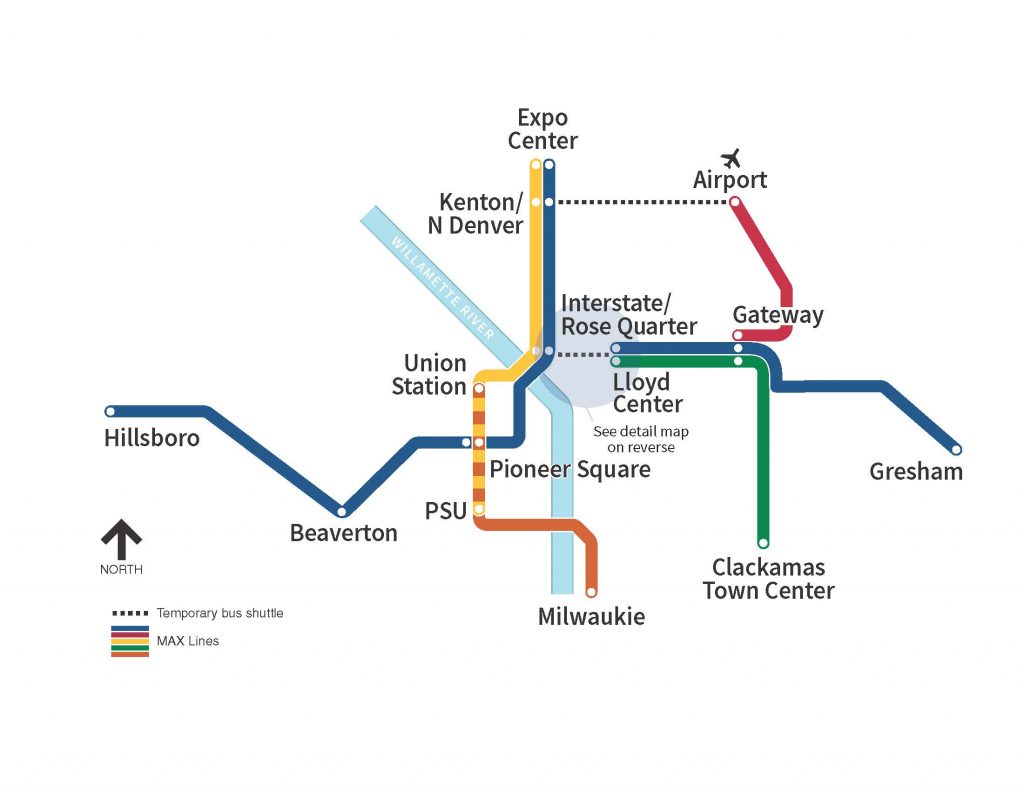 To keep riders moving during the disruption, TriMet will make the following adjustment to MAX service:
Only MAX Blue Line trains will be running on the west side between Hillsboro, Beaverton and the Steel Bridge, with no Red Line service on the west side.
MAX Blue Line trains will run on the Yellow Line route in North Portland, serving stations between Interstate/Rose Quarter and Expo Center stations.
MAX Blue Line trains also will run between Lloyd Center/NE 11th Ave and Gresham.
MAX Green Line will run only between Lloyd Center/NE 11th Ave and Clackamas. There will be no Green Line trains running in Portland City Center.
MAX Red Line will run only between Portland International Airport and Gateway Transit Center.
Shuttle buses will run between Interstate/Rose Quarter and Lloyd Center/NE 11th Ave stations, serving stops near the closed stations.
To lessen the disruption to MAX Red Line riders heading to and from the airport, shuttle buses will run directly between the Kenton/N Denver Ave Station, which will be served by both Blue and Yellow Line trains, and the airport.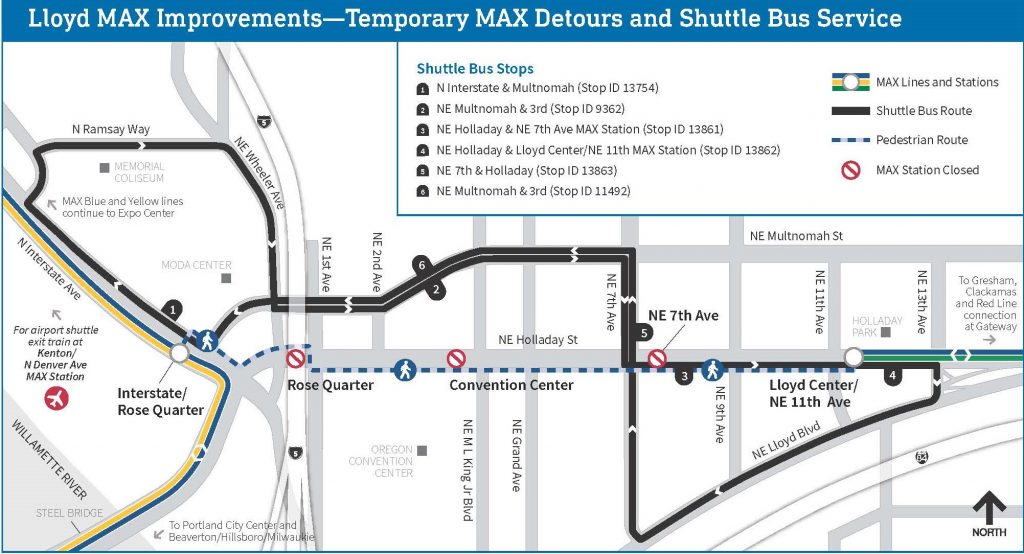 Get more information on riding during the Lloyd MAX Improvements at trimet.org/lloyd.
Plan an extra 30 to 45 minutes with fewer trains running
TriMet encourages MAX riders throughout the system to plan an extra 30 to 45 minutes for trips during the disruption. Trains will run less often and trains may be very crowded during commuting hours. You may not be able to get on the first train that comes.
All lines will run on special schedules. Most MAX lines will have trains departing every 20 minutes throughout most of the day. On the western section of the MAX Blue Line, between Hillsboro and Expo Center, trains will run about every 10 minutes during the weekday morning, midday and early evening hours, and less often between 6 p.m. and 6 a.m. and on weekends.
We encourage riders to consider changing their trips to avoid commuting hours, if possible. Also, consider using regular TriMet bus service or the Portland Streetcar, working from home, biking or using a scooter, carpooling or using alternate transportation.
Shuttle buses in the Lloyd neighborhood will be departing about every 3 to 5 minutes most of the day. Shuttle buses between the Kenton/N Denver Ave Station and the airport will depart about every 10 minutes most of the day. With no MAX Green Line trains running in Downtown and fewer trains running on the Orange and Yellow lines, a MAX Transit Mall Shuttle train will loop the Transit Mall on 5th and 6th avenues during the day Monday through Friday.
Making transit better
The Lloyd MAX Improvements project is part of TriMet's agency-wide efforts to make our transit service safe, equitable, convenient and more efficient.
Learn about other ways TriMet is making transit better.