Just four days left before Lloyd MAX Improvements project disrupts MAX system Sunday, Aug. 4 through Saturday, Aug. 17
Crews have already begun preparations for the major improvements coming to TriMet's MAX system in the Lloyd neighborhood. They'll be ripping up sections of track to make way for new, more durable rail and switches. This work will help keep trains running on time, increase the MAX system's resiliency and create a smoother ride, but first comes a two-week disruption.
All MAX riders affected by temporary service changes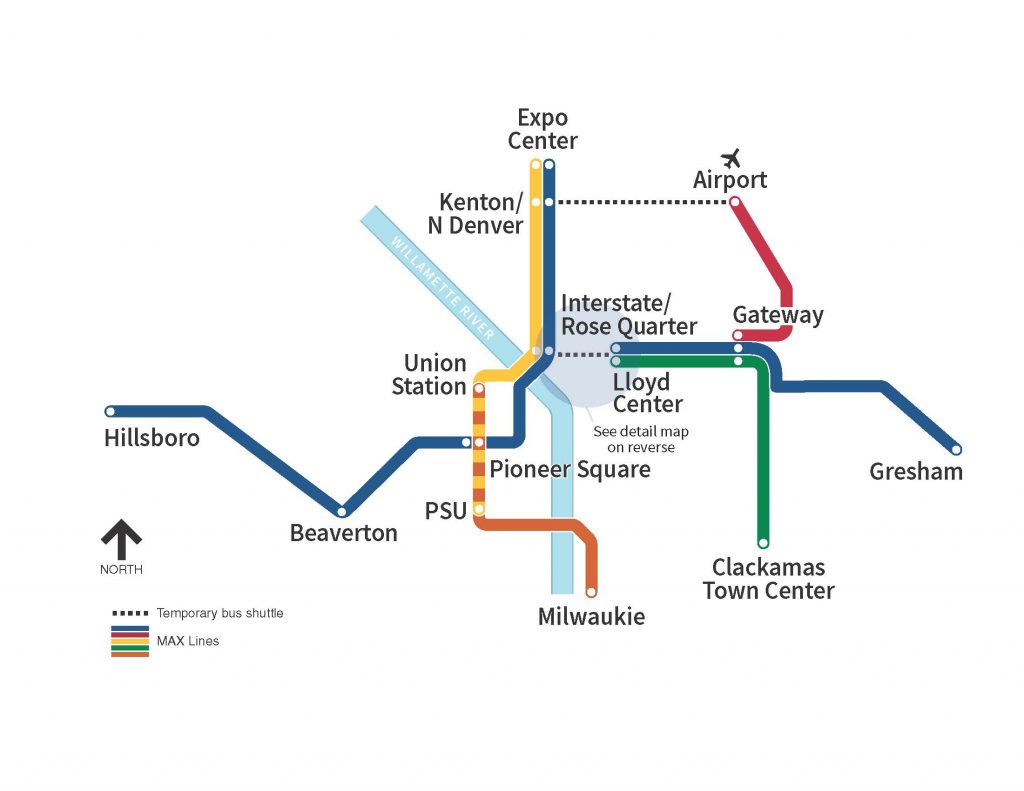 The Lloyd MAX Improvements project requires temporary changes to service that will affect all riders from Sunday, Aug. 4 through Saturday, Aug. 17. Three MAX lines will be disrupted and all lines will be on different schedules, with fewer trains running system wide. We appreciate our riders understanding and help while we complete this critical work. Check out our "Top five tips for TriMet riders during the Lloyd MAX Improvements project" and visit trimet.org/lloyd to plan trips.
Digging down on the improvements
Crews from TriMet and Stacy & Witbeck, our contractor, will be working in two main areas:
Rose Quarter area
Holladay Street, between 9th and 11th avenues.
In the Rose Quarter:
The biggest chunk of work will be in the Rose Quarter areas just west of the Rose Quarter MAX station. They'll be digging up two of three switches in that area, replacing the machines that move those sections of track, improving the drainage for those machines and upgrading the special track work. They'll also replace the machine on the third switch.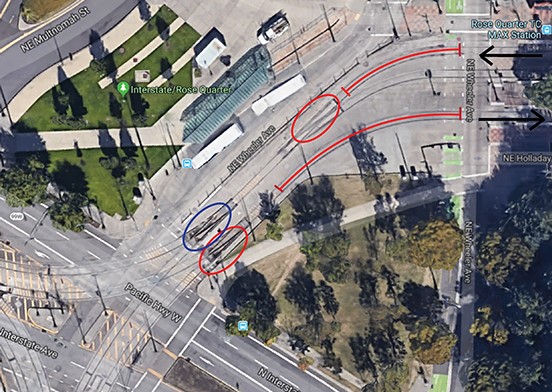 The switches and special track work improved during this project split one set of tracks into two and brings two sets of tracks into one. One of the switches allows trains to move from the MAX Yellow Line to the main alignment that runs through the Rose Quarter MAX Station. The other switch allows us to add extra service trains during Portland Trail Blazers games and other big events in the Rose Quarter area. It also helps make the MAX system more resilient. If a train is experiencing a mechanical issue, we can store it in the third track at the station and move trains around it.
Crews will also replace the curved rail that westbound trains use leaving the Rose Quarter MAX Station, as well as the curved rail eastbound trains use as they pull into the station. Curved rail wears faster than straight rail due to the friction and force of the steel train wheels against the steel rail. The new curved rail that will be installed is manufactured differently these days. It is harder and more durable.
All of the work on the rail and switches in this area will reduce the pounding trains take going through there, helping with the maintenance of the vehicles and creating a smoother ride for those on board.
TriMet crews will also make an improvement on the east side of the Rose Quarter MAX Station that will reduce unnecessary delays on the system. We're lengthening a metal loop under the ground called a Train to Wayside Communication (TWC) loop. Currently, at times it will indicate that there's a train on a section of track when there isn't. By making the loop longer, it should eliminate that and keep trains moving on time.
On Holladay Street: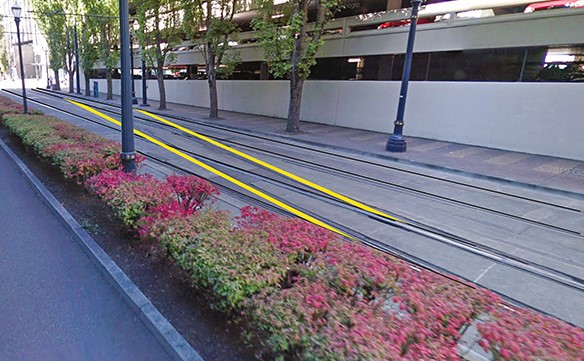 Crews will also be working on the trackway on Holladay Street between 9th and 11th avenues. We're taking out a manually-operated, little-used switch and replacing it with straight rail. This will eliminate the clunking you hear when trains go through the area, and reduce the wear and tear on trains. It will also make rides through here smoother and quieter.
Making transit better
All the work TriMet will complete during the Lloyd MAX Improvements project will make the MAX system better by reducing delays, keeping trains moving and making the ride smoother. We'll also do deep cleaning and touch-ups at the stations that are closed during the project.
The majority of work hours will be between 7 a.m. and 7 p.m., although there is a possibility of round the clock work. There will be some lane and street closures that will have a temporary impact drivers and bicyclists, too.
TriMet knows that disruptions such as this are a big inconvenience for our riders, so we thank you for your patience and understanding while we make transit better. Learn about other efforts we've been making to improve our service for you.