Riders should use remaining mobile and unvalidated foil-stamped paper tickets by Dec. 31, 2019 or exchange them for credit in Hop Fastpass®
The year was 2013. Damian Lillard completed his rookie season as a Portland Trail Blazer. Barack Obama began serving his second term as U.S. President. The "Harlem Shake" became a viral video sensation. TriMet introduced the TriMet Tickets app.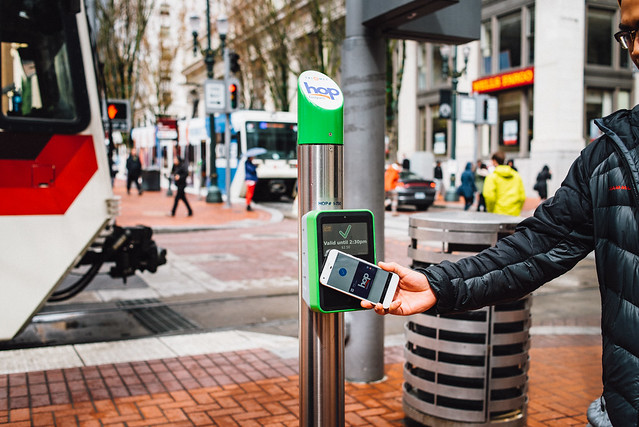 Times change. One thing that doesn't is TriMet's commitment to industry-leading technology. Hop Fastpass®, now available for smartphones with iOS and Android operating systems, is the better way to pay your fare. With new features that let you earn passes as you ride without the upfront cost, never pay for trips you don't take and auto-load funds so that you're never without fare, Hop offers benefits that you can't get with the app. In April, we announced plans to phase out our mobile ticketing app and most non-Hop paper tickets. Since Hop is a better way to pay, we will stop selling mobile tickets on Aug. 6, 2019, and the last day to use them is Dec. 31, 2019.
What to do
If you have mobile tickets, use them before Dec. 31, or upgrade to Hop now. You have several options to transfer your mobile tickets to a free Hop card. Once you do, you can start tapping and start saving in a way you can't with mobile and paper tickets. Here's how: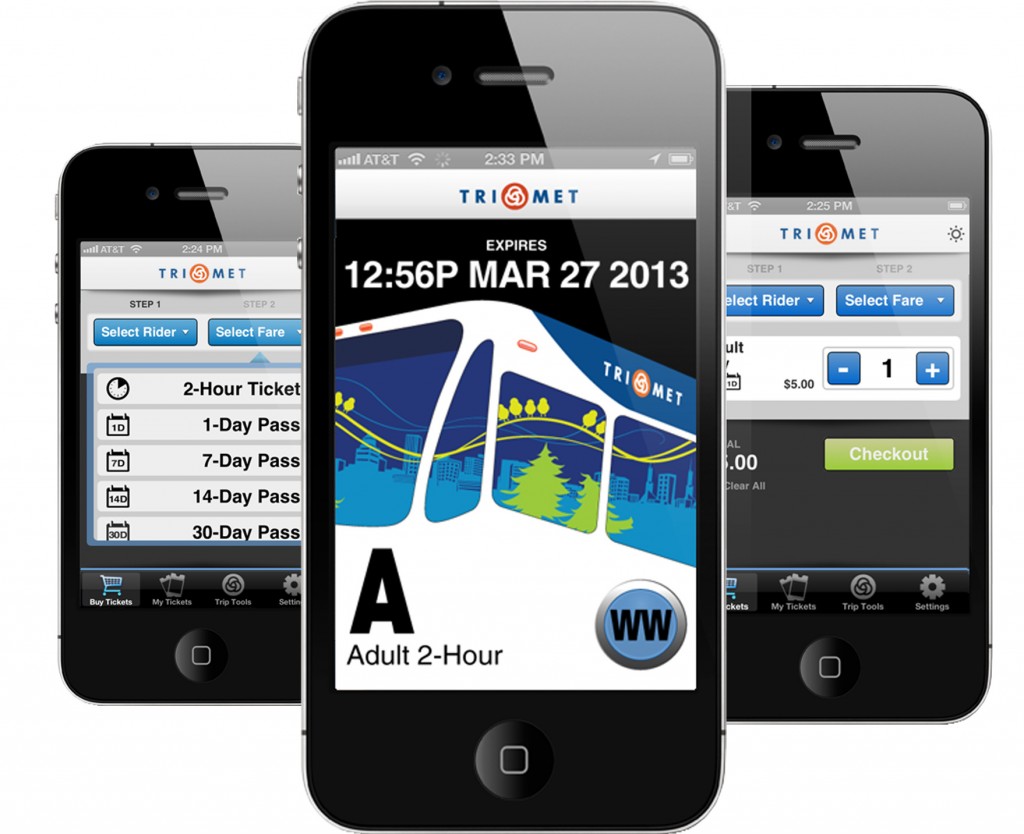 Stop by the TriMet Ticket Office at Pioneer Courthouse Square. We're open Monday through Friday between 8:30 a.m. and 5:30 p.m.
Visit a ticket exchange event. This month we'll be in Oregon City, Hillsboro and Estacada, plus we're hosting a special Saturday event on July 27 at the ticket office. Find details and even more events at trimet.org/ticketexchange.
Give our customer service team a call at 1-844-MYHOPCARD. They can help if you have questions or have a Hop card and want to learn how to go virtual.
Hop's a better way to pay – with your phone!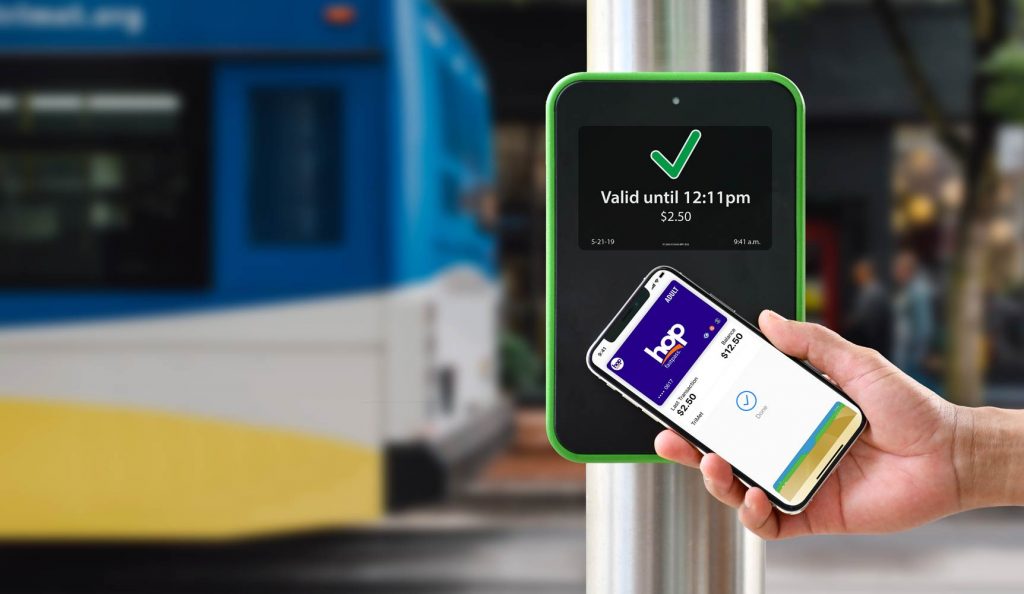 Hop makes it easier than ever to pay your fare, especially with your smartphone. Last month, Hop became the first transit fare card in North America to launch in Apple Wallet. We also made history when we worked with Google to offer the first virtual transit fare card available within Google Pay globally. So, whether you're team Apple or team Android, TriMet's got you covered.
Benefits of virtual Hop cards
When you use a virtual Hop card in Apple Wallet or Google Pay, you'll enjoy all of the benefits of the plastic Hop card:
Earn a day pass or month pass with no upfront cost. Once the cost of a day pass is reached, the rest of the rides are free that day. Once the cost of a month pass is reached, the rest of the rides that month are free.
Never pay for rides you don't take.
Easily reload value through the wallet.
Purchase Adult, Youth or Honored Citizen fares.
Tap your phone at the Hop reader for each ride. Hop readers are located onboard buses and streetcars and outside on the platform at MAX, WES and The Vine stations. The tap is your proof of purchase. Riders using their phone to pay should keep it charged at all times.
"Hopping" without a Hop card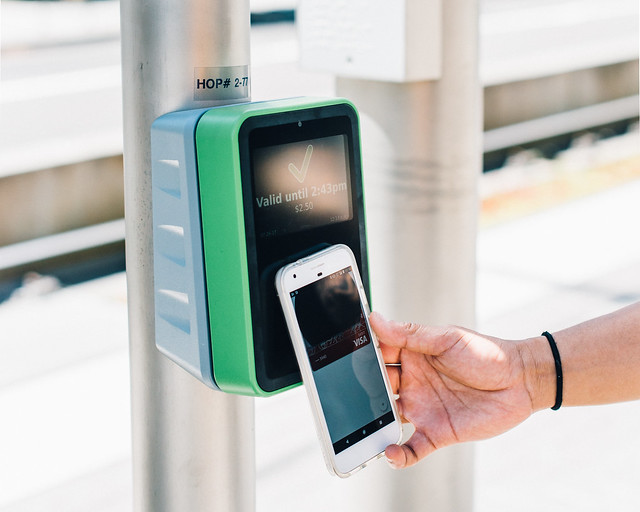 Even if you don't have a virtual card, you can use Hop with your smartphone's mobile wallet to buy fare. Just tap your phone to a Hop reader on the bus or at the platform. For Android, users need to wake and unlock their phone prior to payment. For Apple users, Express Transit with Apple Pay allows you to simply tap and hop onboard without unlocking your phone. You'll still benefit from Hop's daily fare-capping feature, but you can only buy Adult fare and you'll have to get a card to earn a month pass and enjoy all that Hop has to offer!
Hop back in time
TriMet's Mobile Tickets App, launched in September 2013, was an important stepping-stone for Hop Fastpass®. Our Hop electronic fare system went public just four years later and has received international recognition for its cutting-edge technology, security and unique rider benefits. Use it to pay fare on TriMet, C-TRAN and Portland Streetcar. Just remember to tap with every ride. Hop makes riding transit more affordable and equitable. You always get the best fare, never pay for rides you don't take and don't have to pay for a month pass upfront. Learn more at myhopcard.com.